Russia Expels U.S. Diplomats, Closes Consulate and Wants Chemical Weapons Case Over Spy Poisoning
Russia announced Thursday it would expel 60 U.S. diplomats, close the U.S. Consulate General in St. Petersburg and open an extraordinary United Nations session in response to Western reactions over accusations that Moscow was behind the poisoning of an ex-Soviet spy in the U.K.
Russia has denied being responsible for an alleged nerve agent attack earlier this month that has left former double agent Sergei Skripal and his daughter hospitalized. London, fellow Western and allied governments and the U.S.-led NATO military alliance, however, have collectively dismissed more than 100 Russian diplomats in response. Having promised retaliatory actions against a number of countries, Russian Foreign Minister Sergey Lavrov singled out the U.S. in the latest upset for ties between Washington and Moscow.
Related: Russia could unleash "Satan 2" nuclear missile before next U.S. presidential election: Report
"U.S. ambassador to Russia Jon Huntsman has been summoned to our ministry, where my deputy Sergei Ryabkov is briefing him on the tit-for-tat steps against the U.S.," Lavrov said, according to the state-run Tass Russian News Agency.
"They include the expulsion of the same number of diplomats and our decision to withdraw consent to the work of the Consulate General in St. Petersburg."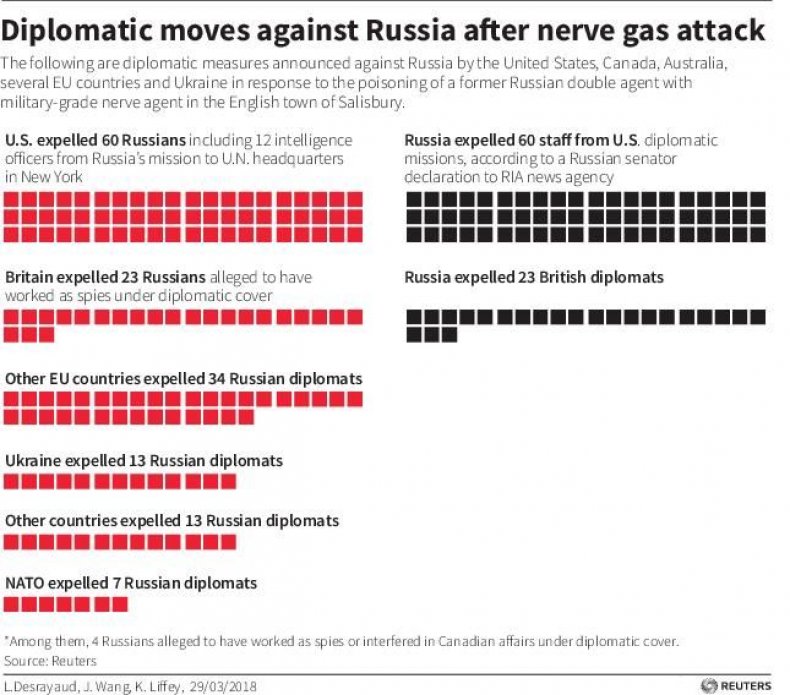 He didn't stop there. Lavrov said Moscow would formally propose an emergency session of the executive council of the Organization for the Prohibition of Chemical Weapons to be held on Wednesday. Russia has argued that the U.K. has denied Russian diplomats consular access to Skripal and his daughter and has refused to answer critical questions about the case.
"I hope our Western partners will not shun an honest conversation. Otherwise, that will be another confirmation that everything that is going on is a gross provocation," Lavrov said, according to Tass.
The spat comes at a low point for relations between Russia and the West, which has accused Moscow of interfering in the affairs of sovereign nations and pursuing a destabilizing campaign for increased military power. Following Russia's 2014 annexation of the Crimean Peninsula, where Moscow argued ethnic Russians were threatened by Ukraine's political uprising, both Russia and NATO have built up their forces along European borders and have conducted dueling military exercises across the continent.
The U.S. has charged Russia with interfering in the 2016 presidential election and of condoning chemical weapons attacks allegedly launched by the Syrian military in territory held by rebels and jihadis, two charges that the Kremlin has denied. After what the U.S. has described as the first chemical weapons attack in Europe since World War II, Washington kicked out 60 Russian diplomats and closed the Russian embassy in Seattle.
Russia has criticized these moves and similar ones from other governments as being premature pending a thorough investigation of the incident, which reportedly involved Novachek nerve agents. Moscow has likened the mass expulsion to Cold War–era tactics, saying the U.S. was "blackmailing" other countries into taking action against Moscow, and compared a State Department spokeswoman's description of Russia as "beast from the deep sea" with "lots of tentacles" to Nazi propaganda.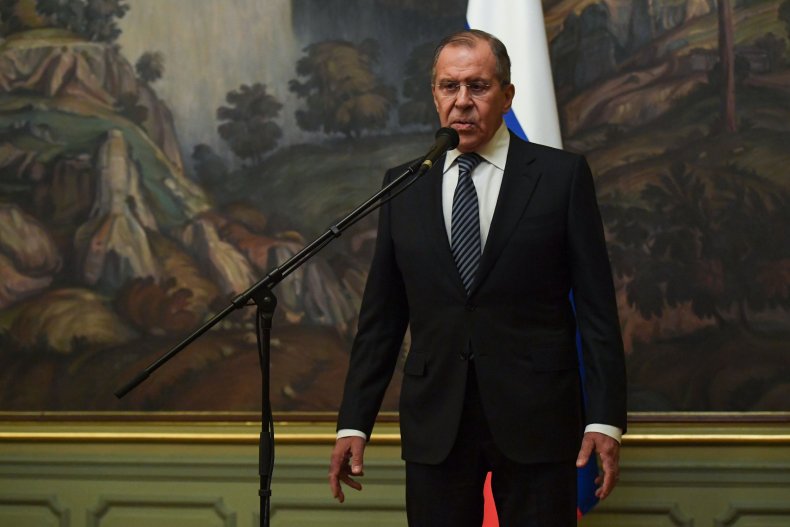 In a notable exception to the recent expulsions, Austria said Tuesday it would remain neutral in the affairs and not expel any Russian diplomats.
"We stand behind the decision to recall the EU ambassador, but we will not take any national measures," Chancellor Sebastian Kurz and Foreign Minister Karin Kneissl said in a joint statement, according to the Agence France-Presse.
"Indeed, we want to keep the channels of communication to Russia open," they added. "Austria is a neutral country and sees itself as a bridge-builder between East and West."