Russia 'Keeping a Close Eye' on Whether U.S. Troops Leaving Syria, Iran Warns Turkey Against Attack
Local and international players have begun reacting to President Donald Trump's stated plans to pull troops out from northern Syria after an apparent deal with his Turkish counterpart President Recep Tayyip Erdogan.
In the two days since the White House announced that the U.S. military would "no longer be in the immediate area" as Turkish forces prepared to occupy northern Syria, there have no reports of major movements indicating Ankara's entrance or Washington's withdrawal from the region. Russia, which has worked alongside Turkey despite representing opposing sides in the eight-year civil war in Syria, said Tuesday it had yet to be informed of any such operation.
"No one sent notifications," Kremlin spokesperson Dmitry Peskov said, according to the state-run Tass Russian News Agency. "We don't know yet what troops are being withdrawn, from what areas, and whether they are being pulled out at all."
"There have been contradictory statements about plans to withdraw troops from various parts of the world but no confirmation followed," he added. "This is why we are keeping a close eye on how the situation is unfolding."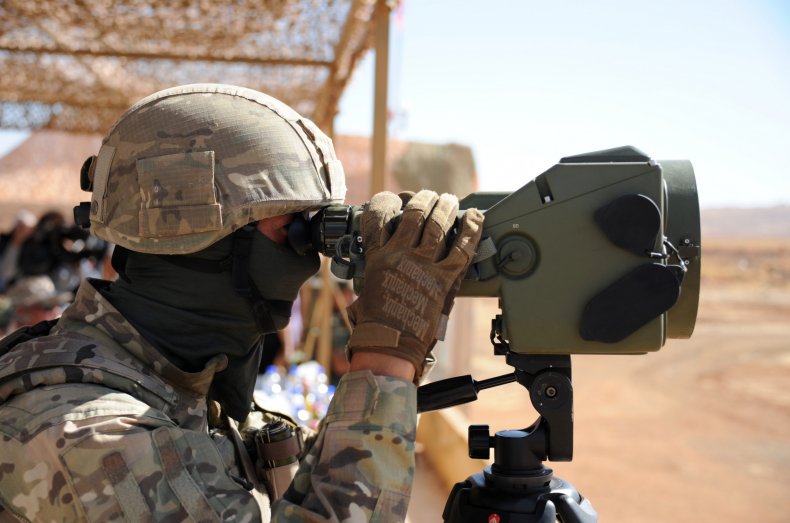 The Russian Foreign Ministry later released a readout of a phone call between Russian Foreign Minister Sergey Lavrov and Turkish Foreign Minister Mevlut Cavusoglu concerning "the Syrian settlement process with emphasis on the situation in northeastern Syria." On Monday, Peskov urged Turkey to respect "the territorial and political integrity" and maintained that "that all foreign troops illegally present in Syria must leave the country."
Iranian Foreign Minister Mohammad Javad Zarif, whose own country was also invited to back Syrian President Bashar al-Assad after a 2011 uprising devolved into civil war, spoke with Cavusoglu as well. In their conversation, Zarif expressed his opposition to "military action" and also called on Turkey to demonstrate "respect for Syria's territorial integrity and national sovereignty" while supporting "the need to fight terrorism and bring stability and security to Syria."
After eight years of war, Turkey remains the only major sponsor of an opposition once backed by the U.S. and other regional allies such as Israel, Qatar and Saudi Arabia. Washington went on to recalibrate its efforts toward assisting a mostly Kurdish militia known as the Syrian Democratic Forces battle the Islamic State militant group (ISIS), an alliance that angered Turkey, which ultimately entered into talks with Russia and Iran.
Just weeks ago, the three countries agreed to a U.N.-backed plan to establish a new Syrian constitution, a move welcomed even by Washington, which has excluded itself from such multilateral discussions. The Syrian Democratic Forces were not invited to these talks, however, as neither the government nor the opposition recognizes their aspirations for autonomy. Damascus has instead been calling on Kurdish forces to rejoin government ranks.
"Syria is one, its number is absolutely indivisible, and we advise those who have lost their way to return to the homeland because the homeland is the final destiny," Syrian Deputy Foreign Minister Faisal al-Mekdad told Watan, a state-run newspaper. "Those who bet on the division and bet on all these statements that were brought down due to the struggles of the Syrian Arab Army and its fight against terrorism, militants and those leaving the central authority in Syria, they will find that same path."
He added: "So we go back again and tell them that they have lost everything and must not lose themselves. In the end, the homeland welcomes all its children and we want to solve all the Syrian problems in a positive manner, a way that is far from violence but preserves every speck of soil of Syrian territory."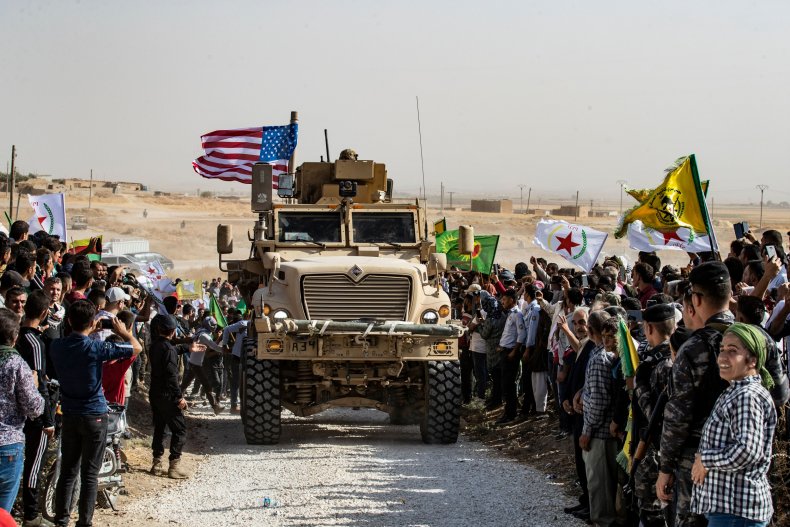 Kurdish representatives have for years been in talks with officials from Damascus, but the two sides have so far been unable to secure any sort of agreement. Both factions have alternatively fought with and against one another at various points throughout Syria's conflict and, though they were united in their opposition to the presence of Turkish troops and allied Syrian rebels, they disagreed over the degree to which majority-Kurdish regions could be allowed to self-govern.
The U.S. has also outright refused to recognize the legitimacy of the Syrian government, accusing it of war crimes, including the use of chemical weapons as recently as May. Despite repeated calls from Assad's government and its Russian and Iranian backers, the U.S. military has maintained a presence both across northern Syria and in a so-called "deconfliction zone" surrounding a garrison at Al-Tanf, located in the country's southwest, near the Jordanian and Iraqi borders.
Trump, for his part, has long expressed a desire to exit Syria, having previously announced plans to exit late last year following another call with Erdogan. In the months since, however, the U.S. once again refocused its Syria strategy toward countering the influence of Iran and allied fighters, who have been targeted by a separate air Israeli campaign.
While on Monday Trump had threatened Turkey with economic retribution should it do anything he considers "to be off limits" in northern Syria, he signaled a "very good" relationship with the "NATO and Trading partner" on Tuesday. He also denied he had "Abandoned the Kurds, who are special people and wonderful fighters."