Russian Facebook Ads: Photos Show Fake News Posts Promoted a Bernie Sanders Coloring Book, Texas Secession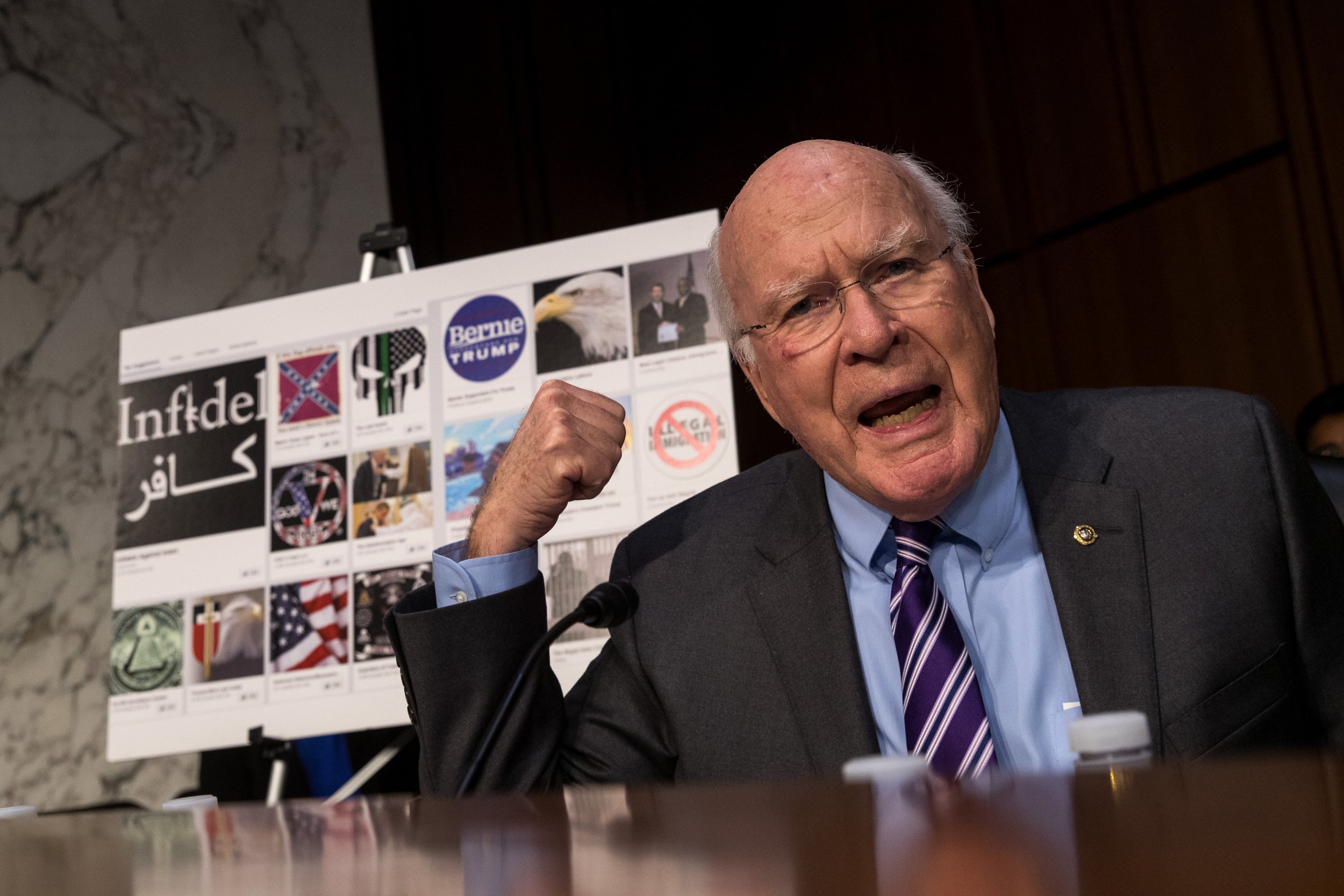 By now, you've probably heard about the roughly 3,000 ads Facebook says Russian operatives purchased in an attempt to influence the outcome of the 2016 presidential election, probably in Donald Trump's favor. Well, some of them are finally available for you to see.
In hearings this week, congressional leaders released several examples of the fake-news posts from Russia that reached an estimated 126 million Facebook users. But officials backed away from previous promises to publish all 3,000 of the ads tied to the Kremlin, with Representative Adam Schiff, the ranking member of the House Permanent Select Committee on Intelligence, saying Wednesday that he was showcasing "a representative sample" of the posts.
"The social media campaign was also designed to further a broader Kremlin objective: sowing discord in the U.S. by inflaming passions on a range of divisive issues," Schiff, a California Democrat, said in his opening statement. "The Russians did so by weaving together fake accounts, pages and communities to push politicized content and videos and to mobilize real Americans to sign online petitions and join rallies and protests."
The ads released Wednesday included posts on behalf of pages like LGBT United and United Muslims of America.
One was promoting a coloring book "full of very attractive doodles of Bernie Sanders in muscle poses." Another posted a video of Danney Williams, who the ad says "has been trying since at least 1999 to be acknowledged as the out-of-wedlock son of former President Bill Clinton and a black prostitute in Little Rock, Arkansas." A third advocated for Texas's secession.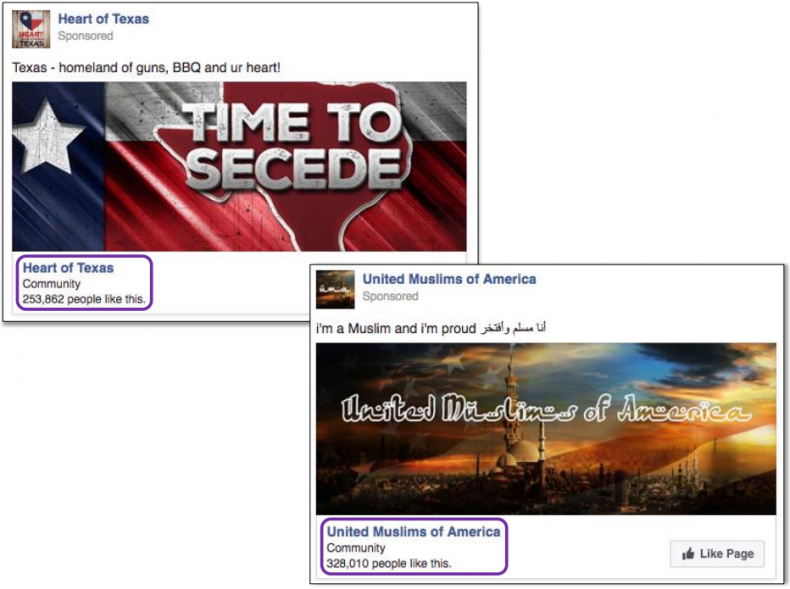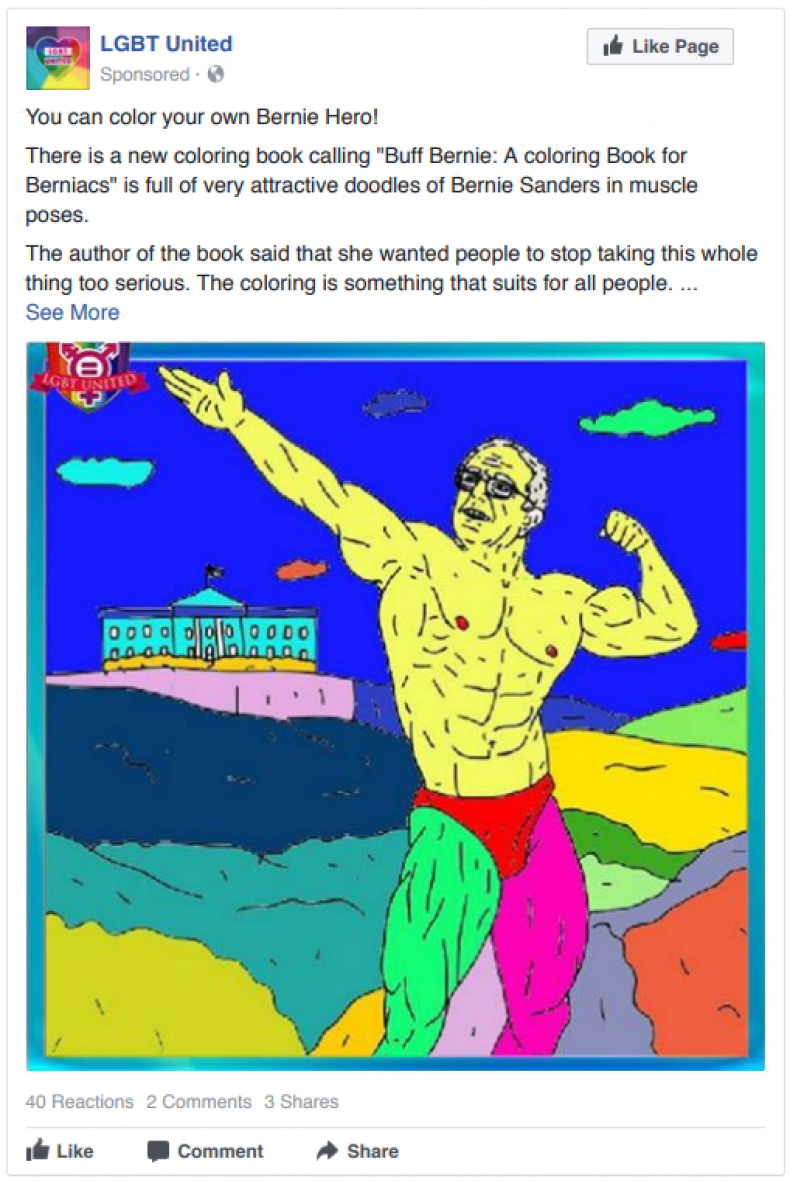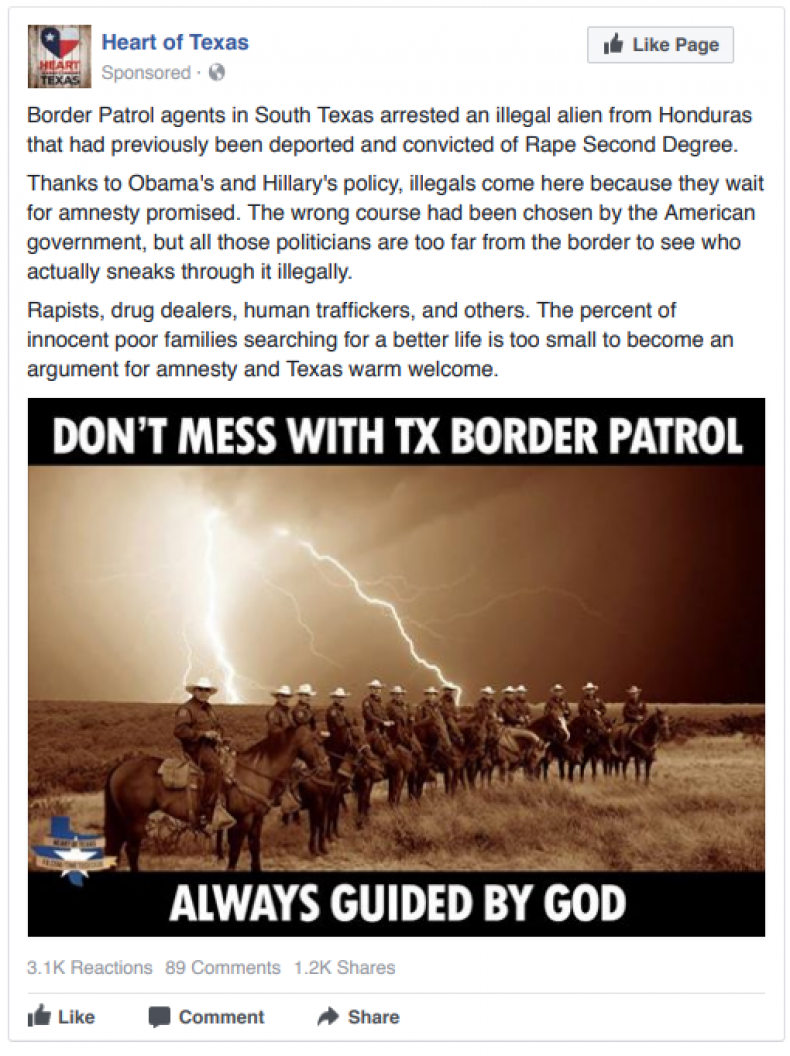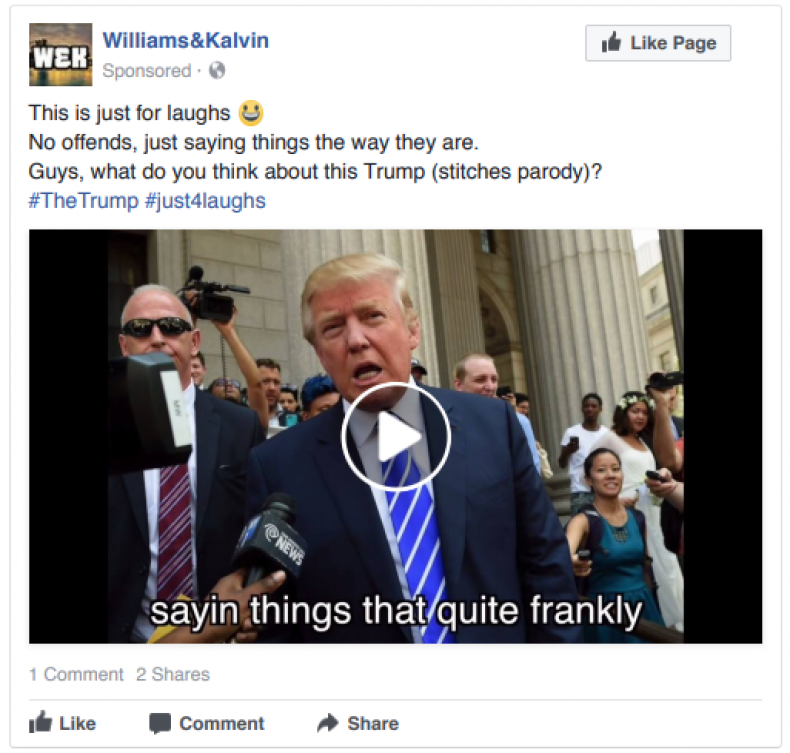 They followed examples shared Tuesday by the Senate Judiciary Subcommittee on Crime and Terrorism from pages like Heart of Texas and Being Patriotic. One ad showed a picture of a soldier in fatigues with the caption "Hillary Clinton has a 69 percent disapproval rate among all veterans," according to Recode. Two tweets contained manipulated images encouraging people to vote via hashtag—which is not an actual legal way to cast a ballot.
Still, Senator Richard Burr, a North Carolina Republican, said Wednesday there's no definitive cause-and-effect conclusion that Russia's ads aided Trump's victory.
"A foreign power using that platform to influence how Americans see and think about one another is as much a public policy issue as it is a national security concern,"" Burr said at the Senate Select Committee on Intelligence's hearing, according to The Washington Post. "What we cannot do, however, is calculate the impact that foreign meddling in social media had on this election, nor can we assume that it must be the explanation for an election outcome that many didn't expect."
Russia bought more than $100,000 in political ads related to the election between June 2015 and May 2017, according to The New York Times. The ads were masterminded by the Internet Research Agency, a propaganda company in St. Petersburg that has been called a "troll factory."