Russia Mocks Fake White House Tweet Nominating John Bolton for Nobel Peace Prize over Israel, Venezuela and Iran
Russia's embassy in South Africa mocked a tweet from a parody White House press account claiming that hard-line national security adviser John Bolton had been nominated for a Nobel Peace Prize.
Describing it as "Orwellian News," a reference to George Orwell's dystopian classic 1984, Moscow's Pretoria embassy shared a tweet Tuesday claiming that Bolton was "nominated for 2020 Nobel Peace Prize for... wait for it... "tremendous efforts in bringing peace to Iran, Venezuela and Israel." The account added: "If by 'peace' you mean failed attempts at regime change in #Venezuela & escalating tensions vs #Iran... #WarIsPeace."
The tweet was accompanied by an image bearing a famous 1984 passage reading "War is Peace, Freedom is Slavery, Ignorance is Strength."
News of Bolton's alleged nomination, however, originated from a relatively obscure account called White House Press (@OfficialWHPress) that described its mission as "Bringing America the latest satire from yesterday's news tomorrow." The fake story got sparked a divisive reaction on social media, with some users pointing out that the news was satirical and others taking it seriously.
Bolton was, in fact, nominated for a Nobel Peace Prize — two administrations ago. Late Swedish parliamentarian and former Deputy Prime Minister Per Ahlmark nominated Bolton for the 2006 prize for his push to disarm nuclear-capable or prospective U.S. adversaries as former President George W. Bush's undersecretary of state for arms control and international security affairs.
The award instead went to Bangladeshi social entrepreneur Muhammad Yunus and his Grameen Bank "for their efforts to create economic and social development from below." Later that same year, Bolton was forced to resign from his post as U.N. ambassador as Bush recognized he could not win Senate support for that nomination either.
The position would be his last for over a decade until a sudden White House shuffle saw him appointed as Trump's national security adviser last April. Just weeks later, the president pulled out of the 2015 Iran nuclear deal, accusing Tehran of supporting militant groups and expanding ballistic missile production as the administration embarked on a "maximum pressure" campaign of sanctions against the Islamic Republic that Bolton has previously called for regime change against.
His appointment also came just weeks after he penned an op-ed calling for pre-emptive strikes against North Korea, whom he was unsuccessful in getting to give up nuclear weapons during his tenure in the Bush administration. Just as Trump and North Korean supreme leader Kim Jong Un were preparing to bury the hatchet and establish an unprecedented push for peace, Bolton nearly derailed the process on at least a couple of occasions.
The same year that Bolton led the U.S. in a warpath against Iraq over allegations of weapons of mass destruction possession that later proved false, longtime Libyan leader Muammar el-Qaddafi agreed in late 2003 to give up his nuclear activities in exchange for better ties with the West. In 2011, however, former President Barack Obama joined a NATO coalition in supporting Libyan insurgents overthrowing and executing Qaddafi. Bolton's talk of a so-called "Libya model" with North Korea trigged Kim and his administration's fears that they too may be targeted post-disarmament.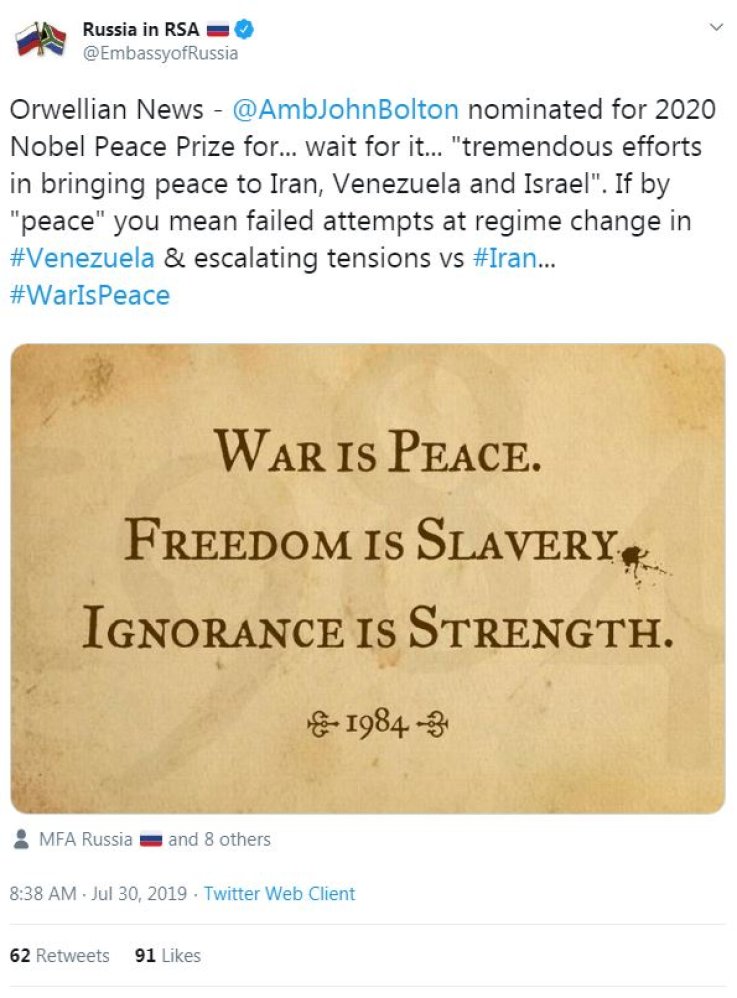 While Trump and Kim managed to meet three times and have largely smoothed over their hostilities, the U.S. has only doubled down on its "maximum pressure" approach to Iran throughout Bolton's time at the White House, closely aligning U.S. policy with that of Israel.
The veteran Washington war hawk has also set his sights on longtime foes in Latin America. Bolton, who expanded Bush's infamous "Axis of Evil" to include Cuba, Libya and Syria in 2002, has also dubbed left-wing Cuba, Nicaragua and Venezuela the "troika of tyranny" and "three stooges of socialism." When Venezuelan opposition leader Juan Guaidó declared himself acting head of state amid worsening socioeconomic conditions in January, the Trump administration swiftly recognized the challenge to President Nicolás Maduro, though the leader has defied attempts to oust him.
Amid the backdrop of Bolton's interventionism, Moscow has pushed back against Washington on most of these policies. Russia has continued to back Maduro's government in Venezuela as well as the Iran nuclear accord, which was also still supported by China, the European Union, France, Germany and the United Kingdom.
Russia Mocks Fake White House Tweet Nominating John Bolton for Nobel Peace Prize over Israel, Venezuela and Iran | World