A Russian lawmaker has warned that Moscow would retaliate if Finland joins NATO as Russian aggression in Ukraine spurs the Nordic country towards membership of the alliance.
Vladimir Dzhabarov from Russia's upper house, the Federation Council, said that any move by Helsinki to join NATO would be a "strategic mistake."
He said that Finland had developed close ties with Russia but NATO membership would mean "it would become a target."
"I think it [would be] a terrible tragedy for the entire Finnish people," said Dzhabarov.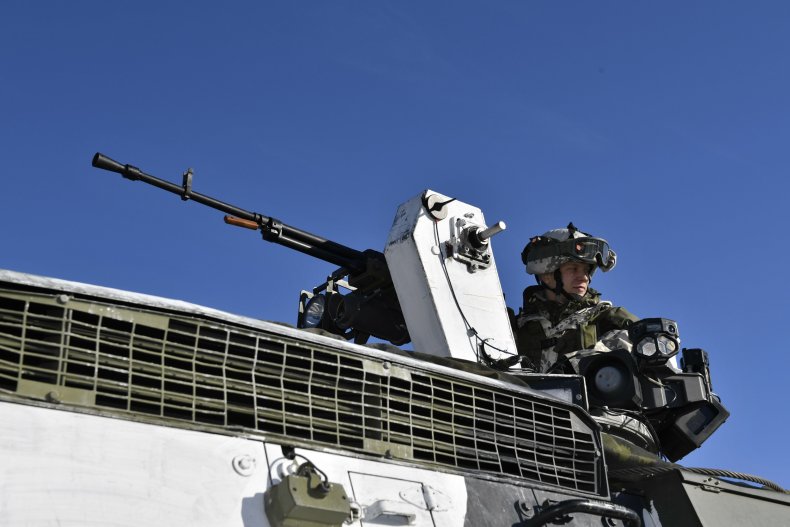 However, he said that it was unlikely that "the Finns themselves will sign a card for the destruction of their country," in comments reported on Wednesday by Russian state-owned domestic news agency RIA Novosti.
The Finnish foreign ministry told Newsweek in a statement that it "does not comment on the statements of individual MPs."
Newsweek has contacted the Russian foreign ministry for comment.
It is only the latest threat made to Finland about NATO membership, with the expansion of the alliance towards Russia's borders one of the reasons used by President Vladimir Putin for the war in Ukraine.
Sergei Belyayev, head of the Russian foreign ministry's European department, said in March there would be "serious military and political consequences," should Finland join NATO.
On Tuesday, NATO Secretary-General Jens Stoltenberg said that Finland, along with its neighbor Sweden would be "welcome" to join the alliance.
Finland shares an 830-mile long border with Russia and was once part of the Russian empire, gaining independence after World War I. The Soviet Union invaded Finland in 1939 in what is known as the Winter War. Following a peace treaty in 1940, the pair clashed again in the Continuation War that began in 1941, just after Nazi Germany invaded the Soviet Union. The war lasted until 1944.
In 1948, Finland signed the Agreement of Friendship, Cooperation, and Mutual Assistance with the Soviet Union recognizing its desire to remain neutral. A new friendship treaty was signed between Helsinki and Moscow in 1992.
However, Moscow's aggression in Ukraine has pushed Helsinki to explore ways to strengthen national security, including possible NATO membership.
Such a move is growing in popularity among Finnish politicians. Out of 200 parliamentarians, 112 responded to a survey on potential membership. Most of the respondents, 71, said they backed NATO membership while only six MPs opposed the move, according to Finland's national public broadcasting company YLE. There were 35 who said they did not know.
The National Coalition Party (NCP) strongly backs NATO membership. NCP representative Pihla Keto-Huovinen told Yle that she had changed her mind about Finnish non-alignment after the Russian invasion of Ukraine which "shook the entire foundational policy."
There is increasing support for joining the alliance among the public, with a majority (60 percent) of Finns backing joining NATO in a poll last month by the Finnish Business and Policy Forum Eva think tank.
The chart below, provided by Statista, shows when European countries joined NATO.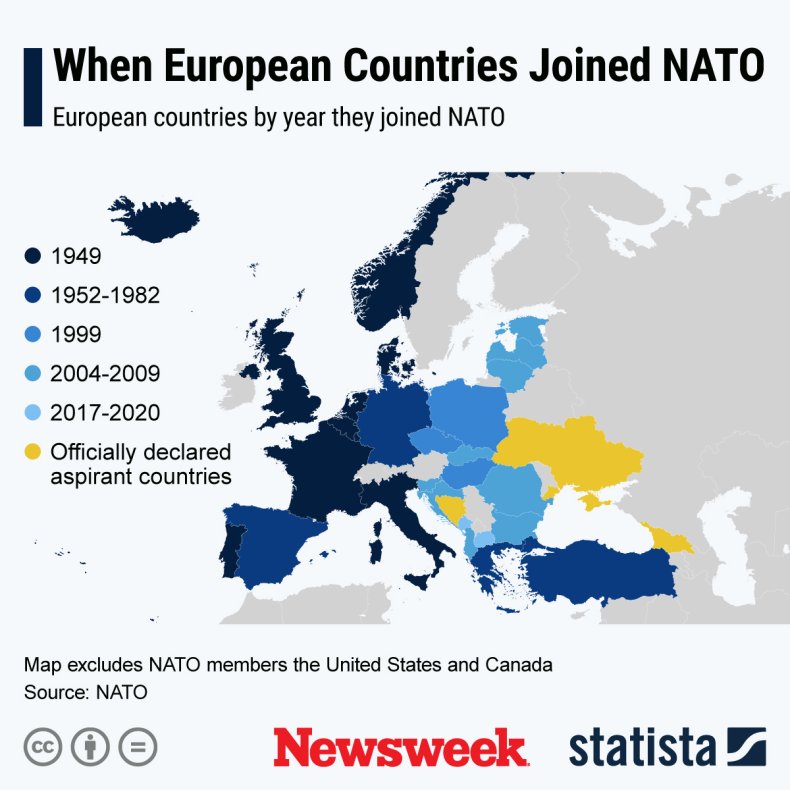 Update 04/07/22, 09:49 a.m. EDT: This article has been updated with a graphic and a statement from the Finnish foreign ministry.