Mysterious Factory Fire in Russia as Blaze Engulfs Building
A fire broke out in an industrial building near Russia's third largest city on Tuesday.
Responders attended the blaze which covered an area of around 22,000 square feet in a building with office space in Berdsk, near Siberia's largest city of Novosibirsk, around 1,800 miles east of Moscow.
The regional department of Russia's emergency ministry said in a post on social media that the source of the fire were polyethylene products on the first floor of the building which was located on Khimzavodskaya Street.
Within 10 minutes of arriving around 7:30 a.m. local time, backup was called when the extent of the blaze was discovered. A team of 42 firefighters and 11 fire engines attended the site, Interfax reported.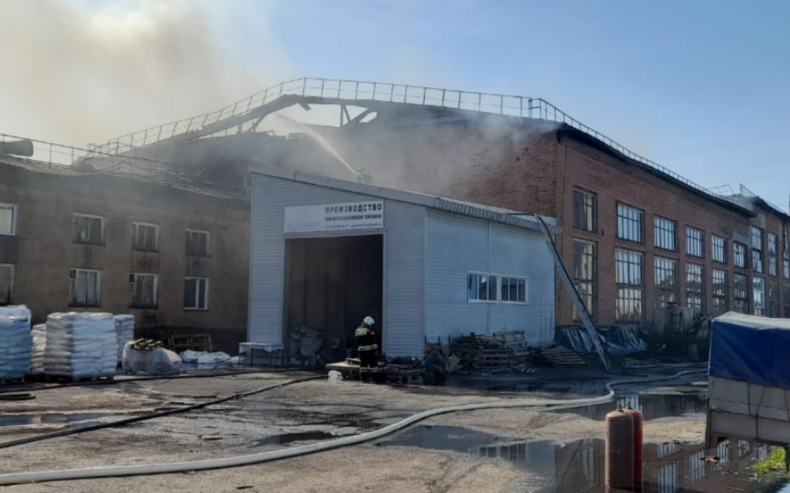 The firefighters checked for people inside, and deployed high rise equipment to put out the fire that had ripped through the roof. The ministry said that six people were evacuated and that no injuries were reported.
Video shared on local media news site Novosibirsk Online shows the roof ablaze and smoke billowing up into the sky. The clip also shows the aftermath of the fire in which the building's roof is gutted and its windows are smashed.
The fire was extinguished in around two hours, although not before it destroyed the building's roof and damaged equipment inside. Responders managed to stop the flames spreading to a neighboring warehouse which contained building materials which would have fueled the blaze.
Last week, an explosion in a gunpowder warehouse in the far eastern Khabarovsk region killed one person and injured seven others.
The explosion reportedly occurred in a military unit building in the village of Teysin, in the Amur district of the Khabarovsk region, 3,700 miles east of Moscow.
Fires are common in Siberia, especially over the spring and summer months. Far more widespread blazes have afflicted the vast region this month, with footage showing wildfires in the Krasnoyarsk region engulfing houses and burning the ground around graves.
Russia is hit by wildfires every year, but they have increased in intensity in recent years. In 2020, Greenpeace Russia said that after a drought, over 19 million hectares of land burned, which is around the size of Greece.
Last year, there were record-breaking fires in the taiga forests in Siberia and the far east following extreme heat and drought that were so big, smoke from them reached the North Pole.
Update 05/17/22, 4 a.m. ET: This article has been updated with further information.