Russia to Fire Missiles Near Syria as World Wonders if U.S. Is Leaving or Not
Russia has planned a missile test off the Mediterranean coast of Syria, where President Donald Trump's plans to withdraw troops have become mired in political disputes at home and abroad.
A notice to airmen circulated Wednesday, stating, "The Russian naval drills (the practical missile firing exercise) will be held on January 9-10, January 16-17, January 23-24 and January 30-31," the state-run Tass Russian News Agency reported. The notice warned pilots to steer clear of what would be the latest exhibition of Russian missile power in a region where the U.S. military was also deployed in support of a rival mission in Syria.
Since 2014, a U.S.-led coalition has been involved in a campaign against the Islamic State militant group (ISIS) and has used the Mediterranean to deploy naval assets supporting this mission. The Pentagon has, however, also used the sea to launch attacks against Syrian President Bashar al-Assad, who has received Russian support against rebels and jihadis since 2015, prompting tensions and prior displays of Moscow's maritime might off the coast of Syria.
While the U.S. was set to continue bombing ISIS, President Donald Trump announced last month that he would withdraw ground troops from Syria in a move that has already led to shifting dynamics in a country long torn by rival geopolitical interests.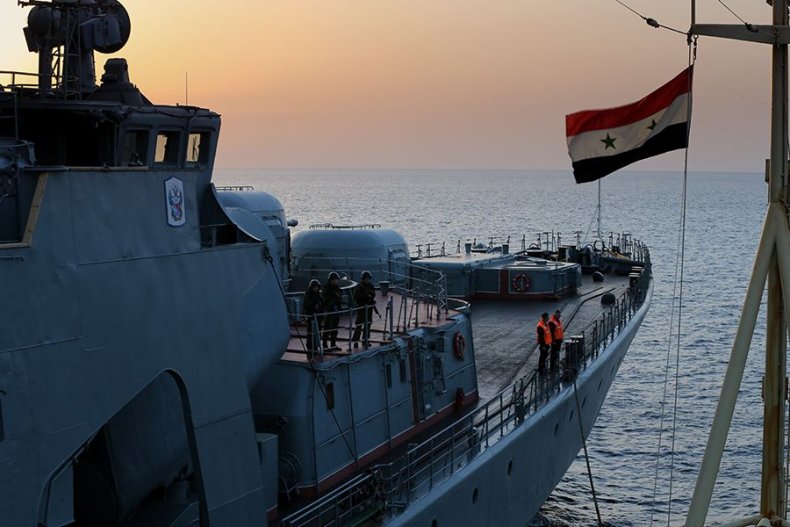 Russia's backing for the Syrian government, along with Iranian assistance, has helped Assad to overcome a 2011 uprising backed by the U.S. and its regional allies, including Israel, Qatar, Saudi Arabia and Turkey. Washington has refused to endorse the Syrian leader, who it has accused of war crimes, but in 2017 also disowned the increasingly Islamist-led opposition in favor of the mostly Kurdish Syrian Democratic Forces in 2015.
Though they share a common enemy in ISIS, Washington and Moscow have feuded over competing narratives in Syria. Trump twice ordered airstrikes against the Syrian government in response to alleged chemical weapons attacks denied by Assad and his allies in the past two years. Threats of a new Western operation emerged late last year as the Syrian military appeared to be gearing up for an all-out assault on the last insurgent-held province of Idlib, compelling Russia to host its largest-ever war games in the Mediterranean Sea last September.
The separate U.S.- and Russia-backed campaigns have managed to avoid a major conflict, however, and have nearly eradicated ISIS, which now only claimed territory in Syria's far east. As a result of ISIS's weakened posture, Trump suddenly announced last month an end to U.S. presence in Syria, whose government has considered the Pentagon's intervention a violation of international law as it was done without any coordination with Damascus.
The decision was met with criticism by a number of Trump's top officials, some of whom have resigned as they pushed for greater U.S. commitment to finish off ISIS, expel suspected Iran-controlled groups and oversee a forced transition of Assad from power. The move also raised fears among the Syrian Democratic Forces as fellow U.S. ally Turkey threatened a new offensive against Kurdish groups accused of being linked to separatist militants at home.
Secretary of State Mike Pompeo and White House national security adviser John Bolton both left for the Middle East in recent days on separate tours intended to reassure regional U.S. partners. Their suggestions that a U.S. withdrawal was conditioned on assurances that Turkey would not attack Kurdish forces were rejected by Turkish President Recep Tayyip Erdogan and the Syrian Democratic Forces have already handed over positions near the northern city of Manbij to the Syrian government, allowing Russian military police to begin joint patrols to defuse tensions in recent days.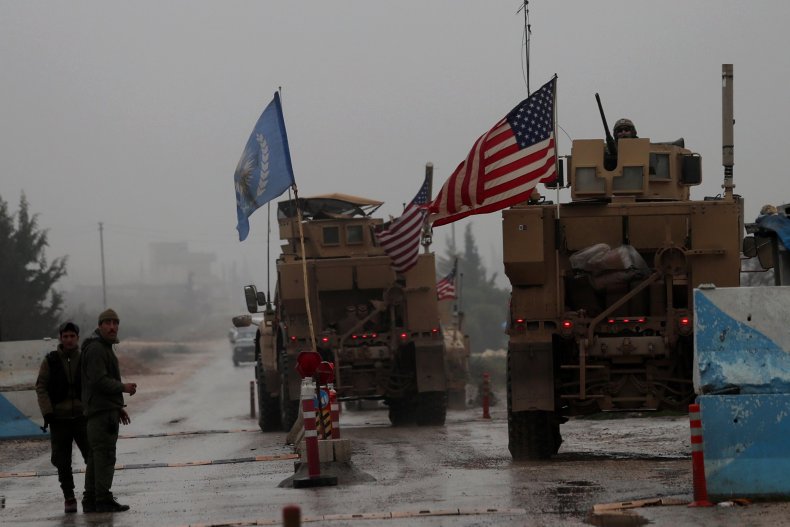 Moscow officials expressed cautious optimism in the wake of Trump's withdrawal announcement, which was initially welcomed by Russian President Vladimir Putin. As subsequent statements suggested an extended timeline and ongoing U.S. interests in the country, however, a sense of skepticism has surrounded the anticipated exit.
Russian Deputy Foreign Minister Sergei Ryabkov told reporters Wednesday that "the supporters of preserving the U.S.'s illegal military presence in Syria have rather strong positions in Washington," so he "can't imagine the U.S. physically, fully and undisputedly withdrawing from Syria military all of a sudden in the current situation of Washington's unrestrained chase for global domination and the strive to be present everywhere and solve issues only on its terms."
Despite Washington's ongoing opposition to Assad's rule, regional nations have begun to restore relations with Moscow and Tehran's ally. The United Arab Emirates and Bahrain have already reopened their embassies in Damascus with others in the Middle East and beyond reportedly set to follow suit. Still, staunch Assad opponents have refused to endorse the leader's mandate and the United Kingdom's special representative for Syria Martin Longden tweeted Monday that Assad had "lost his legitimacy" and that London had "no plans to reopen" its embassy in Syria.
As for the Kurds, Syrian Deputy Foreign Minister Faisal al-Mekdad told reporters Wednesday said the two parties had again initiated contacts and that he was "optimistic" of a future understanding, according to Reuters. Responding to this, Syrian Democratic Forces political wing spokesperson Amjed Osman told Saudi Arabia-based outlet Al Arabiya that "optimism is undoubtedly a good thing," but that the two must work together to "end the conflict, avoid any other potential fighting in the country and prevent attempts to occupy Syria by regional forces, foremost Turkey, which continues to threaten the region and occupies large parts of our land."