Huge Russia Fire Breaks Out by Institute That Makes Cutting Edge Weapons
Videos of a fire in Moscow that reportedly ripped through a car service center near a key Russian military industrial complex have gone viral.
The state–run Tass news agency reported that a fire had broken out at a car service center on Dekabristov Street in the Otradnoe district, about 12 miles north of Red Square, at just before 2 a.m. local time on Tuesday.
Social media users noted the fire's proximity to the Research Institute of Precision Instruments, which is part of Russia's state space agency, Roscosmos, and its possible links to Moscow's war effort in Ukraine.
One video showing the blaze had been viewed more than half a million times, as of Tuesday morning. The footage also prompted a lot of comments and speculation about the cause of the blaze.
"In Moscow, a strong fire near the Scientific Research Institute of Precision Instruments, where Russians develop and manufacture radio control channels for naval and aviation jet weapons," wrote Twitter user Maks 22, next to a video showing smoke billowing into the night sky.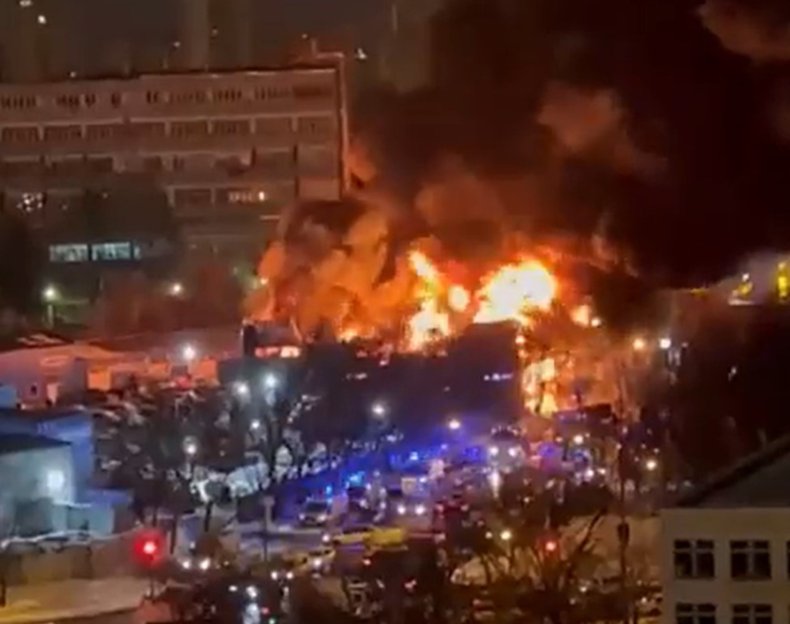 The Telegram channel of Ukrainian news outlet Realnaya Voina shared a still and two clips showing the fire from different angles. It said the fire took place near a building "where they are engaged in the development and production of radio control channels for naval and aviation missile weapons. They will explore less," added the post, according to a translation of the Ukrainian.
Michael MacKay, who writes about the war in Ukraine tweeted to his 230,000 followers: "In Moscow, the base of the Russian terrorist state, there's a fire at a research & development facility for precision instruments used in naval and aviation missile weapons."
The emergency services said that fuel canisters exploded inside the building where tires were stored and the fire spread out over 1,500 square meters (16,000 square feet), causing a partial collapse of the roof.
There were 51 fire units deployed to the site, with the extinguishing of the fire complicated by the presence of tires, oil and technical equipment, Tass reported, noting that three people were rescued from the building and the fire was put out just before 4 a.m.
While there is no confirmation about whether the fire was caused by sabotage, there have been a number of unexplained fires in Russia since it invaded Ukraine, including blazes in buildings, oil and ammunition depots, warehouses and other places.
These included fires in oil depots in March and April 2022 in the cities of Belgorod and Bryansk, near Russia's border with Ukraine, as well as an explosion at an ammunition plant in Perm, in May.