Russia Firing Senior Commanders Who Performed Poorly in Ukraine: U.K.
Russia has fired senior military commanders who have been considered to have performed poorly during the early stages of the country's invasion of Ukraine, the British Ministry of Defense has said.
Russian President Vladimir Putin invaded Ukraine on February 24, initially with the intention of capturing the capital Kyiv. However, the Russian army failed in its aims as Ukrainians put up a strong defense, leading Putin's forces to focus their attention on the eastern Donbas region, as well as Ukraine's southern port towns on the Black Sea.
Although Russia has captured the southern port city of Mariupol, its army's progress elsewhere in the Donbas has been slow. The war has killed thousands of people, including many civilians and displaced millions more.
In its daily Ukraine war update on Thursday, Britain's Ministry of Defense tweeted Thursday: "In recent weeks, Russia has fired senior commanders who are considered to have performed poorly during the opening stages of its invasion of Ukraine."
The ministry noted that Lieutenant General Sergey Kisel, who commanded the elite 1st Guards Tank Army, was suspended for his failure to capture Kharkiv. While Russia has not commented on this claim, Oleksiy Arestovych, a military and intelligence adviser to Ukrainian President Volodymyr Zelensky, said the officer was suspended and that Putin had been purging his military commanders.
Vice Admiral Igor Osipov, who commanded Russia's Black Sea Fleet, has also likely been suspended following the sinking of the cruiser Moskva in April, the ministry added.
Russian Chief of the General Staff Valeriy Gerasimov likely remains in post, but it is unclear whether he retains Putin's confidence, the update said. Arestovych said on May 11 that he had been suspended by Putin. Russia has not commented.
"A culture of cover-ups and scape-goating is probably prevalent within the Russian military and security system," the update added.
"Many officials involved in the invasion of Ukraine will likely be increasingly distracted by efforts to avoid personal culpability for Russia's operational set-backs.
"This will likely place further strain on Russia's centralised model of command and control, as officers increasingly seek to defer key decisions to their superiors. It will be difficult for Russia to regain the initiative under these conditions."
Newsweek has contacted the Russian Foreign Ministry for comment.
A report published in The Times of London on Tuesday said that Putin is micro-managing the war "at level of low-ranking colonel", and that is to blame for many of Russia's military failures in Ukraine, citing western military sources.
Gerasimov was a notable absence from Russia's huge "Victory Day" parade in Moscow on May 9, to celebrate the Soviet Union's 1945 victory over Nazi Germany in World War II.
Multiple media reports said that Putin's military chief was wounded and forced to evacuate from a war zone in Izyum in Ukraine's Kharkiv region when visiting the front lines of the eastern Donbas region at the end of April. However, neither Russian nor U.S. officials have confirmed these reports.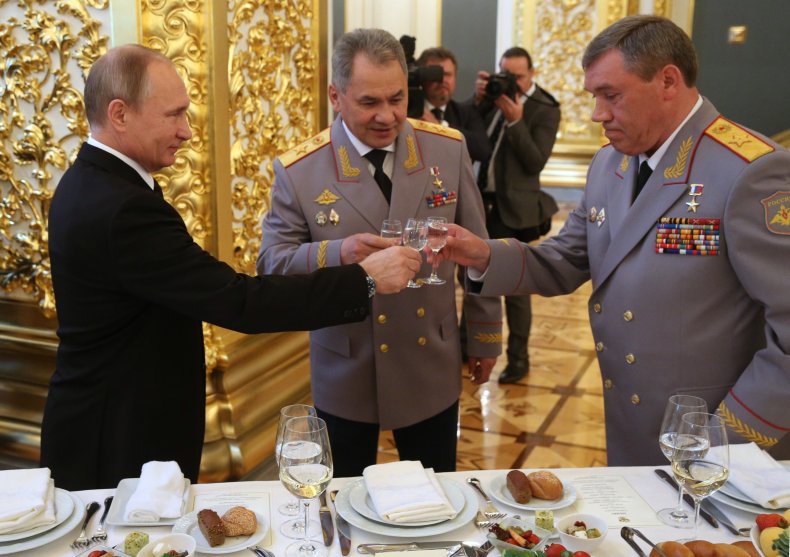 05/20/22 5:44 a.m. ET: This article was updated with comments from Oleksiy Arestovych, a military and intelligence adviser to Ukrainian President Volodymyr Zelensky.