Video: Russia Forces NATO Fighter Away from Defense Minister's Plane
Russia claimed to have forced a fighter jet of the NATO Western military alliance away from a plane carrying Russian Defense Minister Sergei Shoigu in an encounter that appears to have been caught on tape.
Two Russian Sukhoi Su-27 fighters escorting Shoigu on a return to trip Tuesday to Moscow from Kaliningrad when a NATO F-18 tried to approach the plane as it flew over neutral territory in the Baltic Sea, according to the state-run Tass Russian News Agency. At least one of the two Su-27s then reportedly chased off the incoming aircraft.
A video later published by the Russian Defense Ministry appeared to corroborate the incident, showing an Su-27 banking left toward what resembled a Spanish F/A-18 Hornet, which was forced to maneuver in the same direction in order to distance itself. A second video shared online appeared to show the same encounter from within Shoigu's airliner.
The Russian Defense Ministry's official Zvezda news outlet also reported on the incident.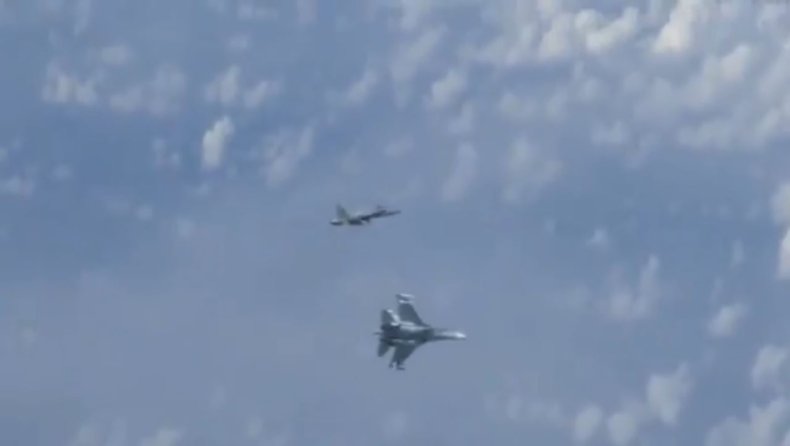 In a statement sent to Newsweek, a NATO official said: "A Russian aircraft, escorted by at least one Russian fighter jet, was tracked over the Baltic Sea earlier today."
"Jets from NATO's Baltic Air Policing mission scrambled to identify the aircraft which flew close to Allied airspace. Once identification of the aircraft had taken place, the NATO jets returned to base," the official added. "NATO has no information as to who was on board."
Images of a Spanish F/A-18 with the same number and similar symbols on its vertical stabilizers could be found online. Such aircraft were based in Siauliai, Lithuania since May as part of Spain's latest deployment under NATO's Baltic Air Policing mission covering the airspace above and near the Baltic states of Estonia, Latvia and Lithuania.
Spain was participating in the Baltic Air Policing around this same time last year as well when one if its Eurofighter Typhoon jets accidentally fired an AIM-120 Advanced Medium-Range Air-to-Air Missile (AMRAAM) during an exercise over southeastern Estonia. No casualties were ever reported and the projectile was never found.
Such exercises have often irked Moscow, which frequently protests the heightened presence of NATO countries like Spain across the Baltics and in Poland, all of which border Russia. Intercepts were not uncommon over the region and as recently as earlier this month the United Kingdom sent Eurofighter Typhoons to tail various Russian transport planes, fighters and bombers flying above the Baltic Sea on a number of occasions.
In June, the Russian Defense Ministry said it scrambled an Su-27 to intercept U.S. RC-135 and Swedish Gulfstream spy planes also over the Baltic Sea. The encounter was one of many that have occurred since 2014, when Russia's annexation of Crimean Peninsula from Ukraine amid political unrest and allegations of Moscow's hand in an eastern insurgence prompted NATO to adopt a tougher stance toward its traditional rival.