Russia Is 'Forcing' U.S. Military Out of Syria and Testing New Weapons to Help, Reports Say
Russia is reportedly challenging the U.S. military presence in Syria by testing new weapons, bolstering defenses and increasing the presence of troops near facilities operated by the Pentagon.
Days after returning from his visit to war-torn Syria, Russian Deputy Prime Minister Yury Borisov detailed to local media Monday the various new weapons systems have been introduced to the conflict. These included the Pantsir S1 anti-aircraft and Iskander-M ballistic missile systems on the ground, Tupolev Tu-160 supersonic strategic bombers, Tu-22M3 supersonic bombers and Tu-95 propeller-driven bombers, as well as Mikoyan MiG-29K fighters and Ka-52K Katran helicopters in the air.
He also specifically praised the Sukhoi Su-35 and Su-30SM fighter jets for exceeding expectations in comments translated by The Moscow Times. Borisov hailed the deployment of upgraded S-300 surface-to-air missile systems in October as well, claiming that U.S.-led coalition airstrikes had been "significantly reduced" in northeastern Syria since then.
Russia sent S-300s to Syria after a deadly international incident involving an Israeli air raid on a suspected Iranian weapons depot in September. Though it was Syrian anti-aircraft fire that accidentally struck Russia's Ilyushin Il-20 surveillance plane during the encounter, killing all 15 on board, both Moscow and Damascus agreed that Israel was to blame, and recent reports suggest that the two may be gearing up to challenge the U.S-led coalition as well.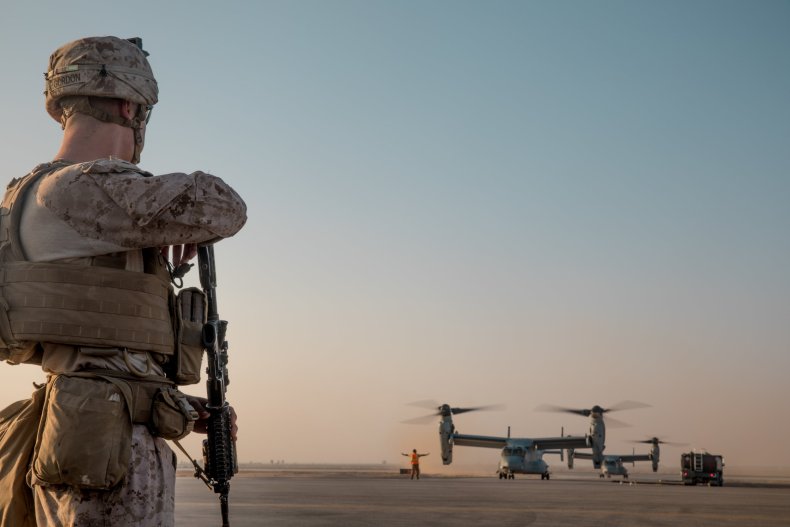 The U.S. and Israel, alongside Turkey, Saudi Arabia and Qatar, were supporters of the 2011 rebel and jihadi uprising that threatened to end the Baathist leadership of Syrian President Bashar al-Assad. In the years since, a civil war once widely portrayed as a democratic uprising has devolved into an Islamist-led insurgency, with the U.S. forming a coalition to begin bombing the Islamic State militant group (ISIS), which became a dominant force in Iraq and Syria in 2014.
Russia intervened directly in Syria the following year, aiding the Syrian armed forces and various pro-government militias—some of which were Shiite Muslim groups mobilized by Iran—while the U.S.-led coalition teamed up with a mostly Kurdish alliance known as the Syrian Democratic Forces. These two factions waged separate offensives that largely defeated ISIS, but have left competing political agendas that threatened to erupt into a new conflict.
While the U.S. has largely abandoned its backing for the Syrian opposition in exchange for the more neutral Syrian Democratic Forces, the Pentagon has maintained close ties to a rebel group known as Maghawir al-Thawra, based in a U.S.-controlled deconfliction zone at Al-Tanf in southern Syria. Iran, Russia and Syria have demanded that the U.S. dismantle this installation, contending that the country's presence was illegal in the first place, as it had not been coordinated with Assad's administration.
The Al-Tanf base has grown increasingly controversial as the surrounding U.S.-enforced security zone included the Rukban refugee camp, where children have died of malnourishment. The camp is located in the harsh desert on the border with Jordan, which has closed its borders due to fears of ISIS infiltration and both the U.S. and Russia have blamed one another for the deteriorating conditions there.
Earlier this month, both official and pro-opposition Syrian sources accused the U.S. of targeting Syrian military positions near Al-Sukhna from Al-Tanf, though the coalition argued that it had hit an ISIS site. Days later, Russian general staff chief General Valery Gerasimov told a foreign policy briefing that he had proposed to the U.S.-led coalition that they jointly control the Al-Tanf base, but was ignored. Over the weekend, fresh clashes reportedly broke out between U.S.-backed rebel and pro-government forces in the area.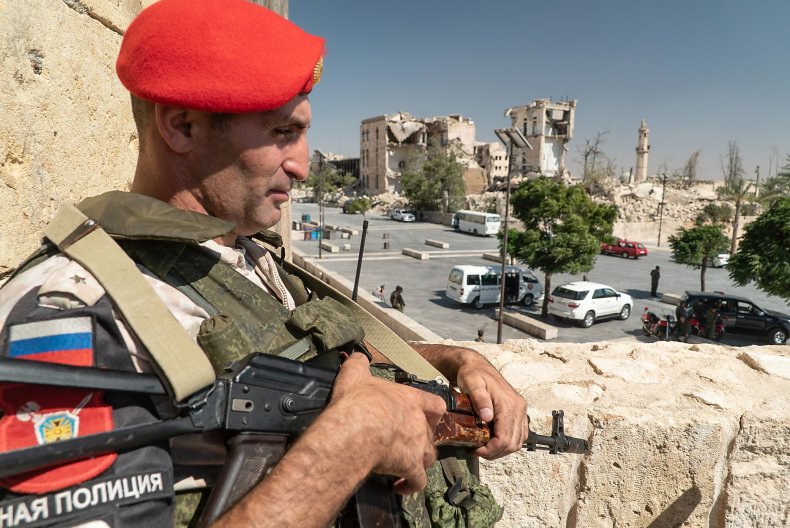 With tensions mounting, Russian military analyst Colonel Shamil Gareyev said Monday that a direct conflict between Russia and the U.S. was unlikely, but that a buildup in Russia and Syrian units in the region could serve as a means to pressure the U.S. to withdraw from the installation.
"I don't think that the Russian units will be engaged in a conflict with the Americans near Al-Tanf," Gareyev told Nezavisimaya Gazeta. "The Russian military is in Syria on a legitimate basis, unlike the Pentagon's units. The Russian and Syrian forces are concentrated near Al-Tanf in order to ensure stability, eliminate groups of ISIS terrorists and help refugees at the Rukban camp. Certainly, these steps will be aimed at forcing U.S. units from Syrian territory by non-military means."
U.S. Special Forces commander Raymond Thomas warned last year that, should Russia officially question U.S. military presence in Syria beyond battling ISIS, "we could want to stay and have no ability to do it." While the Pentagon's official mandate in Syria was limited to defeating ISIS, which claims pockets on both sides of the Euphrates river in the east, Washington officials have quietly expanded U.S. goals to include expelling forces said to be under Iranian command and ensuring a political process to oust Assad from power.