Russia Hits Back at 'Unacceptable' Rant by Georgia TV Host Who Cursed Out Vladimir Putin and His Dead Parents
Moscow condemned a profanity-laced rant by a Georgia television host who insulted Russian President Vladimir Putin and his late mother, among others, at a tense time in relations between the two neighbors.
Kremlin spokesperson Dmitry Peskov described as "absolutely unacceptable" the roughly minute-long, Russian-language attack Sunday on opposition-run television channel Rustavi-2 where presenter Giorgi Gabunia called Putin a "stinking occupier" and a "walrus c***" among other obscene terms translated by U.S. government-funded Radio Free Europe/Radio Liberty. Gabunia went on to insult Putin's parents, who died in the late 1990s, and he vowed to defecate on the Russian president's grave.
"The entire Georgian leadership, including the president, the prime minister, members of the parliament and the parliament speaker have resolutely condemned the incident," Peskov said Monday, according to the state-run Tass Russian News Agency.
"Undoubtedly, such behavior — no matter if it was triggered by someone seeking to further complicate Russian-Georgian relations or was the result of complete insanity — is unworthy of the Georgian people who boast an ancient history and rich cultural traditions. That said, it surely is a disgrace to Georgians," he added, noting that the ex-Soviet republic "has been hit by new fits of Russophobia" due to "the government's unwillingness to rein in extremist-minded thugs."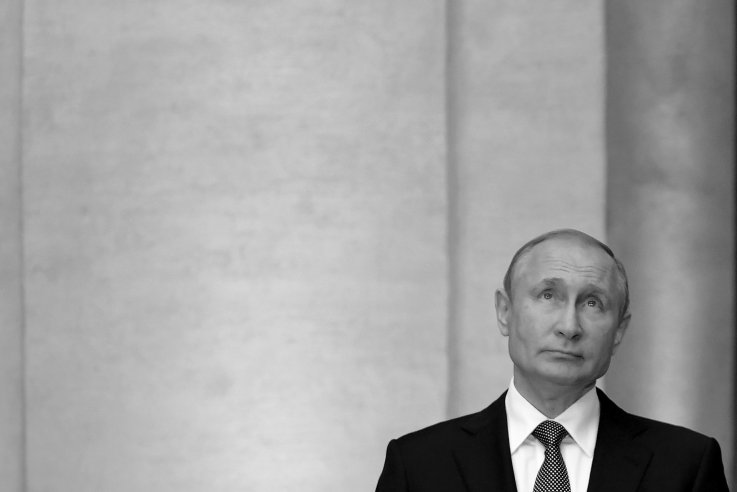 The Russian Foreign Ministry also hit back at Gabunia's verbal assault in a statement Monday, deeming it "unprecedented in its meanness" and "another open provocation of the Georgian radical forces aimed at undermining Russian-Georgian relations." It called for "an adequate response from the relevant international and regional organizations and the journalistic community."
In a statement sent to Tass, Russian Foreign Ministry spokesperson Maria Zakharova simply described the ordeal as "Georgia's misfortune."
Georgian Foreign Minister David Zalkaliani also condemned "the expressions used by Rustavi 2 TV, which have nothing to do with freedom of speech and are a clear provocation aimed at further complicating the existing situation in Georgia-Russia relations" in a statement attributed to the top diplomat on his ministry's Facebook page. He deemed Gabunia's words "a deliberate action to establish a sense of destabilization in the country."
A similar message was posted by Georgian President Salome Zourabichvili's official Twitter account, which said she "unequivocally condemns hate speech, verbal aggression, insults and provocatory statements made today" Rustavi 2. The statement said the remarks "go against all Georgian traditions, serve only to divide and raise tensions in the country, with Russia and in the region."
Georgian Prime Minister Mamuka Bakhtadze further called them "nothing but disgusting act of provocation and an attempt to destabilize our country" and "totally unacceptable!" on Twitter.
Gabunia also received disciplinary action for his comments and "has been fully suspended from duties for two months," according to a statement on Rustavi 2's website Monday. This action also "includes all programs he is involved in."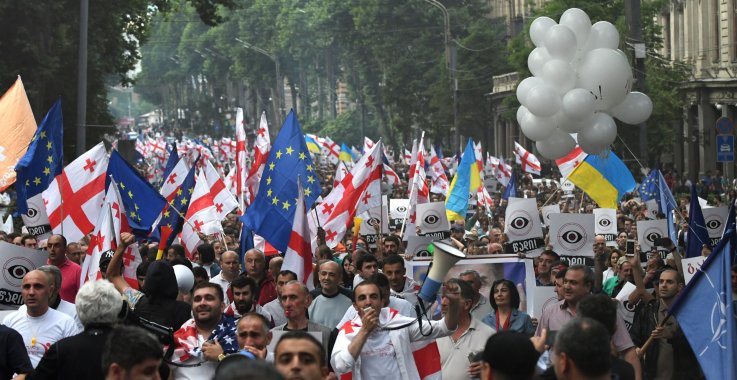 The strong political reactions from both Moscow and Tbilisi came as Georgians protested at the headquarters of Rustavi-2, which reportedly suspended all programming for up to six hours. Russia and Georgia have already undergone a worsening in ties as mass demonstrations erupted in the wake of Russian lower house of parliament — or Duma — deputy Sergei Gavrilov's visit and speech to the Georgian parliament building last month and a subsequent police crackdown that has many opponents demanding Georgian Interior Minister Giorgi Gakharia's resignation.
Though the ruling Georgian Dream party has sought to improve ties with Russia, critics have expressed concern at the extent of Moscow's influence over the South Caucasian country. Since splitting from the Soviet Union in 1991, it has had rocky relations with neighboring Russia, which went to war with Georgia in 2008 to support friendly breakaway republics Abkhazia and South Ossetia, still home to Russian military installations.
Though Moscow and Tbilisi re-established ties in 2013, the latter's desire to join the NATO Western military alliance has ignited new tensions and, amid recent protests in Georgia, Russia announced a ban on all flights to and from there, blaming the unrest on the U.S. Georgia responded by launching a tourism campaign that Washington's embassy in Tbilisi offered support to last month by tweeting, "Spend your holidays in #Georgia."
Duma lawmakers have since threatened to take further actions against Georgia, including bans on wine and mineral water, and have called for Gabunia's arrest and extradition to Russia to face charges.
Russia Hits Back at 'Unacceptable' Rant by Georgia TV Host Who Cursed Out Vladimir Putin and His Dead Parents | World