Russian Media Demands 'Germany Must Be Defeated' After Ukraine Gets Tanks
Vladimir Solovyov, a Kremlin propagandist who has issued threats to the West on his radio and TV shows, has referred to Germany's Nazi past in response to Berlin's agreement to deliver Kyiv's sought-after Leopard 2 tanks.
Chancellor Olaf Scholz announced on Wednesday he would allow Ukraine to initially get 14 Leopard 2 A6 tanks, after weeks of criticism that Germany was not doing enough to help Kyiv fight Russian aggression.
But on his radio show Full Contact, Solovyov said that the decision showed how the Germans "no longer remember their guilt," referring to World War II. "There are no longer any repentant German politicians."
"Germany has forgotten about its historical guilt and thinks it can do anything," he said in the clip tweeted by Francis Scarr of BBC Monitoring.
"This means that Germany must be defeated," he said, referring to how "memory of the atrocities committed by German Nazis and their lapdogs will never go away."
The Kremlin line, which Solovyov pushes, says that part of the justification for Russia's invasion of Ukraine was to "denazify" the country, which has been roundly rejected by Kyiv and internationally.
The caption on the livestreamed show read "denazification of Germany" as Solovyov insulted German Foreign Minister Annalena Baerbock, President Frank-Walter Steinmeier and Scholz, whom he called "a corrupt Nazi."
"That's why it's not a coincidence that on the front, they call all our enemies' 'Germans,'" he said, before repeating the line that "the Germans must be defeated."
He then qualified his criticism of Germans by adding, "we don't have any negative attitudes towards the German people, but we have hatred...for the Nazis."
The decision by Berlin, which had been trailed in German media, will also include allowing other European countries to send tanks from their own stocks to Ukraine.
On his TV show Evening with Vladimir Solovyov Tuesday, the anchor railed at the prospect of Germany supplying Ukraine's forces with the vehicles, saying "German tanks on Russian land, the reason for the destruction of Berlin."
The clip was tweeted by Ukrainian internal affairs adviser Anton Gerashchenko, who wrote alongside it: "Sign of a right decision—Solovyev's tantrum."
Meanwhile, the Russian embassy in Germany branded Scholz's decision "extremely dangerous" and said that it takes the conflict "to a new level of confrontation and contradicts the statements of German politicians about the reluctance of (Germany) to get involved in," Russian news agency Interfax reported.
Newsweek has contacted the German foreign ministry for comment.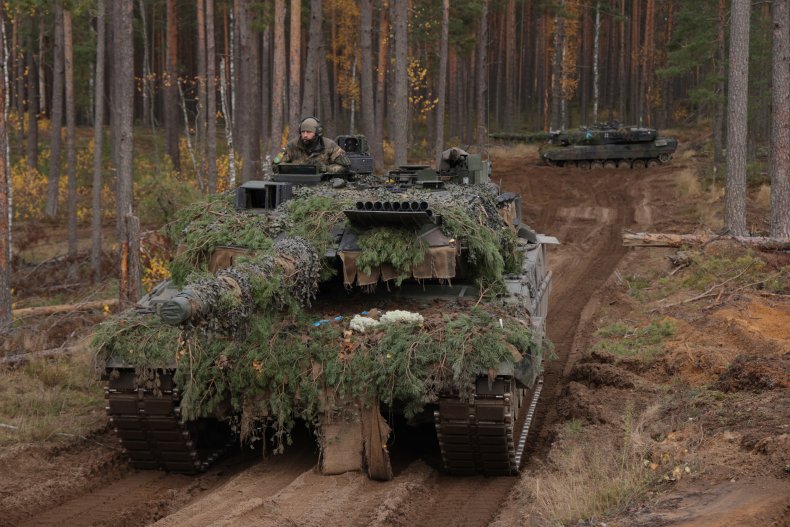 Update 01/25/23, 10:45 a.m. ET: This article has been updated with further information.