Russia's Grinding Bakhmut Advance a 'Symbol' of Offensive Inability: Kyiv
The continuing battles in Bakhmut are a "symbol" of Russia's inability "to conduct rapid and powerful offensive operations," according to a Ukrainian military official.
Colonel Serhiy Cherevaty, spokersperson for Ukraine's Eastern Group of Forces, added that said Moscow's forces "do not know how to learn from their own tactical mistakes."
The Donetsk city of Bakhmut has long been a target of heavy fighting and bombardment. The fight for the Donbas settlement has continued amid reports of a wider Russian offensive, thought by Ukrainian commanders to coincide with the first anniversary of the outbreak of the war this month.
Describing Bakhmut as the "main direction of the enemy's attack," Colonel Cherevaty said: "The so-called top leadership of Russia has set the task of entering the administrative borders of the Luhansk and Donetsk regions as soon as possible.
"However, Bakhmut can be called a symbol of the inability of the armed forces of the Russian Federation to conduct rapid and powerful offensive operations. Fortunately for us, the occupiers do not know how to learn from their own tactical mistakes."
On Saturday, the Institute for the Study of War think tank said members of the Russian "milblogger" community "continue to appear demoralized at the Kremlin's prospects for executing a major offensive."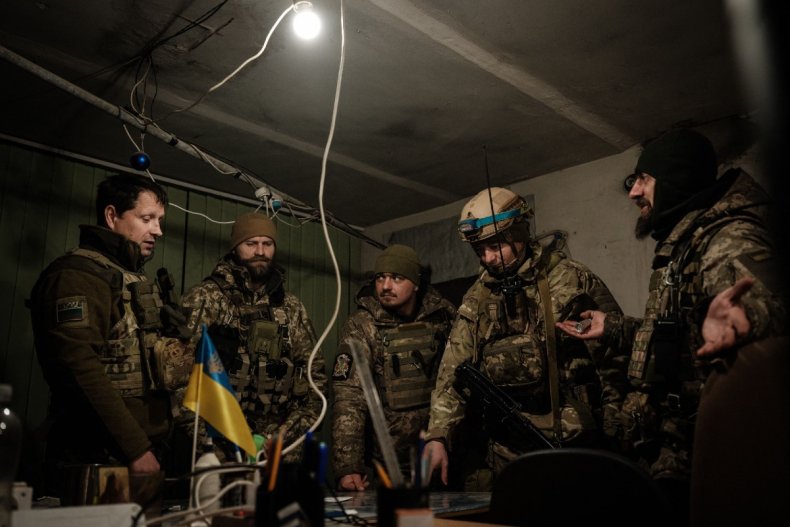 This feeling has been heightened by Russia failing to capture the Donetsk town of Vuhledar, the ISW said. Russian gains in Bakhmut have been "limited but significant," yet paired with a "lack of meaningful advances" across the country shows that Russian forces are unable to rapidly advance through more traditional mechanized maneuver warfare, it added.
The Russian military is deploying its "most elite units" to Bakhmut, according to the U.S. think tank, with urban filtration tactics producing "significant tactical Russian advances" around the city.
Should Ukraine's forces withdraw from the settlement these elite units could offer Russia more concrete operational gains, the ISW said.
Russian forces are using more traditional mechanized maneuver warfare in other areas of the eastern Donetsk region which are less successful, the ISW continued.
"The Russian military is unlikely to be able to scale its approach from the Bakhmut area to the wider theater because the tactics it is using in Bakhmut are more suited to dense urban environments," it said.
This is compounded by Russian forces not having enough elite formations to carry out a large-scale offensive in Donetsk and Luhansk in the same way.
On February 8, Ukraine's Southern Operational Command said that areas of dense urban development were "the hardest place to fight, [and] perhaps the worst job for infantry."
Writing on Facebook, the southern operational command said urban areas were "almost the only place" where artillery and tanks were "crucial," but the key element becomes "the skill of every shooter and the coordination of small infantry groups."
Newsweek has contacted Russia's defense ministry for comment.