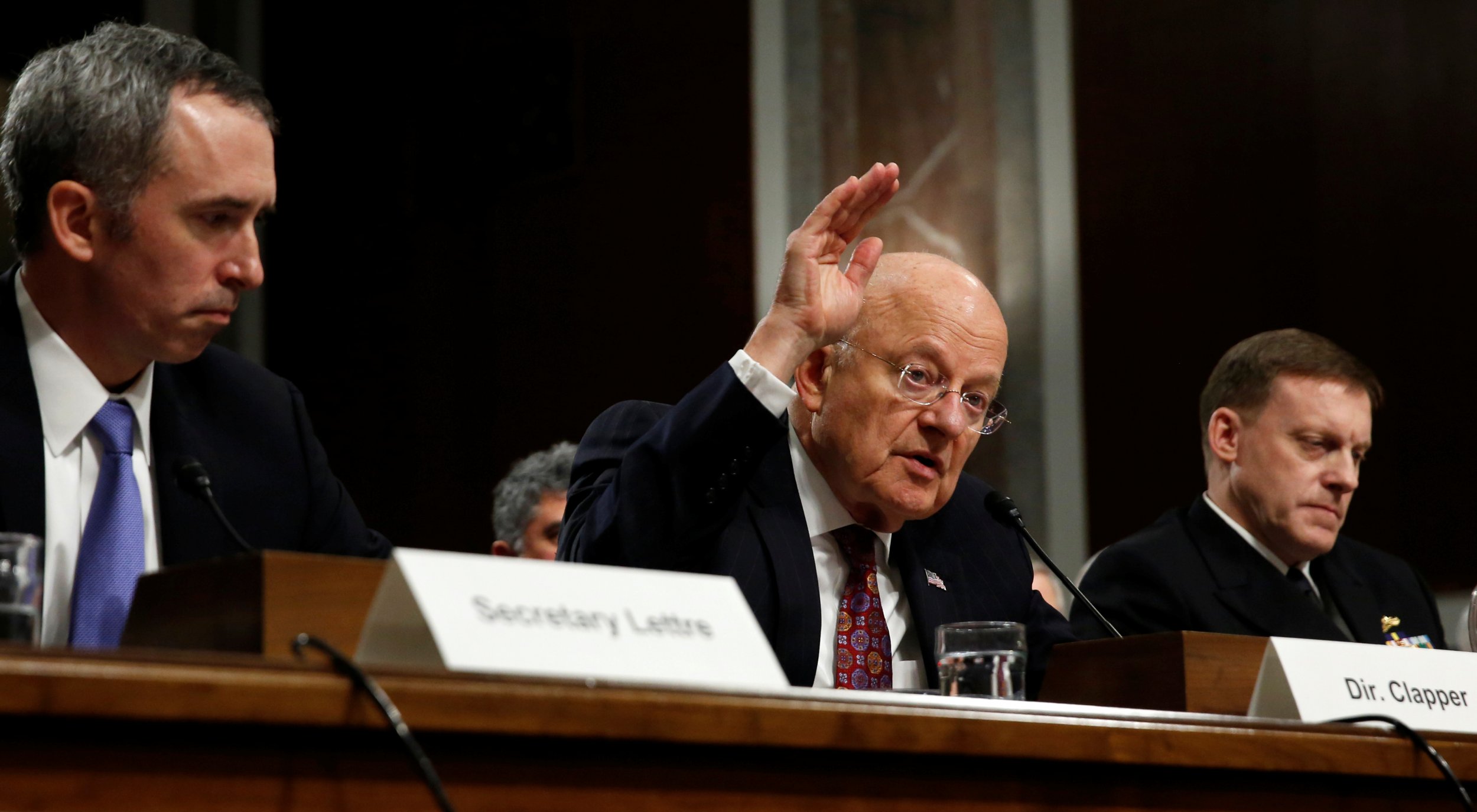 American intelligence officials on Thursday got a chance to hit back against the broad attacks Donald Trump has lobbed against them, a day ahead of their briefing with the president-elect on Russia's interference in the 2016 election.
The director of national intelligence, James Clapper, the National Security Agency director, Admiral Mike Rogers, and the undersecretary of defense for intelligence, Marcel Lettre, warned during a Senate Armed Services Committee on cybersecurity that Trump's open dismissal of their agencies' conclusions that Russia was behind the hacking of Democratic Party email systems was hurting morale and could ultimately undermine national security.
Related: Donald Trump supports Julian Assange's Russian hacking claims
"I do think public trust and confidence in the intelligence community is crucial," Clapper told senators. "Both in this country and the dependence that other countries…have on the U.S. intelligence community. I've received many expressions of concern from foreign counterparts about the disparagement of the U.S. intelligence community, or what I should say has been interpreted as the disparagement of the U.S. intelligence community."
Trump has repeatedly questioned the intelligence community's conclusion, summarized in an October statement from the director of national intelligence and the Department of Homeland Security, that the Russian government directed the hacks of the Democratic National Committee and a top Hillary Clinton campaign aide, John Podesta. And the president-elect has worked to raise doubts about their findings by mocking past failures, including their claim in 2002 that Iraq had weapons of mass destruction (which proved to be wrong).
On Friday, Trump again went after intelligence officials on Twitter, claiming: "The 'Intelligence' briefing on so-called 'Russian hacking' was delayed until Friday, perhaps more time needed to build a case. Very strange!" Intelligence officials say the briefing was always planned for Friday. And on Wednesday, he seemed to side with Julian Assange, the founder of WikiLeaks—which leaked the hacked emails—instead of with the intelligence community. "Julian Assange said 'a 14 year old could have hacked Podesta'—why was DNC so careless? Also said Russians did not give him the info!" Trump tweeted. Trump's transition team also leaked word Wednesday that it is planning to restructure the office of the director of national intelligence and the CIA.
Trump's praise of Assange, in particular, prompted rebukes from not only Democratic senators but from a few Republicans. The WikiLeaks founder, Senate Armed Services Committee Chairman John McCain pointed out in his opening remarks, "is responsible for publishing names of people who worked for us who have put their lives in direct danger."
"Do you think there is any credibility we should attach to this individual, given his record?" McCain asked Clapper.
"Not in my view," the director responded.
Democrats were harsher. Missouri Democrat Claire McCaskill said she was appalled the president-elect would put Assange "on a pedestal" while denigrating America's intelligence community. "I think it should bring about a hue and cry no matter if you're a Republican or a Democrat." And the senators eagerly prodded the intelligence officials to weigh in on Trump's critiques.
Clapper was measured, but pointed. "I think there is an important distinction here between healthy skepticism, which policymakers…should always have" about intelligence, he said, when asked by McCaskill about Trump's "trashing" of the intelligence community. But, he added, "I think there is a difference between skepticism and disparagement."
In response to another Democratic lawmaker's question, about morale at the agencies, Rogers said he worried the lack of support from the incoming president could prompt staff to leave. "We realize what we do is in no small part driven in part by the confidence of our leaders," the NSA director said. "I just don't want a situation where our workforce decides to walk."
Clapper, Rogers and Lettre didn't disclose much about the report intelligence officials are compiling on Russia's election-year hacking at the behest of President Barack Obama. An unclassified version of that report, Clapper said, will be released early next week. Intelligence leaders will also hold a number of classified briefings for Congress on its findings.
"We will ascribe a motivation," Clapper said, but "I'd rather not pre-empt the report."
He did, however, reiterate the intelligence community's belief that Russia's leaders directed the election hacks: "We stand actually more resolutely on the strength of that statement that we made on the 7th of October."