Is This Proof Russia Hacked The Election? Hacker Turned FBI Witness: Report
President Donald Trump and his defenders have flatly, and correctly, stated that no physical proof of Russia hacking the 2016 presidential election exists or has been brought to light. Indeed, no evidence has been made public, and the final tally of votes and who chose whom has not been questioned, even by the U.S. intelligence community, which firmly stands by its claim that Russia attempted to meddle in Trump's favor.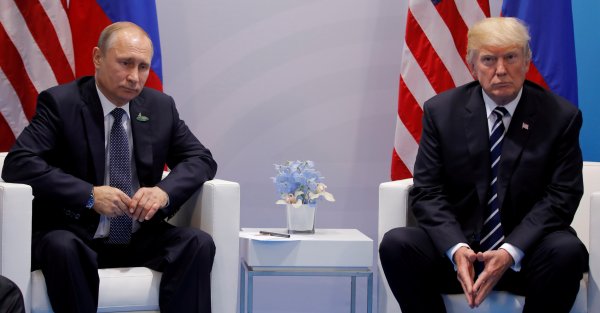 But now, it's quite possible the creator of a malware program that resulted in one key aspect of last year's election that certainly helped Trump win could finally be known. In fact, he's already spoken to the FBI.
Known by his hacker name, "Profexer," he reportedly is the one who made the malware that was used to break into the Democratic National Committee's (DNC) servers and obtain the thousands of emails that WikiLeaks dumped online for the entire world to see, according to a New York Times report Wednesday.
The origins of the hacking appear to be in Ukraine, which has attempted to fend off Russia's attempts to fully take over the Crimean region and has previously served as a sort of experiment site for cyberwarfare techniques, according to the Times. This is perhaps backed up by Russian President Vladimir Putin's statement in June that "patriotic" Russians could have hacked the DNC or the election but did not have the Kremlin's backing.
The two hacker groups allegedly responsible for the attack on the DNC are believed to be Advanced Persistent Threat 28, also known as Fancy Bear, and the Russian group Cozy Bear. Each is believed to be backed by Russia's military intelligence arm.
The two groups have served as "centers for organization and financing" of hacking activities, while such things as coding are performed by "private and often crime-tainted vendors."
Profexer reportedly got spooked in December, when the Department of Homeland Security and the FBI made public a report of the Russian hacking effort, which it dubbed Grizzly Steppe. That report made reference to Profexer's malware program, and he went silent on hacker forums in early January.
He reportedly went to Ukrainian authorities first and told them he had not intended for the malware to be used the way it was, and he became a witness for the FBI while living in Ukraine.
The malware's booty somehow made its way to WikiLeaks, whose founder, Julian Assange, has insisted he did not gain the DNC emails from the Russian government. They were first published by WikiLeaks in July 2016, three days before the DNC held its convention in Philadelphia.
The damaging emails included major revelations about the DNC's attempts to "undermine" Vermont Senator Bernie Sanders's campaign against Hillary Clinton and eventually led to the resignation of Debbie Wasserman Schultz as DNC chairwoman.
And while Russia may not have affected the final vote numbers last November, it did launch cyberattacks on 39 states around the country in attempts to delete voter registration data, far more than was originally believed, Bloomberg reported in June.