Russia Has Killed Twice as Many in Mariupol as Nazi Germany Did: Mayor
As Russia's war of aggression in Ukraine sets to enter its 11th week, Mariupol Mayor Vadym Boychenko said the death toll among its civilians has already doubled the amount caused by German Nazis over a two-year stretch during World War II.
Boychenko didn't mince words Saturday in his claims. Boychenko posted to his Telegram channel.
"In two years, the Nazis killed 10,000 civilians in Mariupol. And the Russian occupiers in two months - more than 20 thousand Mariupol. More than 40,000 people were forcibly deported," Boychenko stated. "This is one of the worst genocides of civilians in modern history. The Russian army is purposefully and ruthlessly destroying our city and its inhabitants."
Boychenko used words like "racists" to describe the worst his city's residents have ever seen, saying the Russians "have already illegally deported as many Mariupol residents as Hitler's troops during the years of occupation."
"Racism is the fascism of the 21st century," Boychenko wrote. "No doubts or illusions. Mankind has paid a high price for the victory over fascism in the last century. If we do not unite today and do not stop this evil, the price this time may be much higher."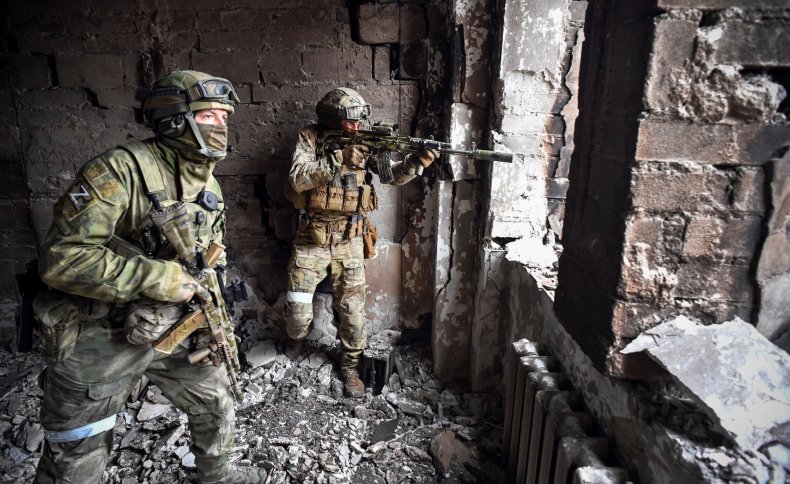 There has not been an accurate number of civilians killed in Mariupol since the war began in late February. The city's council first said that 10,000 had been killed, but are now saying at least 20,000 have been killed.
The city has been devastated, and most recently civilians have been bunkered at the Azovstal Steel Plant complex. There have reportedly been cease fires to allow human corridors for evacuation of residents, but there have also been conflicting reports of Russian troops thwarting evacuation attempts.
Mariupol is a strategic seaport along the Azov Sea, and also the scene where a drama theater sheltering children and women was bombed by Russian artillery. Outside the theater, on each end, were the words "Children" painted in Russian.
The deputy mayor of Mariupol, Sergei Orlov, said up to 1,200 people sought refuge in that theater. A bomb landed in the middle of the overcrowded shelter. Some women and children were able to escape, but the amount of deaths in the theater is unknown.
After the bombing, Boychenko called it a "genocide" of Ukrainians.
"The only word to describe what has happened today is genocide, genocide of our nation, our Ukrainian people," Boychenko said.
Illia Ponomarenko, a defense reporter for the Kyiv Independent, tweeted at the time: "It's a miracle—civilians that were hiding in a basement at the Drama Theater in Mariupol survived the air strike." Ponomarenko add, "they are getting evacuated from underneath the ruins."
After forced and voluntary evacuations, about 100,000 people still remained in Mariupol. Russia has occupied almost everything but the steel plant, which endures heavy fighting each day between Russian troops and Ukrainian defenders.