Russia Has Developed Titanium Exoskeleton for Future Wars—But It Has One Problem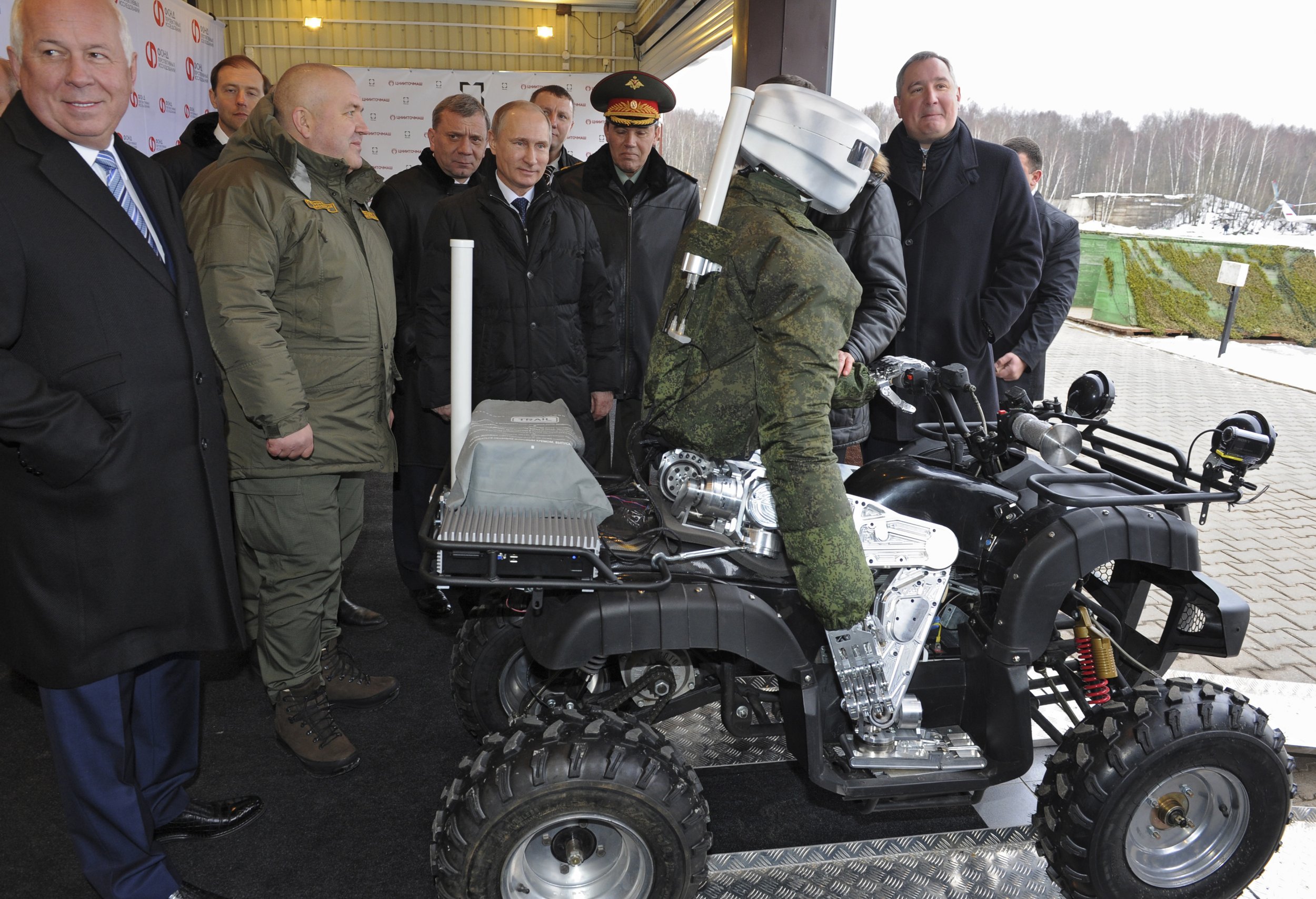 Russia has developed a concept exoskeleton from titanium, intended to increase agility and help soldiers carry very heavy loads, state arms-design institute TsNIITochMash has announced. The newest development is reportedly strong and light; the only problem is getting it to move with the wearer.
"There is a concept for the exoskeleton," Dmitry Semizorov, the head of the institute, told state news agency Itar-Tass. "We created a complex built titan construction that is very hard but very light. We have not installed engines on this construction yet. But where they ought to be and what demands these engines must meet, we know, and we have requested that to the developers. How electricity will reach them is something we know as well."
Related: Ukraine's New Tank Can Go Toe to Toe With Russia's Best, But Can Kiev Even Afford Its Own Invention?
In theory, the kit will increase a soldier's strength and perhaps even speed, making the handling of higher-caliber guns with one arm a possibility, Semizorov said. Last year, the institute said it was debating introducing some sort of exoskeleton in the next generation of Russia's Ratnik ground-unit personnel kit.
The titanium concept item is not headed to the battlefield or anywhere else anytime soon, however. The arms developer has not yet solved the problem of getting the kit to move.
"A compact and powerful battery is necessary both for the electric motor and the artificial muscles," Semizorov said. "However, the matter of creating such a battery is not solved anywhere in the world. This is a shared problem. That is why the deployment of exoskeleton constructions to the zone of combat is not yet being considered. Right now they are waiting for a good proposition from developers and manufacturers."
The futuristic kit is part of a flashy ongoing project for Russian arms-design bureaus to mechanize parts of kit carried and worn by personnel in the field of battle.
Exoskeletons are not a goal pursued by Moscow solely. One of the most prolific U.S. arms manufacturers, Lockheed Martin, has handed the Army a light exoskeleton to test. The load-carrying equipment, called FORTIS, is intended to serve as a knee-stress-release-device, supporting a soldier's legs to reduce tiredness and increase strength.
It is made of lightweight, conformal structures and powered by a lithium ion battery, according to Business Insider. Soldiers at Fort A.P. Hill in Virginia are currently testing its advertised ability to carry 180 pounds up five flights of stairs without expending as much energy.
U.S. contractors have been working on military-grade exoskeletons for years; one of the most heavy-duty ones remains the Iron Man–inspired XOS 2, unveiled by Raytheon in 2010. The suit's high-pressure hydraulics reportedly allow its wearer to lift 200 pounds several hundred times without overexerting himself, and to throw multiple punches that can crack through three inches of wood.