Russia has come up with a "secret development" that purportedly allows it to hack into the HIMARS rocket-launching systems the U.S. has sent to Ukraine, according to a Russian military expert.
Alexei Leonkov unveiled the cryptic initiative during an appearance on the Russian state-owned Rossiya-1 TV channel, Russian news site Pravda reported. He was a guest of Russian host Vladimir Solovyov, whom the U.S. State Department has designated as a Kremlin propagandist.
The U.S.-supplied HIMARS (an acronym for M142 High Mobility Artillery Rocket System) has become a key element of Ukraine's counteroffensive against Russia. Last week, retired Army General Mark Hertling described the weapons as a "game changer" in the ongoing war. Defense Secretary Lloyd Austin's announcement last week that four additional HIMARS systems would be sent to Ukraine brought the total number of the U.S. weapon systems provided or promised to the war-torn country up to 16.
Leonkov said on Rossiya-1 that HIMARS was first used in Ukraine's eastern Donbas region and that it demonstrates the weapon's vulnerability, according to Pravda.
"The American system has been hacked," Pravda quoted him as saying. "And our secret development will be deployed in all directions. A good system, I can't name it yet, but it works at much greater distances, instantly fixing the launch site. For the Americans, this was a very unpleasant surprise."
The Pravda report, published Wednesday, did not specify when Leonkov appeared on Rossiya-1.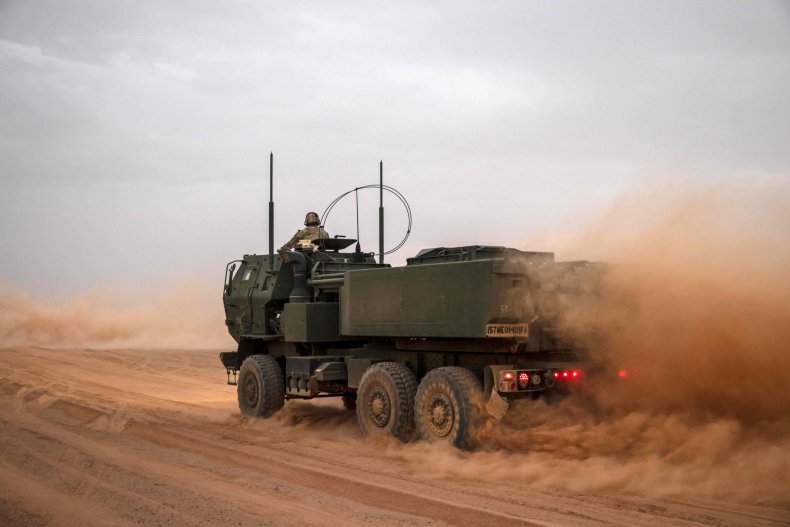 Officials in Ukraine and the U.S. have repeatedly touted the Ukrainian military's use of HIMARS.
Ukrainian Defense Minister Oleksiy Reznikov said Monday that the armed forces used HIMARS to take out 50 Russian ammunition depots, while a senior U.S. defense official recently told reporters that Ukraine has used the systems to destroy more than 100 "high value" Russian targets.
Last week, General Mark Milley, chairman of the Joint Chiefs of Staff, said during a news conference that the Ukrainians have been "effectively employing" the rocket systems, "with strikes against Russian command and control nodes, their logistical networks, their field artillery near defense sites and many other targets."
At the news conference, Milley also said Russia had so far failed to destroy any of the U.S.-supplied HIMARS. Russia contradicted this last week, saying it has destroyed four of the U.S. HIMARS systems over two weeks.
Leonkov also said on Rossiya-1 that the "miracle weapon advertised by the Americans" had become less effective in the conflict, Pravda reported, disputing the recent indications of Ukraine's success in using HIMARS.
The U.S. Defense Department declined to comment to Newsweek on Leonkov's remarks about a "secret development" for hacking into HIMARS.
Newsweek reached out to the defense ministries of Russia and Ukraine for comment.
Update 7/28/2022, 1:20 p.m. ET: This story was updated to say the Defense Department declined to comment on Alexei Leonkov's remarks about HIMARS.