Russia Hits Ukraine With Air Strike From Belarus for First Time: Kyiv
Ukraine said Saturday that Russia fired missiles from Belarus "for the purpose of further dragging Belarus into the war against Ukraine."
In a statement posted to Facebook, the Main Intelligence Directorate of the Ministry of Defense of Ukraine said that "a massive missile and bomb attack" was launched across the country, and that "Russian bombers 'worked' directly from the territory of Belarus."
The Ministry of Defense said that six aircraft launched 12 missiles, and that the "blow was carried out in Kyiv, Chernihiv and Sumy regions."
"This is the first case of an air strike across Ukraine directly from the territory of Belarus. Today's shelling is directly related to the efforts of the Kremlin authorities to drag Belarus into the war in Ukraine as a direct participant," the ministry stated.
Newsweek has reached out to the Russian Foreign Ministry for comment.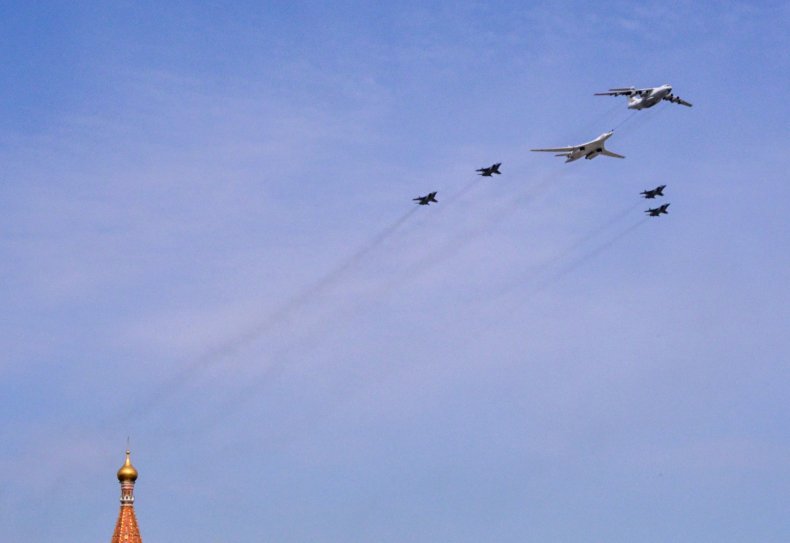 Mykhailo Podolyak, an adviser to Ukrainian President Volodymyr Zelensky, said that 48 cruise missiles were fired in total on Ukraine last night.
"Exclusively on civilian targets... Russia is still trying to intimidate Ukraine, cause panic and make people be afraid of Z-monsters... Ukraine knows everything and ready for anything. And it will punish for all the evil..." he tweeted Saturday.
Journalist Olga Tokariuk also tweeted Saturday that a "record number of missiles was fired by Russia on Ukraine this night and morning: more than 60, according to the latest figures."
"Many were launched from the territory of Belarus. They targeted Kyiv, Lviv, Zhytomyr, Chernihiv, Khmelnytskyi, Dnipro, Mykolayiv, Kharkiv regions," she added.
Belarus Proves to Be Strong Russian Ally
Earlier this month, Mark Voyger of the Transatlantic Defence and Security Program at the Center for European Analysis, who is an expert on Russia, raised concerns about how Belarus' military is scheduled to hold training exercises this month near the Ukrainian border.
"These drills will cause serious concern because, unfortunately, Russia and its allies have consistently been using military drills as a mask to cover their aggressive actions," he told Express UK.
Voyger added that Russian President Vladimir Putin "has been trying to put pressure on [Belarusian President Alexander] Lukashenko and force him to take a more aggressive stance to launch more aggressive actions out of Belarus, involving Belarusian troops."
Belarus has been one of Russia's closest allies during the invasion of Ukraine.
Just before the invasion in late February, Russia held joint military drills with Belarus, which raised concerns from U.S. officials.
In a letter to United Nations Secretary General António Guterres in May, Belarusian President Alexander Lukashenko warned that international efforts to supply weapons to Ukraine could lead to World War III. At the time, he said Belarus "calls on the countries of the world to unite and prevent the regional conflict in Europe from escalating into a full-scale world war!"
The Belarusian president urged countries to "refrain from arms supplies, from information warfare and any provocations, from inflating hate speech in the media, from promoting racism and discrimination on the grounds of national, cultural, linguistic and religious affiliation, from legalizing and sending mercenaries."
This month, Lukashenko announced that Putin would be providing Belarus with $1.5 billion for its participation in import substitution programs.