Russia 'Hopes' It Won't Have to Send Force to Belarus, Where Unrest Is Blamed on West
Russia has said it is willing to help Belarus if asked, but did not seek to send a specially-formed police unit to quell unrest that governments in both Minsk and Moscow blame Western powers for inciting.
Russian President Vladimir Putin acknowledged for the first time on Thursday that he had established "a reserve group of law enforcement personnel" at the request of his embattled Belarusian counterpart Alexander Lukashenko, who faces widespread protests against his latest re-election. Putin said this unit would only be deployed should opposition elements "overstep the mark" and resort to violence and destruction.
On Friday, the Kremlin reiterated that Putin hoped it would not get to this point.
"It is important to understand, and the president has stressed this, that this is a backup unit— there is no need to use it," Kremlin spokesperson Dmitry Peskov told reporters, according to the state-run Tass Russian News Agency. "President Putin hopes that it will never be used. And we hope that Belarus will not face such an urgent situation."
Peskov stressed that the new force, composed of a "reasonable" number of personnel divided into three parts, would not affect the relationship between Russia and Belarus—two countries bound by a mutual security treaty.
"Russia wasn't and isn't interfering with Belarusian affairs," Peskov said.
But Russian officials would not say the same for Western powers aligned with the U.S.-led NATO military alliance.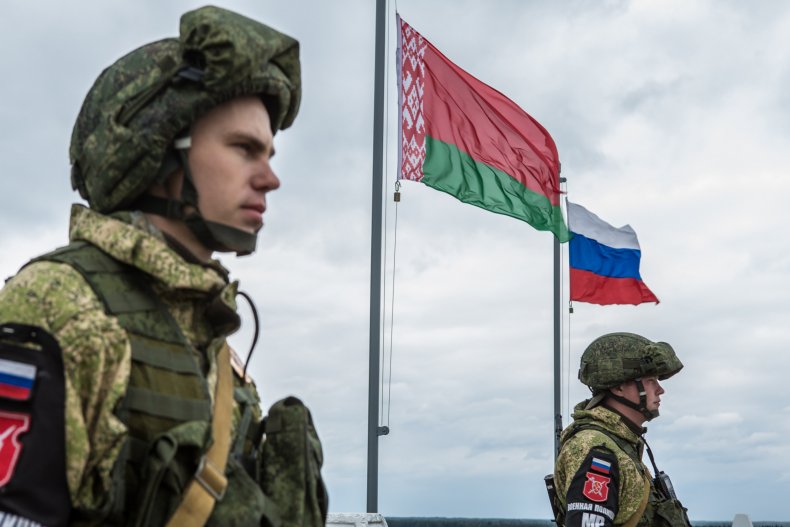 Alexander Lukashevich, Moscow's permanent representative to the Organization for Security and Co-operation in Europe (OSCE), railed against "hasty steps, which border on attempts at external interference in the affairs of a sovereign state," on the part of countries neighboring Belarus.
"Ahead of the European 'giants,' the bordering states of the European Union directly demand a change of leadership in Minsk, sponsor the coordinators of the protests and provocateurs of violence, help raise money for the participants in strikes in hopes of undermining the economic stability of the Republic," Lukashevich said. "In a word, they do not shun any methods, just exacerbate the confrontation within the country and impede the settlement."
The Foreign Ministries of Latvia, Lithuania and Poland have expressed to Newsweek concern about the situation in Belarus, including the potential presence of Russian forces and a series of border exercises that took off in full form on Friday. The three-day drills were set to include myriad ground forces, tanks, anti-aircraft units, drones, electronic warfare systems and jets, all concentrated on the western Grodno region near the borders of Lithuania and Poland.
Lukashenko has warned of a hostile NATO military buildup at the borders, a claim the three neighboring NATO nations have denied to Newsweek. NATO Secretary-General Jens Stoltenberg also dismissed the accusation during a meeting Thursday with German Chancellor Angela Merkel.
"We are watching developments in Belarus closely," he said. "This is a crisis unfolding on our borders."
Stoltenberg said it was a question of self-determination.
"It is for the people of Belarus to determine their own future," he said. "All NATO Allies support a sovereign and independent Belarus. The regime in Minsk must demonstrate full respect for fundamental rights, including freedom of speech and the right to peaceful protest."
But such protests in the region have a history of turning violent, as was demonstrated during Ukraine's unrest in 2014. In his address to the OSCE on Friday, Russia's Lukashevich said failures on the part of France, Germany and Poland to prevent bloodshed in Kyiv meant "the reputation of Western countries as 'honest brokers' is thus discredited."
As Ukraine descended into chaos, Russia intervened, later annexing the strategic Crimean Peninsula, while Western countries accuse Moscow to this day of directly supporting an eastern insurgency as well. Russia, as it did to back separatist states in Georgia in 2008, argued it was safeguarding its interests in the face of turmoil.
Today, Russia retains control of Crimea, home to the elite Black Sea Fleet, but the Baltic States joined NATO, leaving Russia with only the exclave of Kaliningrad to access that strategic sea. Lukashenko has warned that Western support for his opposition was rooted in a plot to establish a Baltic-Black Sea corridor of nations aligned with NATO, which has expanded East since the end of the Cold War.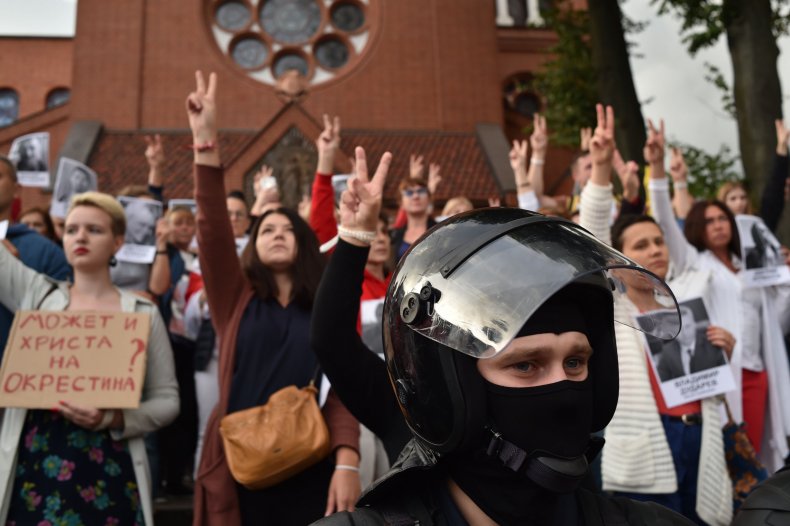 Responding to perceived Russian aggression, NATO has deployed four multinational battle groups in the Baltic countries and Poland, and Russia has shored up its own defenses, while criticizing the deployment of U.S. defenses system as part of a global missile shield. As the two sides butt heads, however, both have said they wish to avoid confrontation, and specifically not over Belarus.
"It is clear to me–and I hope it is clear to all–that this is not a contest between East and West, and certainly not a contest between Russia and the United States," U.S. Deputy Secretary of State Stephen Biegun told the OSCE on Friday.
"The United States does not seek to control or decide the destiny of the Belarusian people," he said. "That is for them and them alone to determine. But, if we in this body do not stand with them, we do a discredit to all for which the OSCE stands."
U.S. officials expressed concern to Newsweek last week that Russia may use the disorder in Belarus to establish a more lasting security presence there, especially if it can be tied to Western interference. As mass protests and crackdowns continue, Putin called Friday for the U.N. Security Council to clarify their approaches to "the countries Russia traditionally has close relations with due to the geographical proximity."
But Putin stressed cooperation as the answer to the issues in the region.
"These relations are developing and we should coordinate our positions on a number of key matters, ensure coordination between state structures and elaborate approaches to further development of cooperation with our partners," Putin said.