Russia's Ex-Chief of Human Rights Says Ukraine War Provides World Security
Konstantin Dolgov, the former Russian commissioner for human rights, has defended the country's invasion of Ukraine, saying it was providing security for the latter, Europe and the world.
Dolgov, now deputy chairman of the Committee on Economic Policy of the Federation Council, made this statement while speaking on Russian state TV in a video that has been viewed more than 60,000 times.
The Daily Beast's Julia Davis posted the video to her Twitter page. The video was posted on Tuesday but it is not clear on what day the TV show aired.
"Meanwhile on Russian state TV: member of Russia's Federation Council Konstantin Dolgov claimed that Russia—the country that started the largest-scale land war in Europe in recent history—is providing safety and security for Ukraine, Europe and the entire world. Orwell is weeping," Davis tweeted.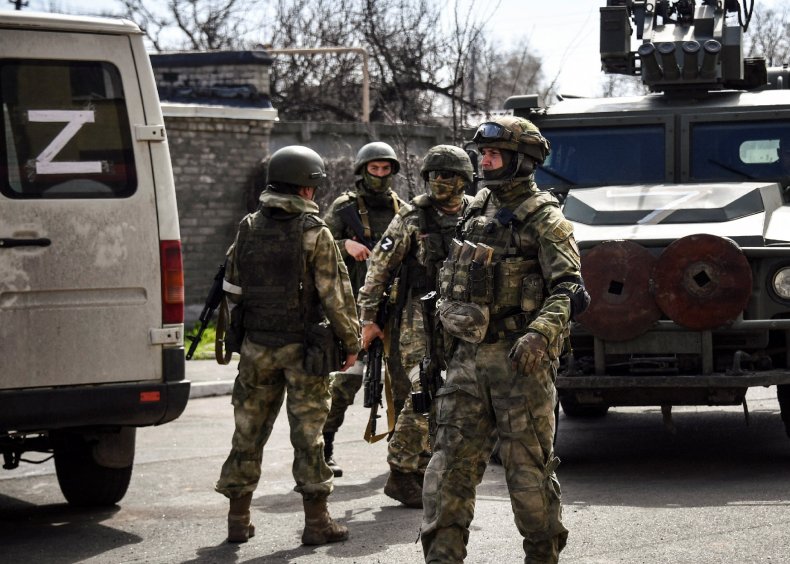 "Security guarantees for the Ukrainians, the population of Ukraine, our soldiers are creating these security guarantees as well as our officers and the militia in Donbas. " Dolgov said, according to the video's English subtitles.
"These are the security guarantees for the people of Ukraine, I am absolutely certain of everything I just said.
"These are the security guarantees from Nazism, from provocateurs, big and small, the security guarantees from atomic radiation."
Russian President Vladimir Putin has repeatedly declared that one of Russia's goals in invading Ukraine is the "denazification" of its neighbor, but Ukraine, whose president is Jewish, has strongly refuted the allegations that its government is led by Nazis.
"These security guarantees are being created in the course of our special military operation not only for Ukrainians, these are the security guarantees for Europe and the whole world."
Newsweek has contacted the Russian and Ukrainian foreign ministries for comment.
Russia's Foreign Ministry had announced in 2017 that Dolgov's post of human rights commissioner would be abolished. The ministry had reportedly said there was no longer a need for the position.
Dolgov's statement comes as the conflict between Russia and Ukraine reaches the six-month mark and shows no signs of ending.
In recent weeks, the Crimean Peninsula—occupied and annexed by Russia following the 2014 pro-Western Maidan Revolution—has come under repeated Ukrainian attacks, which have buoyed Ukrainian confidence.
Crimea served as a launchpad for Russia's latest invasion that began on February 24. Troops coming from the peninsula struck north and northeast, seizing swathes of southern Ukraine including key coastal cities and ports. Ukrainian troops are now preparing for a counteroffensive to take back cities including Kherson and Melitopol.
Speaking at the second iteration of the Crimea Platform on Tuesday, Ukrainian President Volodymyr Zelensky said the country would reclaim Russian-occupied Crimea.
Zelensky also condemned Russia for the country's actions in Ukraine. Since the conflict started, Zelensky has repeatedly accused Russian forces of human rights violations as well as war crimes.
"Ukraine is strong enough and powerful enough to see a perspective for Ukrainian Crimea," Zelensky said. "We will bring freedom to Ukrainian citizens in Crimea, and we will restore justice to all those who suffered from the repressions and abuses of the Russian occupiers.
"I know that Crimea is with Ukraine, is waiting for us to return. I want all of you to know that we will return. We need to win the fight against Russian aggression. Therefore, we need to free Crimea from occupation."
Military and intelligence experts have also remarked on Russian President Vladimir Putin's failure to overthrow the Kyiv government through his invasion of Ukraine in February.
"Putin, like every other dictator we've known in the modern era, thinks he knows better, more than his own military, and more than any experts," one senior intelligence official who works on Russia (and requested anonymity to speak frankly) told Newsweek.
Putin served only a few months in the Soviet military in 1975, reportedly in artillery, before becoming a long-serving KGB officer. As head of the Russian government for the past 22 years, he has been behind three wars on the periphery of the country, as well as operations in Syria.