Russia's Humanoid AI Space Robot Is Now on Its Way to the International Space Station
Russia has just sent a humanoid, artificially intelligent robot to the International Space Station, with Skybot F-850 leaving Earth on board the unmanned Soyuz-2.1a rocket from Kazakhstan at 11.38 p.m. ET last night.
The robot, better known as Fedor, will arrive at the ISS on August 24, with Soyuz docking on the Poisk module at approximately 1.30 a.m. Cosmonaut Alexander Skvortsov, who has been specially trained to handle Fedor, will meet the robot when it arrives at the ISS, Russia's Tass news agency reports.
It will spend just over two weeks on the space station, working with Russian crew members who will test "the space-designated anthropomorphous system," Dmitry Rogozin, director general of Roscosmos, told Tass.
Fedor—final experimental demonstration object research—was originally developed by Russian Emergencies Ministry in 2016 in order to carry out rescue operations. However, it was later repurposed for space—in the future, Roscosmos hopes the robot can be sent ahead on space missions that would be too dangerous for humans: "First, we will send a humanoid robot [to the moon], and only after that we will send humans, after we study all the risks and learn to cope with them," Rogozin told Tass.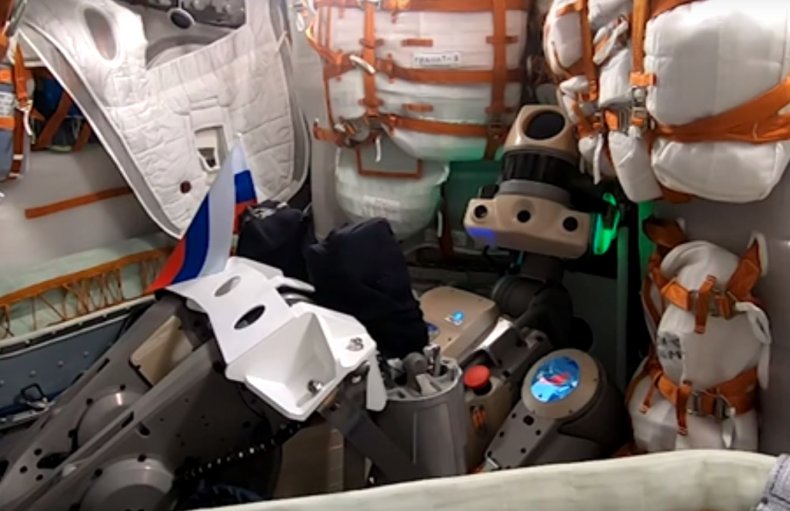 "[Fedor will be] very important for operations aimed at replacing humans in performing the riskiest tasks, including future manipulations outside space stations."
The robot is designed to copy the movement of a remote operator, while also being able to perform some tasks autonomously. Rogozin congratulated Fedor on the launch on Twitter:
A video of the launch was posted by Roscosmos.
In an article on Tass, space journalist Anastasia Stepanova explains Fedor can walk, climb stairs, work with tools and open doors. "It is equipped with a speech system: it is able to recognize words and give answers. Previously, he was trained to sit on a twine and shoot from two hands at targets," she wrote.
The shooting incident ended in Rogozin having to confirm the government was not developing "Terminator" robots.
Stephanova said Fedor was placed in a cosmonaut chair and was accompanied by a knitted toy—"an indicator for weightlessness," she explains.
Skvortsov said he could not say what specific tasks Fedor would be undertaking, but said a "certain scenario" had been put together. He also confirmed the robot would not be sent into outer space.
Following the launch, Rogozin said a new robot that will work outside of the International Space Station is being developed and would be revealed in the next two to three years. "Separate tests [of Fedor] will be continued on board the station," he told Tass. "All these experiments are very important from the point of view of developing the control system. This machine is in avatar mode and in copy mode to go to the next stage of testing, when in a couple of years, when we make a car working on the outer side of the station."