Russia Implements 'Big Brother Laws' Forcing Retention of All Calls, Text Messages, Chat Logs
Controversial new anti-terror laws have come into force in Russia, which will require telecom companies to store all communications made by users for six months.
Opponents of the new legislation warn it will give the Kremlin unprecedented scope to spy on its opponents and create an enormous data security risk.
The new law became a reality on Sunday, The Moscow Times reported, and forces mobile and internet companies to retain the text messages, phone conversations and chat activity of all customers for six months and metadata for three years. Companies will also be required to help the security services decode any encrypted messages.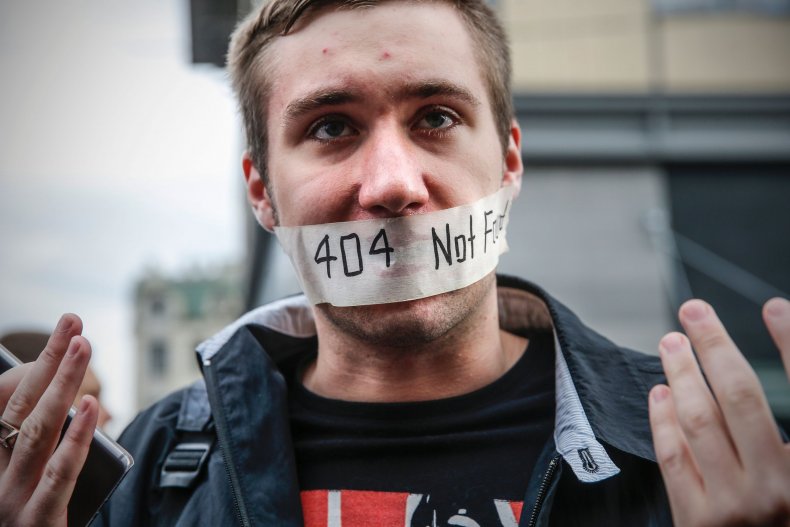 Russian providers will have to surrender the data to security services if presented with a court order. Those who fail to do so could face fines of up to $15,000. Telecom companies are scrambling to expand their storage abilities and warning that the costs involved will be passed onto customers.
The new legislation is part of the so-called "Yarovaya laws," co-authored by conservative United Russia politician Irina Yarovaya. The law was signed by President Vladimir Putin in 2016 after the bombing of a Russian passenger jet in Egypt the previous year, and is supposedly designed to fight terrorism.
But activists have branded it the "Big Brother" law and say it will be used to criminalize and persecute the Kremlin's political opponents.
The law introduces harsher penalties for anti-government activities. Expressing support for terrorism—potentially a very broad brush for prosecutors—is now punishable by up to seven years in prison.
A charge of extremism—which has been used to prosecute social media users who criticize Russian policy in Ukraine—could now bring an eight-year jail sentence, while those found to be taking part in "mass disturbances" may face five to 10 years behind bars.
It will now also be illegal to not warn authorities of suspected crimes such as terrorist attacks, armed uprisings, hijackings and others.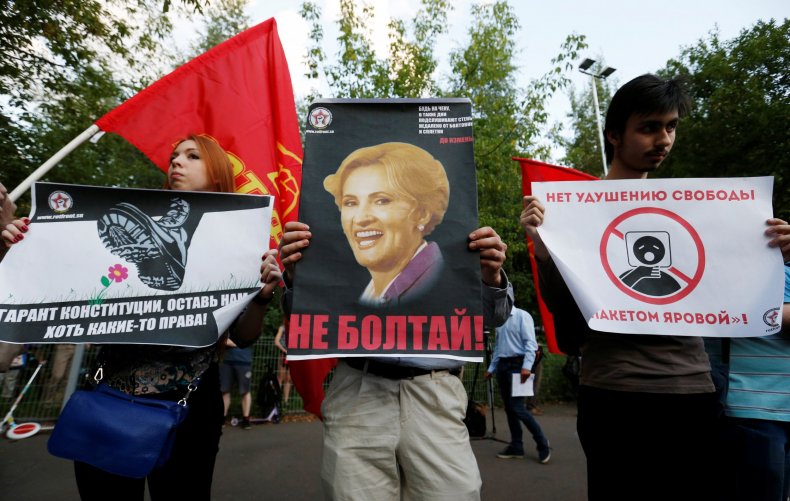 The new legislation poses significant cybersecurity challenges. Artyon Kozlyuk, the director of the Russian Roskomsvoboda internet rights group, told the Times that the new legislation risks huge data leaks. "I am certain that sooner or later these databases will be hacked or leaked and the data sold on the black market," he said.
Telecom companies have already warned they are struggling to meet the government's new demands. On Sunday, the general director of mobile provider Megafon told the RBC media agency that his company would take several years to meet the Kremlin's demands, the Times said.
"The system will be rolled out in stages in different regions in the course of five years," Sergei Soldatenkov said. "By which time it will be implemented across the whole country."
Opponents have argued that its costs are too high to be feasible. Last year, the country's most prominent communications firms wrote to the government estimating the law would cost $39 billion to implement properly.
When the law was approved by a 351 to 1 vote in the Russian parliament, Edward Snowden—who has been living in Russia since claiming asylum there in 2013—called the legislation an "unworkable, unjustifiable violation of rights" that would "take money and liberty from every Russian without improving safety."