Russia Seeking to Absorb East Ukrainian Rebels Into Armed Forces, Says Kiev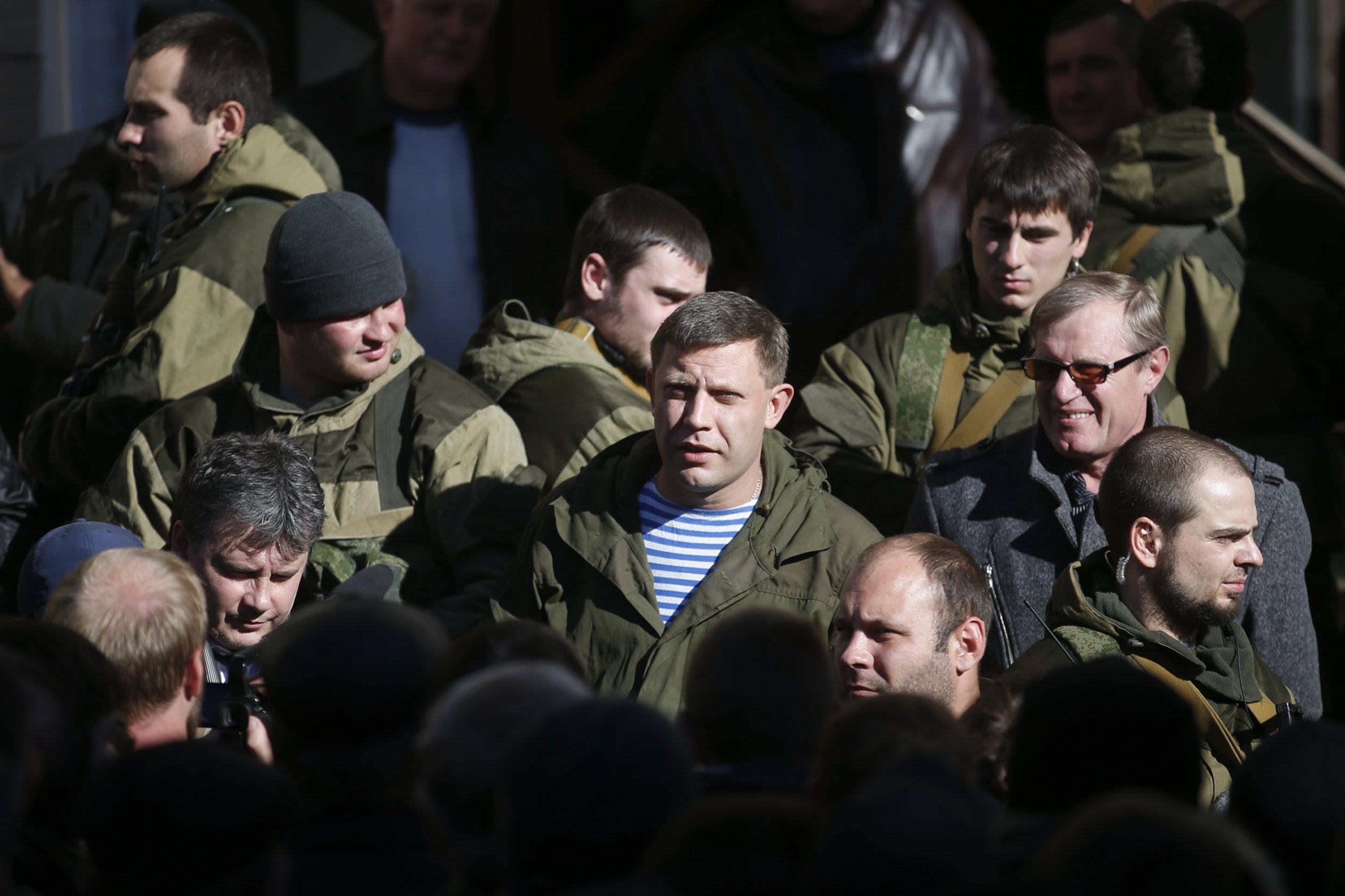 More than 30,000 militants in eastern Ukraine's pro-Russian Donetsk and Luhansk regions have received conscription summons to join the Russian armed forces a day after their self-styled elections, according to Ukraine's Security Service (SSU).
Both leaders of pro-Russian forces in Donetsk and Luhansk won in landslide victories on Sunday. The elections were accepted by Russia, however neither Kiev, the EU nor US have recognized the result as legitimate.
The request for the separatists to become a part of Russia's armed forces is seen by Kiev as another step towards the de facto annexation of the eastern Ukrainian territories by the Russian Federation.
"According to evidence we have seen, which includes military summons, the Russian Federation is planning to use the so-called elections in the Donetsk People's Republic and Luhansk People's Republic as a way to increase the numbers of their own armed forces," announced the SSU's head secretary Markiyan Libkiyvskiy on Sunday.
Libkiyvskiy also posted images on social media of conscription summons made to citizens of the self-proclaimed Donetsk People's Republic's Ministry of Defence urging them to comply with Russian federal law and report for duty at their local military command office by November 5.
The document is effectively a call for a citizen of the Russian federation to put themselves forward for a medical exam and be assessed their eligibility to serve Russia's conscript reliant armed forces.
This move is another step, in what the Kiev-based NGO Information Resistance reports is the plan to eventually incorporate Ukrainian separatist forces into the Russian military.
According to the NGO the "unification" initiative is being coordinated by Russia, estimating that a total of approximately 24,000 to 27,000 fighters will take part in the restructuring.
The organisation estimates that more than half of those militants who have continued to fight pro-Kiev forces are "Russian mercenaries", with approximately 14,000 to 15,000 Russians numbering among separatist ranks.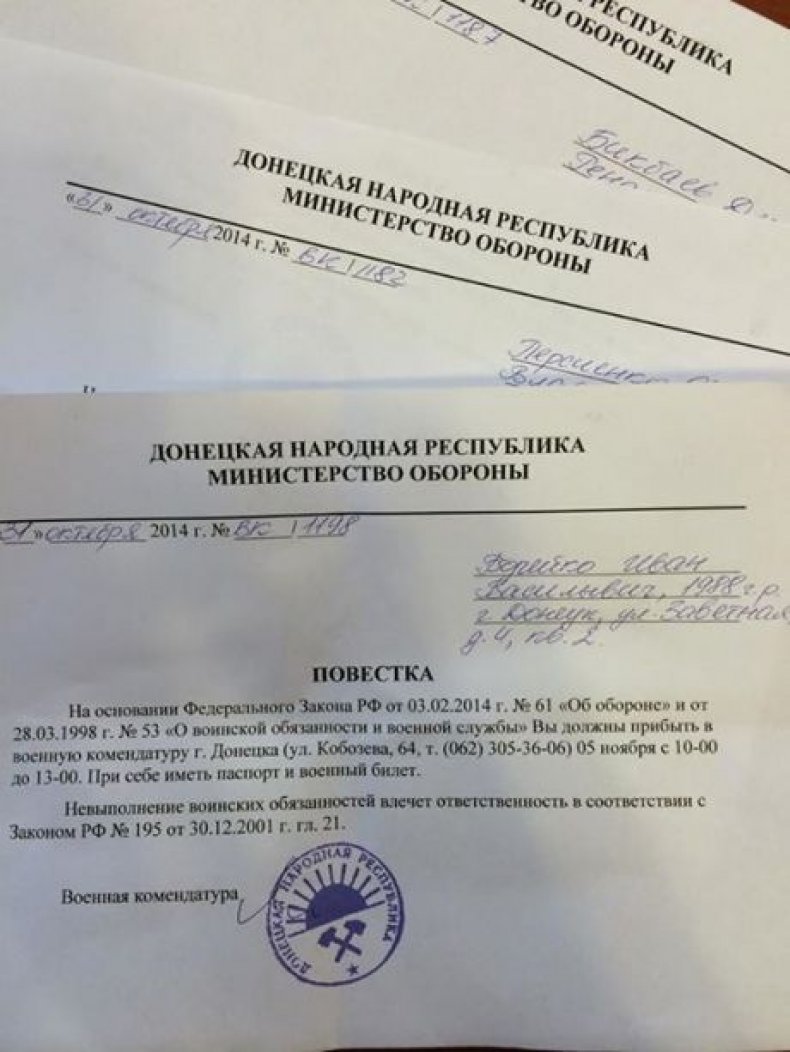 Andriy Lysenko, a spokesperson for Ukraine's Security and Defence Council confirmed on Monday that Russia's support for rebels in Ukraine's east is growing increasingly less covert.
"The intensive influx of Russian military personnel and equipment in the rebel held regions has not ceased," Lysenko said. "We have confirmation that Russian servicemen are currently present in Donetsk as well as Luhansk."
Lysenko added that Russian armed forces in east Ukraine now "do not even disguise their presence".
Russia's president Vladimir Putin and foreign minister Sergei Lavrov have both denied that Russia is involved in the Ukrainian crisis in any official military capacity, with Putin telling a forum of political scholars last month allegations of his country's armed intervention in Ukraine were "groundless".
After the capture of three groups of Russian servicemen, fighting for separatist rebels in Ukraine over the summer, Donetsk rebel leader Alexander Zaharchenko told press there were in fact Russian servicemen assisting his rebels, however they were fighting as volunteers, not under orders from Moscow.
This has remained the party line when explaining Russian support in Ukraine's rebel-held east.
According to the latest report by Ukraine's Security Council, however, Russia has also increased violations of Ukrainian military airspace, crossing it without warning four times since Sunday's elections in east Ukraine.
Russia's annexation of the Crimean peninsula from Ukraine earlier in the year was similarly prompted by a democratic vote in the region which Russia endorsed and Ukraine, the EU as well as US refused to accept as legitimate.
The region has since been included in many strata of Russian life including taxes, law enforcement and even being admitted to the Russian football league.
Last week Ukraine underwent its official parliamentary elections, which saw president Petro Poroshenko's bloc and prime minister Arseniy Yatsenyuk's People's Front solidify their pro-EU coalition in parliament.
Russia accepted the result, shortly before announcing it will also support eastern Ukraine's elections.
Ukraine's electoral commission reported the majority of the rebel-held territories had not participated in the nationwide vote, however more than a million voters cast their ballots in the breakaway Donetsk region, while 1.5 million voted in neighbouring Luhansk, according to data collected by the self-proclaimed republics.
The total voting population of the two regions is just over 5 million people.