Russia Intensifies Persecution of Jehovah's Witnesses with 110 Armed Raids
Russian police raids on the properties of Jehovah's Witnesses have been "staggering in their cruelty" a spokesman for the faith which is outlawed in the country has said.
Rights groups have condemned a crackdown on the religion which has been banned in Russia following a ruling in April 2017 by the country's Supreme Court deeming the Jehovah's Witnesses Administrative Center to be an extremist organization.
Since then, many followers, of which there are an estimated 175,000 in Russia, have faced arrest, criminal charges and home detention.
The local branch of Russia's Investigative Committee said that on Monday, 110 searches were conducted throughout the Voronezh region and criminal cases have been opened against 10 worshippers aged between 24 and 56, who have all been detained.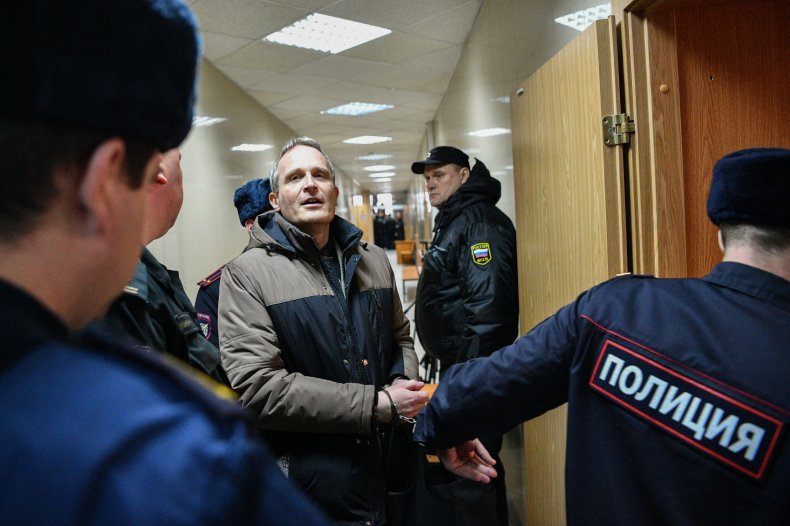 Authorities said in a statement that between June 2018 and February 2020, the suspects, and others, knowingly flouted the law that banned the religion and continued with their meetings, preaching and attempts to attract new followers.
"Not wanting to be exposed by law enforcement agencies, the suspects used conspiracy measures to hide their activities, including storing electronic documentation and using video conferencing for meetings," the statement said.
Jehovah's Witnesses spokesman Jarrod Lopes said that preliminary reports suggested that at least two people had been beaten and that officers had forced people to the ground when conducting the searches.
He said Monday saw the largest number of raids on the faith's followers in modern Russia, beating the previous record of 50 homes in February in the Transbaikal region. He said raids of dozens of homes also took place in Sochi in southern Russia in October 2019 and Nizhny Novgorod in July 2019.
"This month, the total number of Witnesses' homes raided has surged to over 1,000 since 2017. For reasons passing understanding, heavily armed officers—as if being deployed for combat—are storming into the homes of peaceful Christians, many of whom are elderly," he said in a statement to Newsweek. "Human rights advocates and international judicial bodies continue to publicly condemn Russia for targeting Jehovah's Witnesses. We hope Russian leaders will halt the persecution and uphold the freedom of religion and belief that is enshrined in its Constitution."
This month, four Jehovah's Witnesses considered to be "elders" of the faith were arrested on charges of extremism in the southern city of Astrakhan, local police said.
Amnesty International condemned the treatment of Jehovah's Witness Dennis Christensen, a Danish citizen who was serving a six-year sentence for extremism after he was arrested at a prayer meeting in the town of Oryol in 2017. Due to be paroled last month, he was instead put into punitive confinement in a penal colony for alleged minor violation of prison rules.
"Dennis Christensen and all Jehovah's Witnesses persecuted for exercising their right to freedom of religion are prisoners of conscience and should be immediately and unconditionally released," Amnesty said in a statement.
"Russia must abide by its international human rights obligations and stop persecution of people simply for practicing their religion," it added.
Following the Russian court's decision on Christensen, the deputy director, of Human Rights Watch's Europe and Central Asia Division, Rachel Denber, said in a statement: "Russia has absolutely nothing to gain from the pointless, cruel, and abusive persecution of Jehovah's Witnesses."