Russia Invasion Worries Raise Oil Prices, Likely Increase at U.S. Gas Pumps
Worries of a Russian invasion of Ukraine raised oil prices on Friday and likely will increase prices at gas pumps in the United States.
The price of crude oil increased 5 percent to $94.66 before closing at $93.10, according to U.S. West Texas Intermediate crude features, CNBC reported. It's now at its highest level since September 30, 2014. The International benchmark Brent Crude settled at an increase of 3.3 percent to $94.44 per barrel.
On Friday afternoon, National Security Adviser Jake Sullivan called for U.S. citizens to leave Ukraine within 24-48 hours, saying, "We are in the window when an invasion could begin at any time should Vladimir Putin decide to order it."
The price of gas has been steadily increasing in the U.S. over the past few weeks. Currently, the national average price of regular gas is $3.480, according to the American Automobile Association (AAA). That's up from a month ago ($3.301), a week ago ($3.423) and even Thursday ($3.477). A year ago, the average price of gas was $2.491. The highest average price of regular gas is in California at $4.684, while the lowest is in Oklahoma at $3.142.
The price of crude oil surpassing $90 per barrel hasn't happened since 2014, according to CNBC.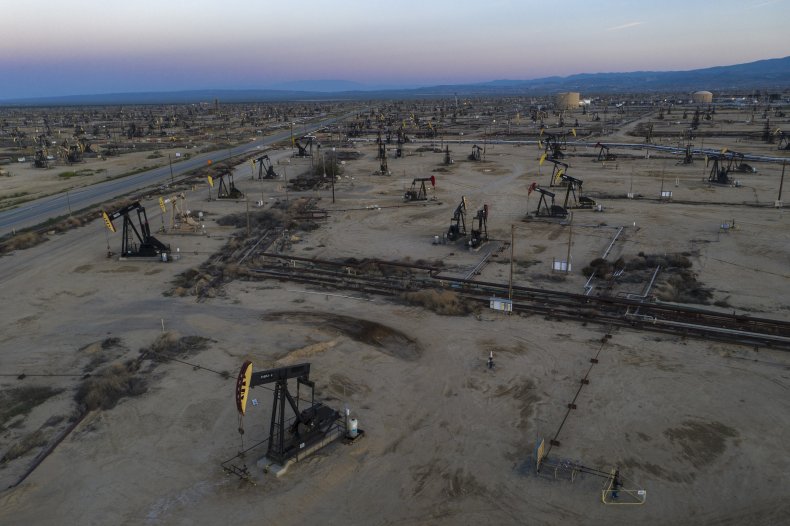 AAA said in a news release on Thursday that the decrease in total domestic gasoline stocks and increase in gasoline demand, as well as the increase in crude oil prices, have increased pump prices. Since February 3, 10 states have seen increases of nearly 10 cents or more in their average prices.
The U.S. Energy Information Administration said its current stock level of crude oil is about 13 percent lower than at the beginning of February. If Russia, a member of Organization of the Petroleum Exporting Countries (OPEC+), were to be sanctioned, it could cause the country to withhold crude oil from the global market, impacting the stock levels.
An increase in tension between Russia and Ukraine could put 30 percent of western Europe's gas demand at risk, Rystad Energy warned on Friday.
"If Russia withheld everything that they produced from the global market, we could easily see oil prices reach $150 or $200 a barrel," Patrick De Haan, head of petroleum analysis at GasBuddy, a Boston-based technology company that tracks the price of gasoline, told Newsweek.
Regardless, it is likely that crude oil prices will surpass $100 per barrel, De Haan said.
A national average of $4 per gallon is possible in the spring because of the pandemic and increasing demand before additional oil supplies arrive later in 2022, according to GasBuddy. Gasoline demands tend to increase beginning in March through Memorial Day, De Haan said. A switch to different gasoline in the summer and refinery maintenance work also contributes to the rise in price, he added.
The national average price of gasoline is forecasted to increase early in 2022, peaking as high as $4.13 per gallon in June, according to GasBuddy.
However, there is potential for gas prices to decrease in the latter half of 2022. De Haan said by July or August, he predicted that there will be additional oil production making it to the market that will help lower the cost of gas. This additional oil could hit in the third quarter, allowing for lower gas prices to hit in the fourth quarter of the year.
Update 2/11/22, 6:25 p.m. ET: This story was updated with additional information and comment from Patrick De Haan from GasBuddy.