Special counsel Robert Mueller's Russia investigation will reach a "wild" level over the next couple of months, the highest-ranking Democrat on the Senate Intelligence Committee reportedly said Friday during a party retreat.
Senator Mark Warner of Virginia, who serves as the intelligence committee's vice chairman, made the comment during a dinner for the Democratic Senatorial Campaign Committee's Majority Trust retreat in Martha's Vineyard, according to Politico on Sunday.
"If you get me one more glass of wine, I'll tell you stuff only Bob Mueller and I know. If you think you've seen wild stuff so far, buckle up. It's going to be a wild couple of months," Warner said.
It's unclear exactly what Warner was referencing, but as a top member of a committee that has contemporaneously investigated Russia's interference in the 2016 election, he would have access to highly sensitive or even classified information pertaining to Mueller's probe.
In an interview with CNN Monday, Warner backtracked and claimed the comments were a "bad joke," adding: "You know how seriously I take this investigation."
Mueller's lack of public disclosures—with the exception of hefty charges slammed down on four former Trump campaign officials, as well as 13 Russians and three Russian entities—have fueled speculation about what else he's uncovered and how much longer he intends the investigation to continue.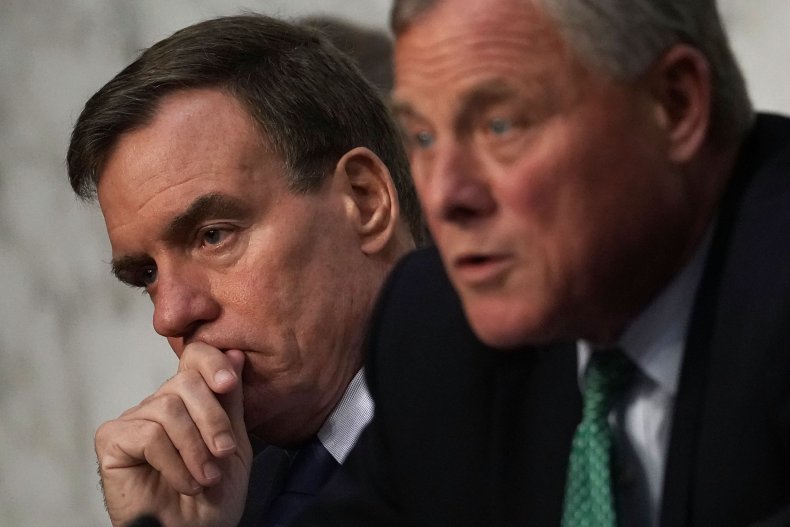 Mueller raised eyebrows earlier this month when he supposedly requested 150 blank subpoenas from a Virginia federal court, according to an unconfirmed report from the Washington Examiner, as well as 70 others in May.
The former FBI director also added a Russian suspected of links to intelligence services to his indictment against former Trump campaign manager Paul Manafort. Manafort was thrown in jail earlier this month when his bail was revoked following accusations of witness tampering.
The one person thus far sentenced to prison under the probe, Dutch lawyer Alexander van der Zwaan, was deported after serving 30 days in a Pennsylvania prison.
President Donald Trump has stepped up his attacks against the probe, which he has taken to calling the "Rigged Russia Witch Hunt," over the past few months. The president has stated "no collusion" took place between his campaign and Russia, and challenged the cost of Mueller's investigation.
To date, Mueller has garnered three plea agreements, with Rick Gates, George Papadopoulos and Michael Flynn, who each worked on the Trump campaign. Flynn later earned a top spot in the White House as President Trump's national security adviser.
Mueller has also charged Manafort, but the longtime Washington lobbyist has continued to fight the charges, which include failing to register as a lobbyist for a foreign country and money laundering.
Updated: This story has been updated to include fresh comments from Senator Warner.