Russia, Iran Reach Out to Back Syria, U.S. Doubles Down on Sanctions
Iran and Russia have reached out to reassure their support for Syrian President Bashar al-Assad after the United States expanded sanctions against the leader's government in Damascus.
Russian President Vladimir Putin spoke Monday by virtual call with his Syrian counterpart, emphasizing Moscow's "intensive efforts to facilitate a long-term settlement in Syria, restoring its sovereignty, independence, unity and territorial integrity" after nearly a decade of civil war.
The Russian leader touted the progress achieved from his country's engagement with fellow Assad backer Iran as well as Turkey, which supports opposition forces. Thanks to their joint effort, Putin said that "the hotbed of international terrorism in Syria has been almost completely eliminated; the level of violence has been reduced significantly," according to a Kremlin readout.
But he warned a "humanitarian disaster" remains and that priority should be given to facilitating the return of refugees, the theme of a two-day international conference scheduled to begin Wednesday in Damascus.
More than five and a half million have fled and over six million have been displaced due to the multi-sided war in Syria, according to the United Nations. While Moscow and Tehran have helped the Syrian armed forces and its allies to dominate much of the battlefield, a fragile ceasefire with insurgent-held Idlib in the northwest and a loose security agreement with the mostly Kurdish Syrian Democratic Forces across the northeast have left the country divided.
According to the latest Russian Defense Ministry bulletin posted Tuesday, there are 6,721,603 Syrian refugees in 43 countries as of October 7. Of these individuals, 1,297,168 from 15 countries "have expressed a desire to return to their homeland."
Since the entry of Russia into the conflict in late September 2015, the bulletin reported that 855,132 Syrians have already returned from abroad, including 256,602 women and 435,831 children, while 1,335,051 internally displaced persons have returned to their permanent residence.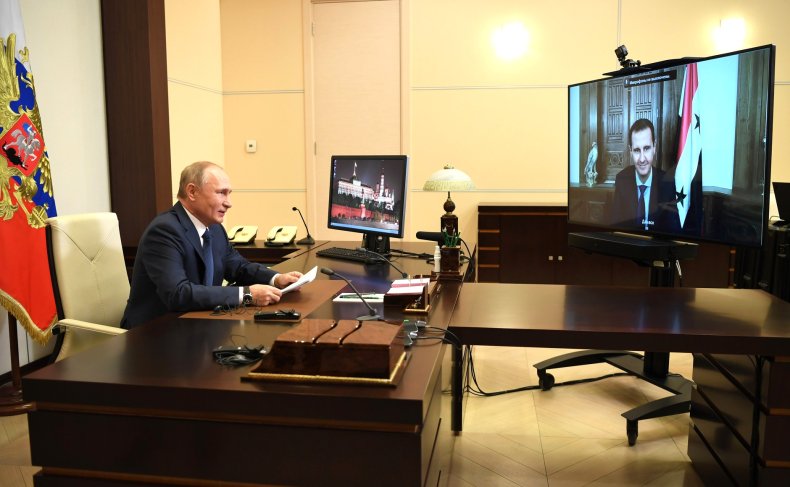 The U.N. and Western officials have cautioned against the early return of refugees before conditions in the country improved, and have emphasized the principle of willful rather than compulsory repatriation as the Syrian government seeks to reestablish itself on the international stage.
Allegations of war crimes have also led to sanctions against Damascus, especially from Washington, where that same day the Secretary of State Mike Pompeo announced new sanctions against a national militia and several high-profile figures in response to alleged abuses.
"The Assad regime has a choice: take irreversible steps toward a peaceful resolution of this nearly decade-long conflict or face further crippling sanctions," Pompeo said in his statement.
Also on Monday, James Jeffrey, who served as both the U.S. special representative for Syria and ambassador to the U.S.-led coalition against ISIS, resigned amid a flurry of departures of officials in the wake of President Donald Trump's apparent electoral loss—a defeat denied by the incumbent leader.
"Ambassador Jeffrey helped build and maintain an international coalition that greatly increased the economic and political pressure on the Assad regime," Pompeo said. "He led the way in implementing the Caesar Act and other Syria sanctions to deny the Syrian regime the resources it uses to wage war and commit mass atrocities against the Syrian people."
In his talk with Putin, Assad said that the ongoing rebel presence and increasing U.S. sanctions have complicated his efforts to incentivize the return of those who fled the war-torn country.
"Terrorists are still holding some regions of our country, and Syria and its people are under economic blockade," he said, decrying the "Western embargo."
That same day, the Kremlin's special representative for the Middle East and African Countries Deputy Foreign Minister Mikhail Bogdanov received Syrian ambassador to Moscow Riyad Haddad.
The two discussed the "need to mobilize international efforts to provide assistance in the restoration of the socio-economic infrastructure of the Syrian Arab Republic, as well as the return of Syrian refugees to their homeland," as recounted by a Russian Foreign Ministry readout.
Echoing Putin, Bogdanov voiced his country's "unwavering support for the sovereignty, unity and territorial integrity of the Syrian Arab Republic, and its readiness to continue helping the Syrian people in the fight against international terrorism."
The Syrian government targeted various opposition groups, along with the Islamic State militant group (ISIS), in a campaign separate from that of the U.S.-led coalition battling ISIS alongside the Syrian Democratic Forces. The latter mission has been conducted without Damascus' permission and Syrian, Russian and Iranian officials have voiced to Newsweek their opposition to the ongoing U.S. military presence in the country.
Iran, for its part, also made contact with Syria on Monday, sending Ali-Asghar Khaji, a senior assistant to the Iranian Foreign Minister Mohammad Javad Zarif, to lead a delegation to Damascus.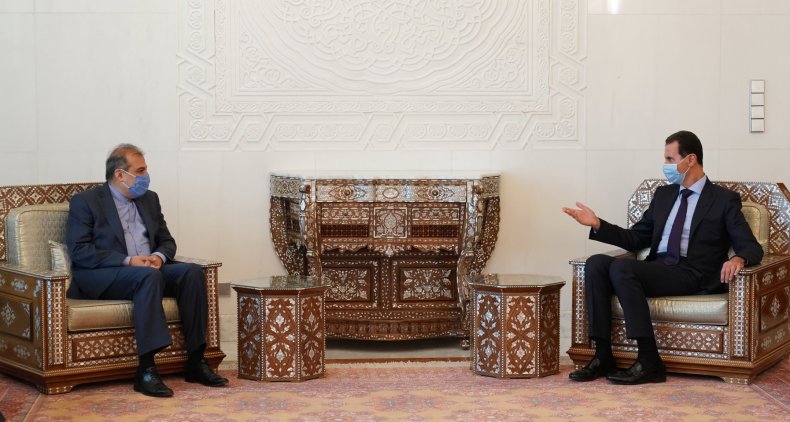 Once there, he met with Syrian Deputy Foreign Minister Faisal al-Mikdad on Monday, discussing the upcoming refugee conference, the Syrian Constitutional Committee, which will attempt to ease ongoing tensions between the country's warring sides, and will also seek avenues to expand bilateral relations between Tehran and Damascus.
On Tuesday, Khaji met with Assad. The two held a similar conversation in which the Iranian side emphasized "the importance of resolving the Syrian crisis through political means," something Khaji said "could play a positive role in establishing peace and stability in the country," as recalled by the Iranian Foreign Ministry.
Assad repeated Syrian warnings from the previous meetings about the externalities involved in the conflict and the refugee crisis caused by it.
"Its solution does not depend on the Syrian government only, but on the integrity of some countries that claim to defend human rights but do not care about the suffering of refugees," Assad was quoted by his office as saying, "and are working hard to politicize this file and keep them outside the Syrian territories for as long as possible to put pressure on Syria."
The United States and a number of its international partners continue to reject Assad's mandate, seeking a political transition. As recently as last month, however, President Donald Trump's administration was engaged in talks with Damascus, seeking cooperation on the cases of two missing U.S. citizens, journalist Austin Tice and Syrian American psychotherapist Majd Kamalmaz, with a senior Lebanese security official acting as an intermediary.
Among the Syrian government's demands in exchange for information were sanctions relief and the withdrawal of U.S. troops from a southeastern desert garrison near Al-Tanf, as Newsweek first reported at the time.
Trump has expressed support for a U.S. military exit from Syria, but has so far insisted on maintaining forces at Al-Tanf and oil fields scattered across the country's northeast.
With no solution yet to the protracted conflict and Syria's tattered economy further wrecked by sanctions and the COVID-19 pandemic, ISIS has reemerged as a threat with an uptick in attacks against government forces in the center of the country.
Although both Damascus and Washington have declared victory over ISIS, each continues to separately battle isolated cells as instability continues to plague Syria.