Russia Wants U.S. to Know That If Iran Deal Fails, It Will Be Donald Trump's Fault
Top Russian officials have said they hold the United States responsible for the current crisis regarding the 2015 Iran nuclear deal, which President Donald Trump unilaterally left last year, spurring mounting international tensions.
In a statement published Wednesday by the Russian Foreign Ministry, Moscow's permanent representative to international organizations in Vienna Mikhail Ulyanov noted Iran's continued compliance with the deal by which Tehran agreed to curb nuclear activity in exchange for sanctions relief. He then, however, decried "the irresponsible line of the United States, which not only pulled out of the 'nuclear deal,' but also set out to undermine it, primarily by blocking the implementation of the economic part of this agreement."
Since May of last year, the U.S. has rolled out sweeping sanctions against the Islamic Republic, accusing it of funding militant groups and developing ballistic missile technology. Like fellow nuclear deal signatories China, the EU, France, Germany and the United Kingdom, however, Russia has largely sided with Iran.
"Using methods of blatant blackmail and intimidation, the U.S. seeks to force other countries to curtail legitimate trade and economic ties with Iran, primarily in the oil and banking sectors," Ulyanov said, arguing that "Washington literally pushes Tehran out of the 'nuclear deal' and provokes it to take radical retaliatory steps."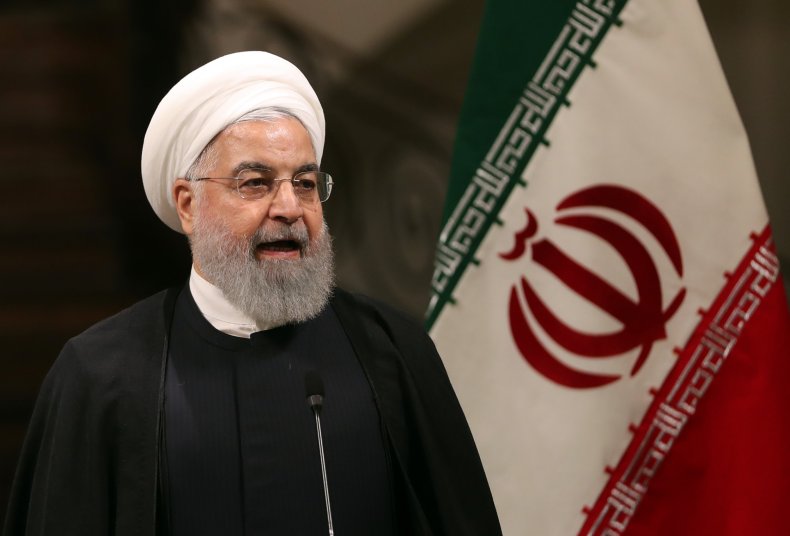 On last month's anniversary of the Trump administration's deal exit and amid U.S. threats regarding an alleged heightened threat posed by Iran in the Middle East, Tehran announced that it would begin reconsidering its own commitments to the nuclear deal unless trade ties were normalized. Though European signatories have affirmed their continued support for it, they have struggled to uphold their end of the bargain in the face of staunch pressure from Washington.
Ulyanov's statement coincided with a session of the board of governors of the International Atomic Energy Agency, which has repeatedly affirmed Iran's commitment to the nuclear deal. As Europe failed to substantially respond to Iran's ultimatum, however, the U.N. watchdog's director general Yukiya Amano revealed Monday that Iran had indeed increased its production of enriched uranium, though it was a low-grade version suited for energy, not military purposes.
Iran has always maintained that its nuclear program was strictly for peaceful purposes and that it has never sought to produce weapons of mass destruction. The Trump administration and its top Middle Eastern allies Israel and Saudi Arabia have disputed this, claiming Tehran was hiding nuclear plans even as it complied with the deal.
As the U.S. attempted to cut all of Iran's exports through economic restrictions, Russia and others have warned that the Islamic Republic's incentives for remaining in the deal were dwindling, though they implored it to do so. On Tuesday, Russian Foreign Minister Sergey Lavrov characterized the Trump administration's strategy as "an attempt to force the whole world not to comply with the U.N. Security Council resolution in the interests of achieving the goal of 'strangling' one country.
"Such a goal is, in fact, proclaimed as the main direction of U.S. policy in the Middle East," Lavrov added, addressing the international Primakov Readings forum in Moscow. "It is sad. We are trying to counteract this. We are trying to look more responsibly and comprehensively at the problems of the region. We invite our partners to do the same."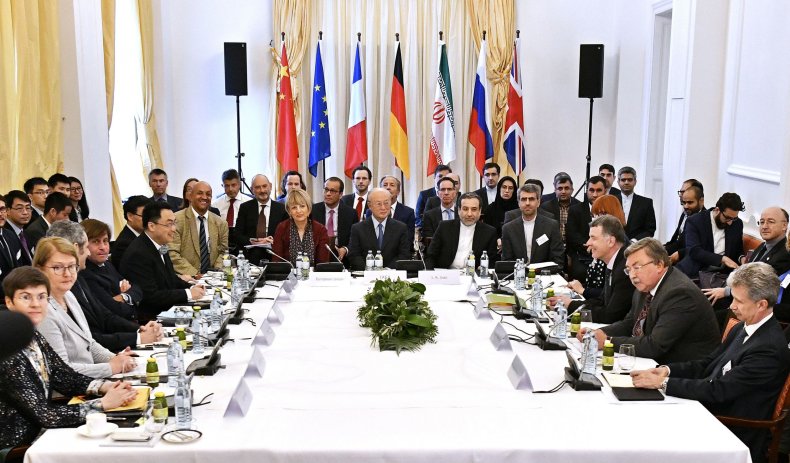 The U.S. and Iran long had hostile ties, stemming from the 1979 Islamic Revolution that toppled a CIA-reinstalled monarchy and the subsequent hostage crisis at Washington's embassy in Tehran. Last month the feud even further deepened, however, as hawkish national security adviser John Bolton warned of "troubling and escalatory indications and warnings" that suggested Iran was seeking to target U.S. interests in the region.
While an initial plan involving at least 125,000 U.S. troops, as previously reported by Newsweek, has since been watered down to "about 1,500 people," the administration has continued to walk a hard line in its position toward Iran. Trump himself has downplayed the likelihood of a conflict, but has demanded Iran's leadership call him in an effort to resolve the crisis, a notion entirely dismissed by figures in Tehran.
With both sides at an apparent impasse, the latest hope for de-escalation has come in the form of a mutual partner of Washington and Tehran — Tokyo. Japanese Foreign Minister Abe Shinzo arrived Wednesday in the Iranian capital to meet with President Hassan Rouhani and supreme leader Ayatollah Ali Khamenei with the goal of supporting "peace and stability in the region."
Russian Deputy Foreign Minister Sergei Ryabkov said Wednesday he hoped that his "Japanese colleagues manage to help advance mutual understanding, including between Tehran and Washington during their current visit, because Moscow is alarmed by the increased tensions in the Gulf region," following talks with State Department's Under Secretary for Arms Control and International Security Andrea Thompson, according to the state-run Tass Russian News Agency.