The top diplomats of Russia and Iran affirmed their country's strategic partnership days after President Joe Biden came to office in the United States, where new strategies were anticipated toward both countries.
Iranian Foreign Minister Mohammad Javad Zarif visited his Russian counterpart Sergey Lavrov in Moscow on Tuesday. He was on the second leg of a Eurasian tour, following a stop in Azerbaijan.
The two men discussed Moscow's role in ending the conflict that raged last year between South Caucasus rivals Azerbaijan and Armenia over the territory of Nagorno-Karabakh, as well as a number of bilateral and international affairs, including the 2015 nuclear deal to which both nations are parties.
In 2018 Former President Donald Trump abandoned the agreement—officially called the Joint Comprehensive Plan of Action (JCPOA), and imposed harsh sanctions on Iran that Russia has consistently opposed.
Zarif "expressed gratitude to the Russian Federation for its principled and constructive views and stances on the JCPOA, stressing the need to continue close cooperation between the two countries over the nuclear deal," according to an Iranian Foreign Ministry readout. He also "called for efforts to facilitate the expansion and promotion of mutual cooperations in various fields."
Lavrov, for his part, echoed calls for closer ties, which included a new information security deal signed, and reaffirmed his country's commitment to the JCPOA, to which Biden has pledged to return.
"We hope that the efforts being made now will yield results and will allow the JCPOA to be preserved, and the United States will return to full implementation of this resolution," Lavrov said. "This, in turn, will create conditions for the Islamic Republic of Iran to comply with all requirements of the nuclear deal."
Responding to U.S. sanctions and a subsequent failure on the part of European signatories to normalize trade ties with Iran, Tehran has breached some of its uranium enrichment limits.
Lavrov called the Trump administration's exit "the root of all problems" with the nuclear agreement, and welcomed statements suggesting the Biden administration would reenter the multinational pact. He lashed out at "illegitimate attempts to abuse unilateral restrictions that are contrary to international law to impart an extraterritorial character to our national legislation."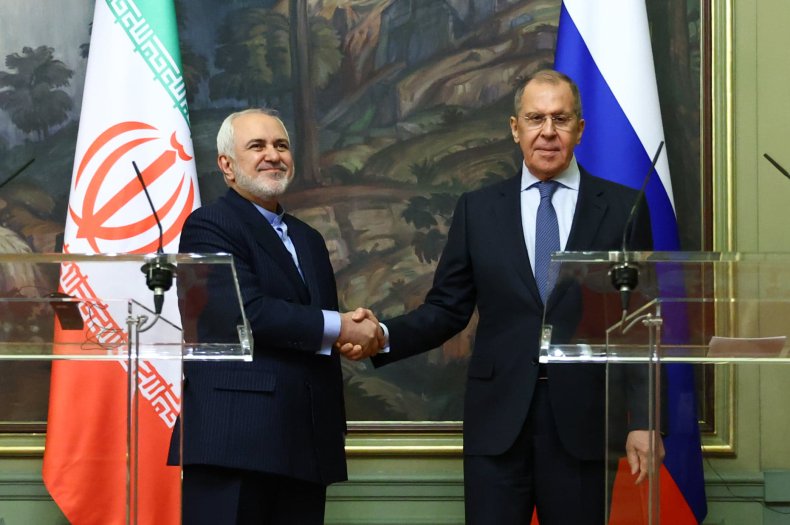 The nuclear deal and "the problem of preserving" it also came up Tuesday during Russian President Vladimir Putin's call with Joe Biden, according to a Kremlin readout. The White House made no mention of the issue in its own statement, though it was divulged that the two men "agreed to explore strategic stability discussions on a range of arms control and emerging security issues."
While Biden has sought a more diplomatic approach to Iran, the new president has suggested a tougher line on Russia. He has accused his predecessor, Donald Trump, of colluding with Putin's country in an effort to interfere in U.S. politics. But among Biden's first official acts in office was to extend a nuclear arms control deal with Russia, the New Strategic Arms Reduction Treaty (New START), following an offer from Putin.
Though Biden has also indicated a desire to return to the JCPOA, some of his officials have hinted that they wanted to see Iran return to full compliance with the agreement beforehand.
Zarif rejected this argument in a tweet Tuesday.
"Why on earth should Iran—a country that stood firm & defeated 4 years of a brutal US economic terrorism imposed in violation of JCPOA & UNSC Resolution—show goodwill gesture first?" Zarif wrote. "It was the US that broke the deal—for no reason. It must remedy its wrong; then Iran will respond."
U.S. regional partners including Israel and Saudi Arabia, archfoes of Iran, oppose the U.S. returning to the JCPOA, arguing it would not contribute to Middle East stability.
But the U.S. exit from the nuclear deal was followed by a steady rise in tensions across the region, where Washington and Tehran had recently found a common foe in the Islamic State militant group (ISIS).
They soon turned on each other once again.
The two nations fell into a cycle of escalation that culminated with the U.S. assassination of Iran's Revolutionary Guard Quds Force commander Major General Qassem Soleimani, who had played a key role in the defeat of ISIS. Russia has consistently identified the U.S. as the aggressor in the conflict.
Iran and Russia have also shored up cooperation in the Middle East. Both powers have intervened in Syria in defense of President Bashar al-Assad, who has met a near decade-long insurgency, which includes factions once backed by the U.S., with ruthless brutality.
Zarif and Lavrov also discussed their joint efforts, along with those of pro-opposition Turkey, to find a lasting solution to the conflict in Syria during Tuesday's talks. Both Moscow and Tehran have joined Damascus in calling for an immediate withdrawal of U.S. troops operating without permission from the government of the war-torn country.