Russia, Iran and Syria Face U.S. Pressure and Turkey Military Threat Over New Operations to Win War
The alliance fighting in support of Syrian President Bashar al-Assad was forced to confront new challenges Friday, as it has faced off with international forces working against its interests in Syria. From the West, the alliance ran into increased pressure against the operation to defeat rebels and jihadis outside Damascus—and from Turkey, it confronted a military threat toward allies in Afrin.
Permanent U.N. Security Council member Russia has so far opposed a West-backed initiative to end the violence in eastern Ghouta region outside the Syrian capital for 30 days, arguing that the U.S. has declined to amend the draft resolution in a way that would allow fighters loyal to the Islamic State militant group (ISIS) and Hayat Tahrir al-Sham—the successor to former Al-Qaeda branch the Nusra Front—to still be targeted. Russia, Iran and Syria have accused the U.S. of shielding the jihadis and rebels that once received CIA backing.
Related: Russia Wants U.S. to Join It In Bombing Ghouta and Winning the War for Assad in Syria
However, the U.S. has charged the pro-Assad axis with intentionally delaying the vote to continue bombarding the insurgent-held area, which has increasingly drawn concern from human rights groups. Along with jihadi Hayat Tahrir al-Sham, Islamist groups Ahrar al-Sham, Failaq al-Rahman and Jaysh al-Islam were also active in the battle against the Syrian military and its allies.
The draft resolution, originally scheduled for Thursday, has once again been postponed for Saturday.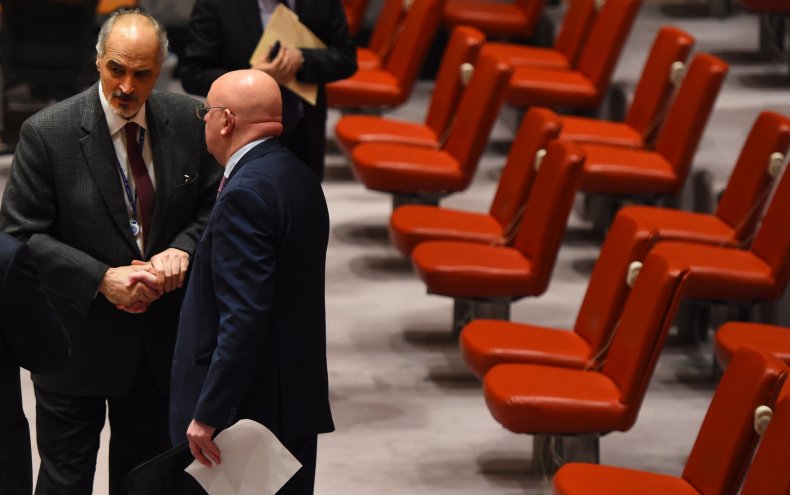 Citing local sources, a correspondent for Lebanese outlet Al Mayadeen, which is supportive of the Syrian government and its allies, wrote Friday on social media that Damascus was planning to announce a plan to evacuate children under the age of 12, men over the age of 60 and all women from eastern Ghouta via recently established safe passages. The correspondent said the Syrian government was awaiting the results of the U.N. Security Council resolution, but it planned to go on fighting ISIS, Hayat Tahrir al-Sham and their allies.
Syrian military expert Wael al-Hussaini shared on social media Thursday what appeared to be a Syrian army leaflet that mapped out and instructed civilians on how to cross a humanitarian crossing point, an inspection point, an area for gathering buses— and finally a canvasing point.
In four points, the leaflet instructed civilians to "avoid getting close to the crossing point while armed; stop within eyesight of the checkpoint, raise this leaflet over your head and place your other hand on your head or in the hand of your child; wait for a sign from a member of the Syrian Arab Army, turn around and show your back; face forward and approach the exit slowly."
President Donald Trump said Friday that "what Russia and what Iran and what Syria has done recently is a humanitarian disgrace" and said the U.S.'s only goal in Syria was to defeat ISIS. Last month, however, Secretary of State Rex Tillerson said that Trump planned to keep troops in Syria to also curb Iranian influence.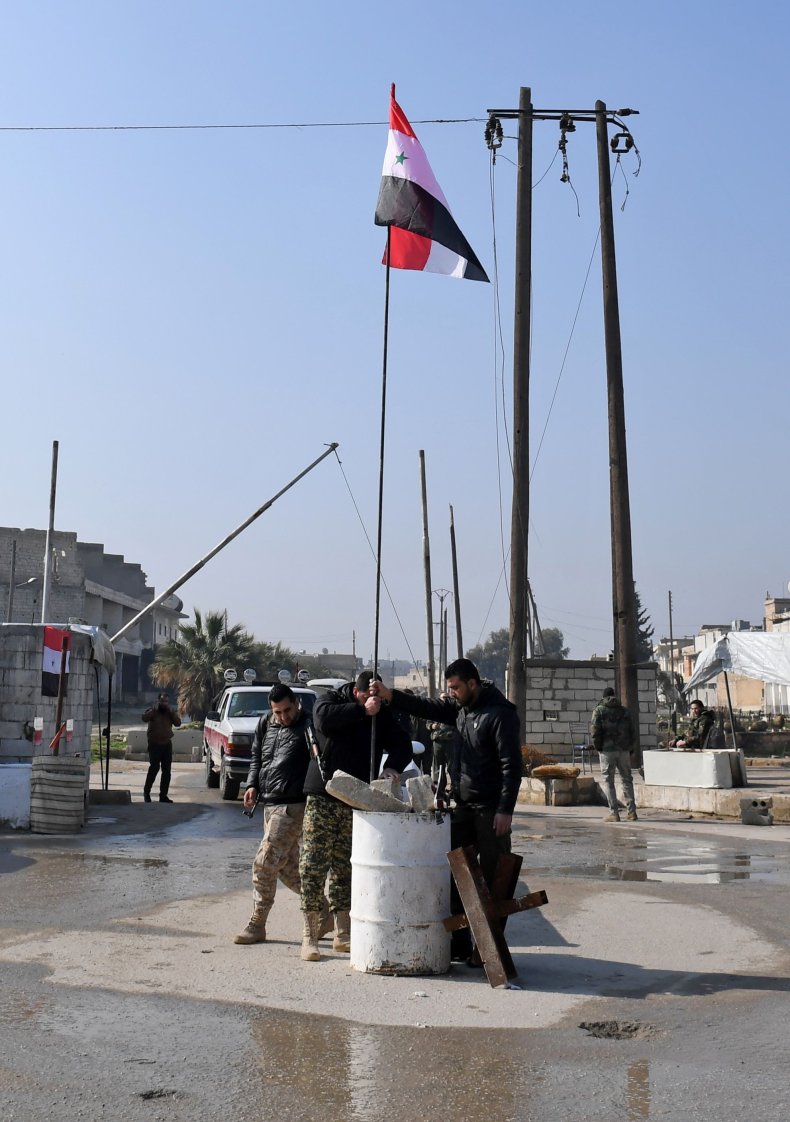 The Syrian Democratic Forces, a mostly Kurdish alliance of Arab and ethnic minorities supported by a U.S.-led coalition, and the Syrian military, assisted by Russian warplanes and mostly Shiite Muslim militias backed by Iran, have mostly defeated ISIS in separate campaigns that recently clashed with each other in the eastern province of Deir Ezzor. Despite at least two deadly incidents between the two factions, they have more recently united to defend the northwestern Kurd-held enclave of Afrin from an offensive launched last month by Turkish forces and their rebel allies.
Both the U.S. and Russia have worked closely with Turkey, but Ankara viewed the dominant faction of the Syrian Democratic Forces, the Kurdish People's Protection Units (YPG), as a terrorist organization over alleged links to a separatist insurgency at home and opposed Assad's leadership as well.
Despite Turkish warnings, pro-Syrian government fighters have been deployed to the frontlines of Afrin to join YPG fighters, who the U.S. said it would not support in any battle that was not against ISIS. Turkey and the insurgent Free Syrian Army continued to exchange fire with the YPG and pro-Syrian government forces, and the Turkish military bombed a Kurdish convoy it said was full of fighters joining the battle for Afrin. Nevertheless, the YPG and Syrian government claimed the convoy was providing humanitarian aid to a region which, along with Ghouta, was suffering from civilian casualties.