Russia has warned that the Western supply of F-16 jets to Ukraine presents "colossal risks" following the announcement that the U.S. had agreed that Kyiv could receive the aircraft it has long called for.
"Movement is under way on the so-called escalation ladder," Russian Deputy Foreign Minister Alexander Grushko said in response to the news that the U.S. would allow Western allies to give jets to Ukraine and assist with training.
"We see that the Western countries are still adhering to the escalation scenario," he said, according to the Tass state news agency.
"It involves enormous risks for themselves. In any case, this will be taken into account in all our plans, and we have all the necessary means to achieve the set goals," the deputy minister added.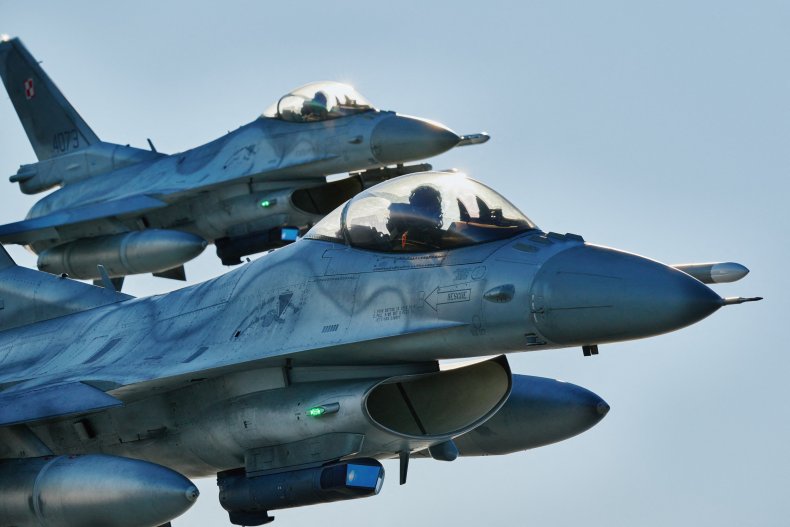 Washington has said that Ukraine can get the aircraft it wants, though not directly from the U.S. This is a significant move from the White House following President Joe Biden's previous refusals to Ukrainian requests for the planes as Washington seeks to avoid escalation into a direct conflict with Moscow.
Biden told G7 leaders on Friday that Washington supports joint allied training programs for Ukrainian pilots on the F-16 aircraft.
U.S. national security advisor Jake Sullivan confirmed the U.S. participation in the "fighter jet coalition" planned by Ukraine's allies which will see training take place in the coming months. However, the coalition has not decided which country will provide the jets, how many, or when.
Compared with Ukraine's Soviet-era Mig-29s and Su-27s, the F-16s can launch precision bombs guided by laser and are more adept at targeting and destroying enemy ground-based radars.
Former British intelligence officer Philip Ingram told Newsweek that the F-16 announcement was significant, "but it is unlikely we will see them being used in the conflict before the winter."
"It takes months to convert trained pilots to fly and fight them but it is showing that the West is in for the long haul when it comes to supporting Ukraine," he said.
"They will be in for decisive Ukrainian attacks in 2024 to finally push the Russians out of Ukraine, including operations into Crimea," he added. Newsweek has contacted the Ukrainian Defense Ministry for comment.
It comes as Ukrainian president Volodymyr Zelensky arrived in Hiroshima, Japan on Saturday for the G7 summit.
Update 05/20/23, 7 a.m. ET: This article has been updated with further information.