Russia Jams NATO Drone Flying Over Black Sea—Report
Russian forces claim to have jammed a NATO drone over the Black Sea, Russian state-controlled news agency RIA Novosti reported on Tuesday.
The news agency reports that Russia's electronic warfare system (EW) jammed a NATO unmanned aerial vehicle (UAV) while the drone was trying to conduct reconnaissance over the Black Sea and approaching the coast of Crimea.
The claim, which has not been independently verified, was made by a source familiar with the situation that RIA Novosti does not identify. Newsweek has contacted the Russian Ministry of Defense and NATO for comment.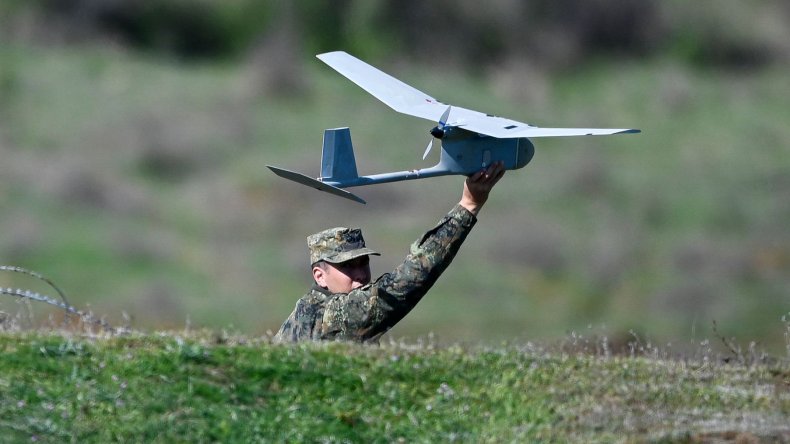 The report told the news agency that "electronic warfare complexes, as a result of the combined interference with the radio technical sensors of the apparatus, made its mission meaningless."
The report does not mention the exact time of the alleged incident nor the exact location.
RIA Novosti also reported that a source in Crimea previously told the news agency that Russia's EW has been targeting NATO ships in the Black Sea trying to approach the coast of the peninsula for reconnaissance. It said that NATO's reconnaissance equipment cannot work as intended.
NATO has been conducting reconnaissance operations over the skies of the alliance's eastern flank at the borders with Russia, Belarus and Ukraine as the war in Ukraine unfolds, gathering key intelligence data about the conflict.
NATO has repeatedly said that the alliance does not provide this data to Kyiv, the Financial Times reported in April, but individual member states can unilaterally choose to share information with the Ukrainian armed forces.
The newspaper reported that NATO owns and operates over a dozen Boeing E-3A radar planes and deploys about six of them in the air at any time.
Russia is known to have an electronic warfare system that includes equipment such as the "Krasukha" (the 1RL257 Krasukha-4 and the 1L260 Krasukha-2), two 8x8 vehicles carrying EW payloads designed to jam the the operational systems of joint surveillance target attack radar systems, according to Global Defence Technology. Russia also has the "Moskva-1," a passive radar system able to track all airborne targets at a distance of up to 400 kilometers; the "Murmansk-BN" system, designed to jam airborne HF signals; and the "Borisoglebsk," a ground vehicle mounted with a multifunctional EW system.
The Kremlin reportedly considers its EW system one of its greatest strengths against Western military equipment. But since the war in Ukraine began, Western observers noticed that Russia has not been able to use the full of range of its EW capabilities to support their occupation of the neighboring country.
Update, 5/31/22 3:40 a.m. ET. This article has been updated to offer more context on the story.