European Union Citizen in Solitary Confinement in Russia as Police Round Up and Allegedly Torture Jehovah's Witnesses
A citizen of Poland has been held in solitary confinement for at least five months, becoming the second European Union citizen detained in Russia for being a practicing Jehovah's Witness, according to the group's adherents.
Andrzej Oniszczuk was detained last year along with other worshipers. He is now being held in solitary confinement, and his family is being denied access to him. Some members of the religious group have raised concerns that he may be abused in custody. It is unclear what type of assistance the Polish government is providing him.
Russia labeled the Jehovah's Witnesses an extremist group in April 2017, and has since launched a brutal crackdown against the group's followers. Some members of the group have since fled to Finland as refugees.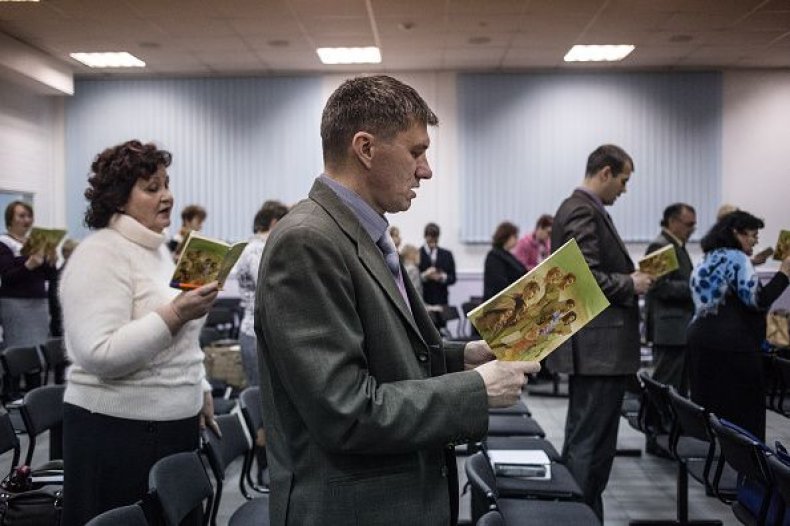 In February, following one of the many raids Russian police carried out on the Jehovah Witnesses' place of worship, members of the group said they believed some of their followers were being abused in custody.
"At least seven Jehovah's Witnesses were later interrogated and subjected to torture, stripped, suffocated, doused with water, shocked with stun guns in the anus area, the strength gradually increased, and beaten. This sadistic treatment occurred on the first floor of the Russian Investigative Committee's office located…in the city of Surgut," Jarrod Lopes, a representative of the Jehovah's Witnesses, told Newsweek.
The raids and alleged torture took place shortly after Dennis Christensen, a Danish citizen, was convicted in February of extremism and sentenced to six years in prison in Russia.
"What happened is hard to comprehend," Yaroslav Sivulskiy, a representative of the European Association of Jehovah's Witnesses, said in an email. "Clearly, even after the Russian and international communities reacted in horror to the cruel sentencing of Dennis Christensen, we now are faced with a desperate and unconscionable attempt by Russian law enforcement to manufacture evidence of alleged criminal activities of Jehovah's Witnesses."
A Russian Jehovah's Witness, 56-year-old Sergey Skrynnikov, will be sentenced in another extremism case on April 1. Prosecutors have recommended that he be sentenced to at least three years in prison for practicing his religion.
"As of February 2019, Christensen is one of 23 members of the Jehovah's Witnesses faith community imprisoned on charges related to practicing their faith [in Russia]," Kristina Arriaga, vice chair of the United States Commission on International Religious Freedom. "There are an additional 27 members under house arrest, 41 forbidden from leaving their home towns, and 121 under active investigation on similar charges."