Russian President Vladimir Putin Jokes Trump Should Visit Syria, Assad Says He Will Host Him
Russian President Vladimir Putin jokingly suggested that President Donald Trump should visit Syria during a candid moment with Syrian President Bashar al-Assad, who appeared to approve of hosting the U.S. leader.
The remarks are in footage that has recently surfaced in Russian-language media from Putin's trip last week to Syria, where he met Assad at the Russian military headquarters in Damascus before touring a number of religious and cultural sites for Eastern Orthodox Christmas. At one stop, the Mariamite Cathedral of Damascus, the two leaders could be seen on camera laughing alongside Greek Orthodox Patriarch John X of Antioch.
"If Trump arrives along this road, he will be a good man," Assad said, to which Putin laughed before replying, "He will change for the better."
After a brief pause, the Russian leader added, "Invite him, he will come." Assad laughed and responded, "I will tell him."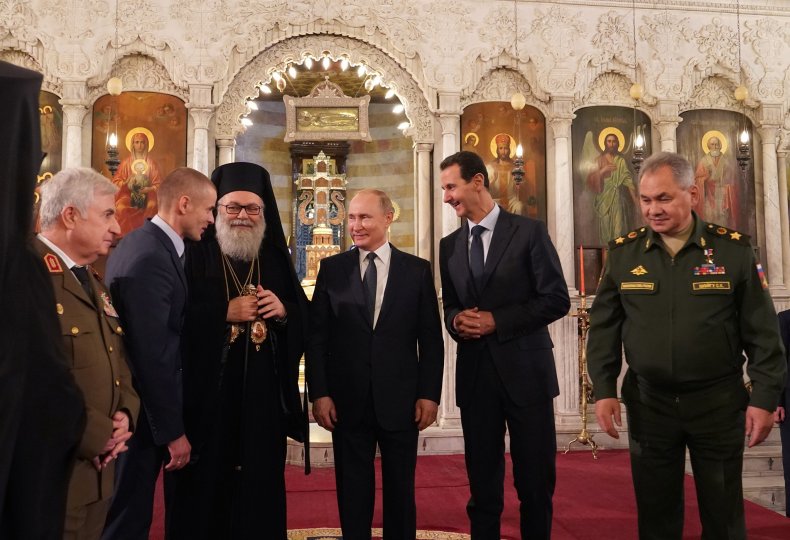 Though previous presidents have met with Assad, and his father before him, the United States has sought to oust the leader since 2011, when mass demonstrations and a government crackdown turned into a civil war in which the U.S. armed and trained insurgents. Washington's priorities later shifted to battling the Islamic State militant group (ISIS), but the Trump administration to this day rejects the legitimacy of Assad's rule.
Shortly after Trump won the 2016 presidential race, Assad called him a "natural ally" in the fight against terrorism, but months later the U.S. leader ordered the first U.S. airstrikes against the Syrian government in response to an alleged chemical weapons attack in April 2017. He did so again, this time with backing from France and the United Kingdom, almost exactly a year later in response to another suspected chemical attack.
While both strikes were limited in nature, Trump and other U.S. officials have continued to threaten further military action, in addition to existing economic sanctions, against Assad and his administration. The U.S. also maintains in Syria up to 600 troops that are viewed by Damascus as an occupying force.
The dynamics of Syria's multisided war have continued to evolve, however, and America's main ally since 2015 has been the Syrian Democratic Forces, a mostly Kurdish militia opposed by Turkey but viewed with neutrality by the Syrian government. Also in 2015, Russia joined Iran and its allies in backing Assad.
After U.S. forces repositioned themselves to maintain control of Syria's eastern oil fields, the Syrian Democratic Forces and the Syrian government made a deal under the auspices of Russia to halt an invasion by Turkey. Though Turkey is also opposed to Assad, it has maintained trilateral peace talks with Moscow and Tehran, and Turkey's intelligence chief met Monday with his Syrian counterpart for the first time in years.
Turkish President Recep Tayyip Erdogan has not openly traveled to Damascus or met with Assad since 2011, when unrest there began. Putin's latest trip to Syria was only his second, with his first happening back in December 2017. A month earlier, Putin hosted his Syrian counterpart in Russia.
Trump visited U.S.-led coalition areas of operation in Iraq in Christmas 2018 and traveled to meet U.S. troops in Afghanistan last Thanksgiving, but he has never visited Syria.