Hardline Russian Critics Are Forcing Putin's Hand
The Kremlin is reportedly heeding proposals by Russian businessman Yevgeny Prigozhin, whose Wagner Group mercenaries are fighting in Ukraine.
The assessment by the Institute for the Study of War (ISW) follows reports that Prigozhin, who has been jockeying for influence during the war, may have been sidelined by Vladimir Putin, with whom he has close links.
Wagner has emerged as a key player in Russia's invasion of Ukraine, although its influence is believed to be waning. Prigozhin has been a vocal critic of what he sees as military shortcomings in Russia's war effort and the Kremlin was reluctant to recognize his group's contribution to fighting in the town of Soledar in the Donetsk Oblast.
However, Prigozhin has initiated an amendment to the Russian Criminal Code connected to the war which is being listened to by Moscow, according to the ISW.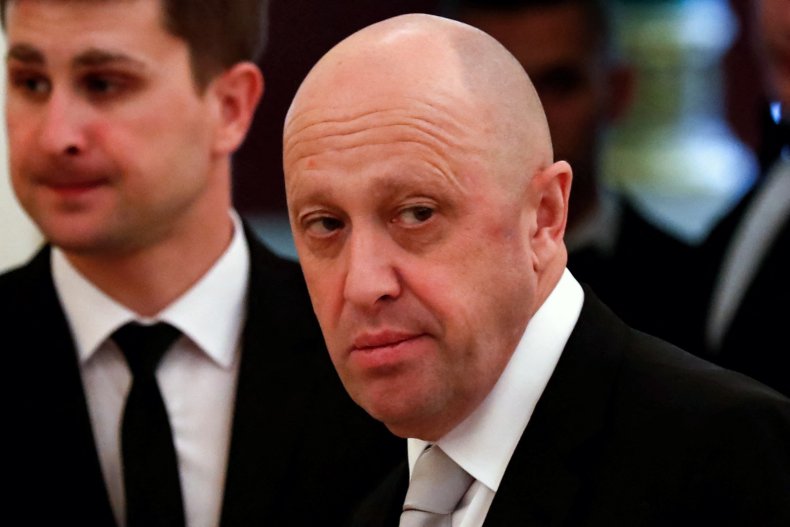 Head of the Russian State Duma committee on security and anti-corruption, Vasily Piskarev, is said to be preparing an amendment which would charge individuals deemed to have discredited those who assisted Russia's armed forces in Ukraine.
Proposed by Prigozhin, the measure would include criminalizing criticizing anyone who took part in combat operation and those described as "volunteers," which is how Russia's Ministry of Defense labels Wagner troops.
Meanwhile, the largest Russian media holding company, Gazprom Media, is said to be looking to ban its outlets from publishing content on YouTube. This may be connected to efforts to block YouTube in Russia, which Prigozhin has advocated since late 2022.
"Both provisions, if authorized, do not legalize Wagner or elevate Prigozhin's coveted political authority in Russia," the ISW said. "However, those provisions appeal to the broader nationalist and milblogger communities."
These communities have also been calling for the Kremlin to recognize the efforts of volunteers in Ukraine "which include proxy armed formations, volunteer battalions, and the Russian Combat Reserve," the ISW said.
In its recruitment drive, Wagner has offered prisoners in Russia freedom if they serve a six-month stint in Ukraine. However, fighters who have escaped have revealed the group's brutal methods and dismay at being used as cannon fodder. In January, the rights group Russia Behind Bars said only a fifth of the 50,000 convicts who had been recruited were still fighting. The rest had either been killed, wounded, deserted or surrendered.
Russian authorities are reportedly using the threat of new criminal cases to pressure prisoners into joining the Wagner group.
Lawyer Yana Gelmel told the independent media outlet Agentstvo that authorities are threatening to dig up cases up to 20 years old for convicts in the Samara and Rostov regions, Krasnodar Krai and the North Caucasus.
"They intimidate people, saying they'll launch proceedings against anybody who refuses to go to war," Gelmel said.
Newsweek has contacted the Russian defense ministry for comment.