Who is Alicia Day? American Detained by Russia for Walking Cow in Moscow
Russian police have arrested an American woman near the Kremlin where she was walking a baby cow, according to local reports.
Russian state news agency Tass said it had spoken to Alicia Day, 34, who was detained on Wednesday for walking the calf in Red Square after she had purchased it online.
"I bought the calf so that it wouldn't be eaten. I decided to take him to such a beautiful place and show him the country," she said, according to the agency.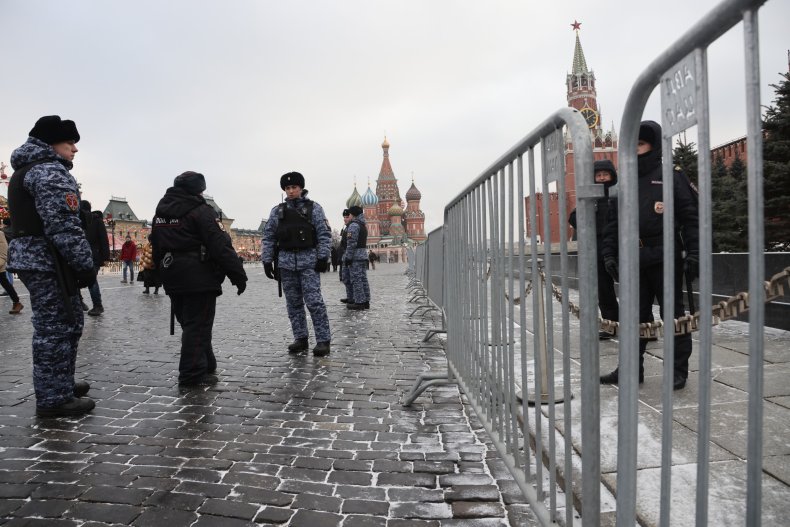 Moscow's Tverskoy district court will consider the case against her in the coming days, Tass said. Day faces two charges each of which could see her fined, jailed for up to 15 days or face 120 hours of community service.
According to the case file, she had shouted the slogan "animals are not food" in Red Square, where public events are prohibited. Day also allegedly tried to resist arrest.
Tass reported that Day had been in Russia since January 21 and worked for an animal protection organization, entering the country on a tourist visa. The agency published a photo of her appearance in court and said that she had pleaded guilty.
She was looking after seven piglets and three calves at the shelter, including the one she was detained with. The laws in Russia against demonstrations have tightened since the start of the war in Ukraine, although Tass said she was not making any political statement with her actions.
British newspaper The Sun has described Day as a New York-born "vegan activist" who had once rescued a pig from a farm and kept in her apartment in London.
In a story widely reported in 2019, she told media that she had named the pig "Jixy Pixy," taking it to restaurants and even sharing a taxi with it. She was forced to give up the pig to the animal welfare charity RSPCA and was criticized for taking the animal out of its natural habitat where it can wallow and forage.
The Sun reported that she had moved to Eastern Europe to teach English and had got into trouble for adopting a pig in Warsaw and keeping it in her apartment.
Meanwhile, in February 2022, she was living in the Ukrainian city of Dnipro before Russia's invasion and told the BBC she would not leave the city or her pets, a piglet and a calf, she said she had saved from slaughter.
Update 02/01/23, 7:30 a.m. ET: This article has been updated with further information.