Mass Shooting Video Shows Man Open Fire on People While Walking Down Street
A video of a mass shooting in Russia shows the moment a man opened fire on people while walking down a street in the southern Krasnodar region on Thursday afternoon.
According to preliminary information, four people were killed, including the shooter, Russia's state-owned news agency Tass reported, citing law enforcement officials.
"Preliminarily, the man shot three people," an unnamed official told Tass.
An investigation into the shooting is underway.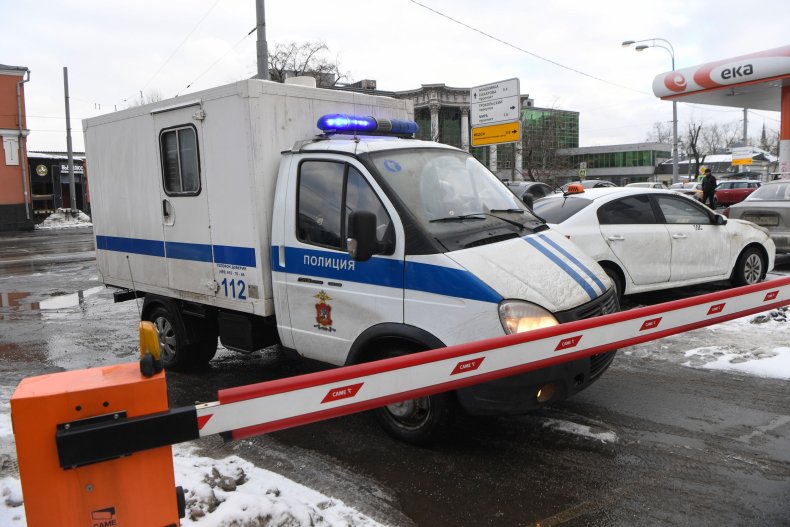 Footage of the shooting has circulated on social media. It shows an individual holding a weapon covered in a cloth.
The gunman can be seen shooting a person lying on the ground multiple times at close range.
Russia's regional Ministry of Internal Affairs said another person was wounded in the incident, according to Tass.
The department said a man opened fire in a hospital at around 5:00 p.m. local time. He wounded two paramedics, and then went outside and opened fire on passers-by.
Meanwhile, a 61-year-old was hospitalized with a gunshot wound to the lower back, local news outlet Fontanka reported.
The gunman was later identified by State Duma Deputy Alexander Khinshtein, who said that Vladimir Zhirov, 62, opened fire in Krymsk using a hunting rifle that belonged to him.
Khinshtein wrote on his Telegram channel that Zhirov had owned the rifle since 2019, and that his permit was due to expire in 2024.
According to Fontanka, which cited court documents, Zhirov had lost a court case on Thursday which he filed against his son in May.
The 62-year-old reportedly filed that lawsuit in response to one filed by his ex-wife in April. Zhirov's wife also acted as a defendant at the trial, according to the news outlet.
A spokesperson for a regional department of Russia's Ministry of Internal Affairs told Tass that the cause of the shooting incident in Krymsk could be the gunman's divorce.
Russia's Investigative Committee said the shooter took his own life.
Newsweek has contacted Russian authorities for comment.
Data released by Russia's Ministry of Internal Affairs show that armed crime has risen sharply in several regions across the country.
In the Kursk region, near Russia's border with Ukraine, the number of crimes committed using firearms, ammunition, and explosive devices over the first 10 months of this year increased by 675 percent, compared to the same time frame in 2021, statistics show.
Crimes involving the weapons also rose sharply in the Belgorod region and in Moscow, with a rise of 213 percent and 203 percent respectively.
Vladimir Mikhalevich, deputy chair of the Officers of Russia organization, told a Moscow radio station that President Vladimir Putin's so-called "special military operation" in Ukraine likely has played a role.
"Probably, there is still some general anxiety. We know that since 2020, firstly, we have had a pandemic ... with the onset of [the special military operation], there is also anxiety—no one will take this very calmly," he said.
Mikhalevich also said that it is now "probably easier" to get weapons.
"Probably everyone is trying to stock up on weapons already ... when people are under the threat of bombing, they become scared, and there is some kind of devaluation of life," he added.
Do you have a tip on a world news story that Newsweek should be covering? Do you have a question about gun crime? Let us know via worldnews@newsweek.com.
Update 11/24/22, 12:46 p.m. EST: This article was updated to add quotes and context.