Russia Is 'Laughing' At Trump, Former Ambassador to Ex-Soviet Union Says
President Donald Trump's policy toward Russia has puzzled world leaders and amused officials in Moscow, according to the former ambassador to the states that succeeded the Soviet Union in the 1990s.
Stephen Sestanovich, a senior fellow at the Council on Foreign Relations and the former ambassador-at-large for the ex-USSR states, told The New York Times on Tuesday that "Trump seems to think that if he accepts what his advisers recommend on even days of the month and rejects their recommendations on odd days, the result will be a strategy."
Related: Does Trump Have a Syria Plan? U.S. Needs Russia and Iran to End the War
"By and large, other governments don't know whether to laugh or cry at all this," he added. "But in Russia, laughter is getting the upper hand."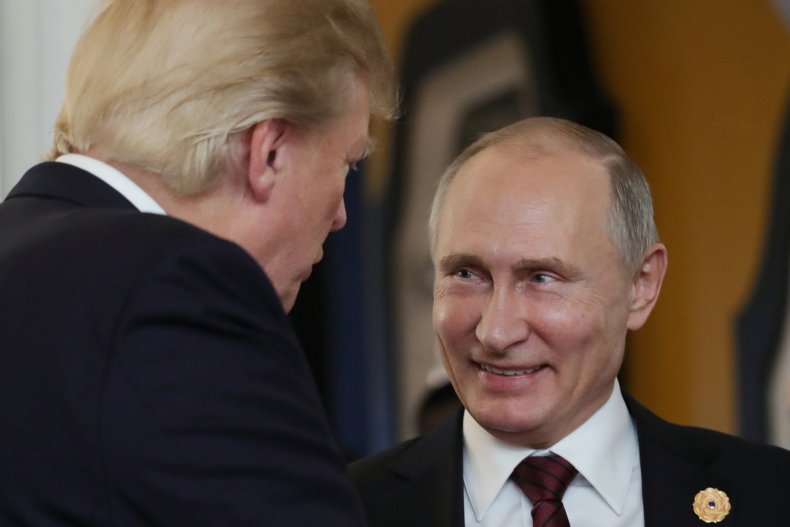 In stark contrast to his predecessor, Trump expressed admiration for President Vladimir Putin even before officially running for office. Trump publicly wondered in 2013 if Putin would become his "new best friend" ahead of the Miss Universe Pageant in Moscow and, later that year, told Piers Morgan that Putin "really put it" to former President Barack Obama in response to the use of the term "American exceptionalism." Trump, who would go on to champion phrases like "America First" as president, said at the time that the term was "insulting."
Trump continued to praise the longtime Russian leader in the years and months ahead of the billionaire real estate mogul-turned-celebrity-turned-politician's own campaign trail. He portrayed Putin as a tougher, smarter and more sensible head of state than Obama and, as Trump went on to win the election, floated Russia as a potential partner in the battle against the Islamic State militant group (ISIS) in Syria.
Shortly after being sworn in, however, Trump found himself swamped by allegations that the Kremlin had attempted to influence the U.S. election in his favor, potentially by colluding with his campaign. Trump challenged Russia directly in April 2017 by blasting an air base belonging to its ally Syrian President Bashar al-Assad, accused by some Western governments and their allies of using sarin gas in rebel territory. Days later, Trump made an about-face on Western military alliance NATO, which he said was "no longer obsolete" as he previously described it.
One year later, Trump took on Russia again by defying its warnings and launching an even bigger cruise missile strike in Syrian government territory Friday—this time recruiting France and the U.K. to hit suspected chemical sites after more toxic gas allegations. At the same time, however, U.S.-led coalitiom spokesman Colonel Ryan Dillon revealed to reporters Tuesday that deconfliction lines between the U.S. and Russia remained open in Syria and that the U.S.-led coalition has actually shared intelligence with Moscow regarding potential ISIS threats in areas controlled by the Syrian government.
Putin thanked Trump in December for a CIA tip that helped thwart an ISIS plot in St. Petersburg, according to the Associated Press.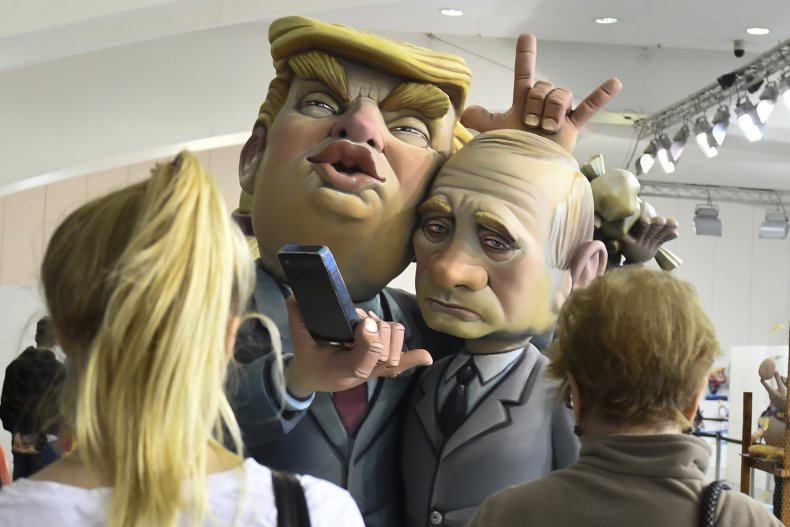 Trump has not yet abandoned Putin as an ally in tackling "North Korea, Syria, Ukraine, ISIS, Iran and even the coming Arms Race" as the president tweeted after congratulating his Russian counterpart on his re-election. Trump's advisers reportedly urged him not to call Putin after the Russian leader won an unprecedented fourth term last month, but the president argued: "Getting along with Russia (and others) is a good thing, not a bad thing."
In the latest sign that Trump still viewed Moscow as a potential partner, the White House contradicted U.S. Ambassador to the U.N. Nikki Haley on Monday after she said Sunday that the U.S. was planning to roll out further sanctions against Russian companies allegedly involved in Assad's chemical weapons program, which Moscow argues has been defunct since 2013.
"We are considering additional sanctions on Russia and a decision will be made in the near future," White House press secretary Sarah Huckabee Sanders said Monday in a statement.
Sanders told reporters that "the president has been clear that he's going to be tough on Russia," according to ABC News. "But at the same time, he'd still like to have a good relationship with them."