Russia Launches 'Biggest' Military Drill in Modern History With 300,000 Troops
Russia has launched a large military drill that is supposedly its biggest since the end of the Cold War, with 300,000 troops rallying in the east of the country.
The exercise, named Vostok-2018 (East-2018), includes a series of training activities involving about 1,000 aircraft, an estimated 36,000 tanks and armored vehicles, and an additional 80 vessels all focusing on operations in Russia's far east. Neighboring China is also expected to contribute to some joint training within the drill's scheduled training activities.
"Over the course of this, the use of inter-service military deployments will be honed with the aim of ensuring Russia's security," a statement from Moscow's Ministry of Defense read on Tuesday. The main objectives of the maneuvers will be to assess military command's level of preparedness to plan and carry out large redeployments of troops across the country, as well as to organize interaction between units on the ground and at sea while also giving senior officers some practice in command and control.
The drill lasts a week and includes more than 3,000 troops from nearby China. The region of the exercise will span naval training ranges in the Sea of Japan, Bering Straits and Sea of Okhotsk, as well as five army training grounds in the east and four military airfields.
Russian President Vladimir Putin is rumored to be visiting the exercise field command. Spokesman Dmitry Peskov, however, told state news agency Itar-Tass that it was unlikely the leader will host any foreign leaders at the exercise despite China and Mongolia taking part. Turkey, which is a U.S. ally as part of NATO, was also reportedly invited, according to the pro-government newspaper Yeni Şafak, citing Turkish Defense Minister Hulusi Akar, who said Ankara was still considering the idea on Sunday.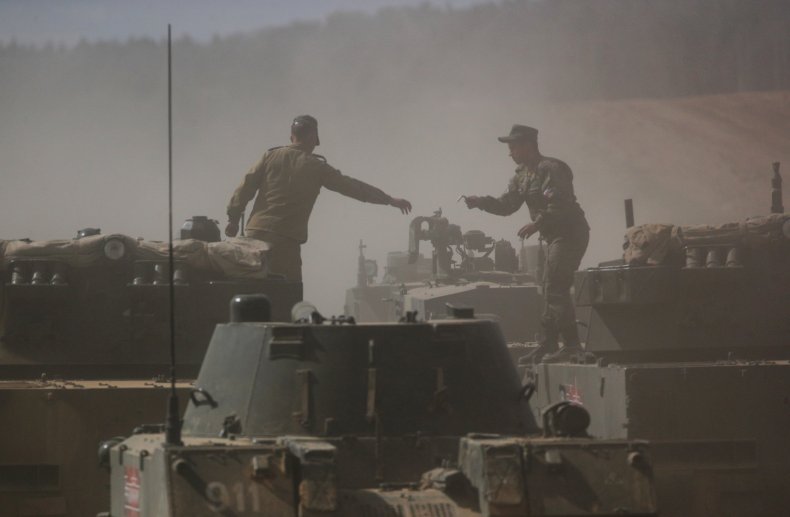 Moscow has brushed off the drill as an example of warmongering, military muscle-flexing or a bid to split the Western alliance, according to Tass.
"We have heard these statements from NATO representatives and some of their member states," Maria Zakharova, the Russian Ministry of Foreign Affairs' spokeswoman said. "Sadly we are used to them. In the West they still retain an inclination to look for a Russian threat in any event, [but] there is no basis for this. The exercise Vostok-2018 takes place far from NATO's zone of responsibility, and does not have any impact on the security of its member states."