Russia has raised tariffs on a handful of U.S. imports after the Kremlin condemned President Donald Trump's tariffs on foreign steel and aluminum as protectionist.
Speaking as Moscow approved new restrictions on U.S. road construction equipment, oil and gas equipment, metal processing and rock-drilling tools, as well as optic fiber, Russian Economic Development Minister Maxim Oreshkin said the move was a response to U.S. tariffs.
The U.S. move stems from a decision by Trump in March to charge Russia, and also Canada, the European Union, Mexico and others, more money to import steel and aluminum into the U.S. for "national security" reasons.
"The compensatory measures are applied in the form of additional increased rates of import duties in the amount of 25 to 40 percent of the value of the imported goods," Oreshkin said on Friday, according to Russian business newspaper Vedomosti.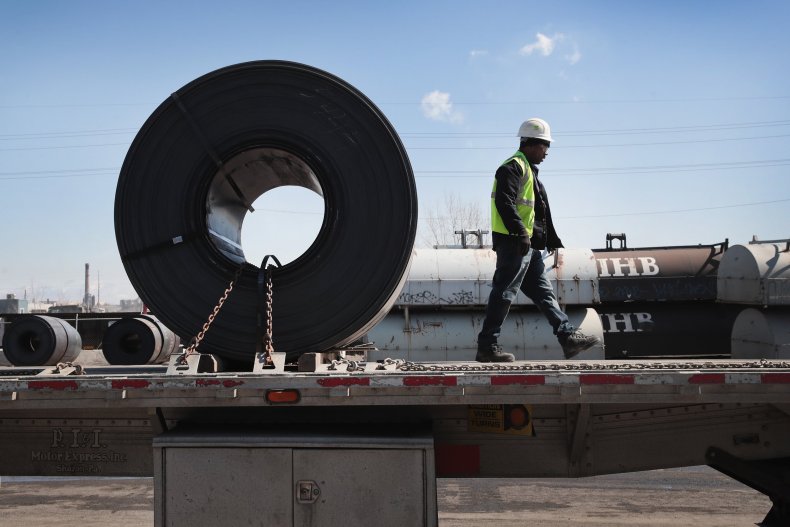 Oreshkin estimated that U.S. tariffs had cost Russian steel and aluminum companies $537.6 million in damages already. Russia's countertariffs would only compensate them $87.6 million, he said.
The move came hours after Russian President Vladimir Putin's spokesman Dmitry Peskov effectively dismissed the U.S. explanation that cited security as the reason for the tariffs.
"Everyone is watching with great attentiveness a host of measures of an exceptionally protectionist nature, which the United States has undertaken," Peskov said on Friday, according to state news agency RIA Novosti. "Of course, Russia has undertaken and will continue to undertake measures necessary for the defense of our own interests."
Other nations have already responded to Trump's aluminum and steel tariffs, as Canada has revealed a list of 79 items under tariffs, while the EU has put tariffs on products such as tobacco, Harley Davidson motorcycles, cranberries and peanut butter.
Related: Donald Trump says the head of NATO is "Trump's biggest fan," but Russia must think it made a "big mistake"
Besides its steel and aluminum tariffs, the Trump administration has also imposed tariffs worth $34 billion on goods from China to counter the "unfair transfers of American technology and intellectual property to China."
The 25 percent levy came into effect on Friday, and China responded with an equivalent tariff on 545 U.S. products, ranging from soybeans to aircraft.