Russia Launches Thermobaric Warheads at Ukrainian Targets: Report
A Russian thermobaric multiple rocket launcher that is mounted on a tank chassis fired at Ukrainian targets with devastating effects, according to reports from Russia military.
The TOS-1A "Solntsepyok" vehicle, which has a multiple rocket launcher mounted on a T-72 tank chassis, is being deployed somewhere in Ukraine and reportedly firing thermobaric warheads at Ukrainian targets, as images reportedly show.
The vehicle can be seen sporting a white "Z" daubed its side. The "Z" is one of the symbols, as well as the letters "V" and "O" that can be seen painted on Russian military vehicles taking part in the invasion of Ukraine.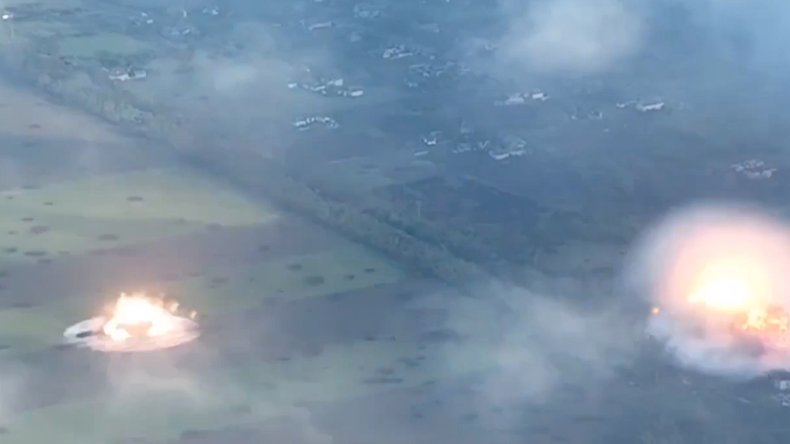 The footage then cuts to an aerial view, reportedly showing the missiles exploding as they hit the ground. The video then shows missiles being fired at night before the footage ends.
The images were obtained Friday from the Russian Ministry of Defense (MoD) along with a statement saying that they show "the combat work of the crews of heavy TOS-1A 'Solntsepek' systems of the Western Military District to destroy fortified, long-term strongholds and positions of the Armed Forces of Ukraine."
The Russian MoD added that drones assisted the vehicle with targeting.
The MoD also said: "After completing the combat mission, the crews of the TOS-1A 'Solntsepyok' in the shortest possible time carry out a change of combat positions and promptly reload the installations.
"There are 24 thermobaric projectiles in the package. They are capable of covering an area of up to 40 thousand square meters [430,000 square feet], while destroying lightly armored vehicles and fortifications.
"It is impossible to hide from the Solntsepeka volley even in trenches and dugouts: after a 200-kilogram [440 pounds] projectile hits the target, the thermobaric mixture dissipates in the air and explodes under tremendous pressure, creating a temperature of 3,000 degrees [5,400 degrees Fahrenheit]. Even steel armor melts in such an inferno."
Zenger News contacted the Russian Ministry of Defense for further comment, as well as the Ministry of Defense of Ukraine, but had not received a reply at the time of writing.
Russia invaded Ukraine on February 24 in what the Kremlin is still calling a "special military operation." Friday marks the 121st day of the invasion.
The General Staff of the Armed Forces of Ukraine reported that between February 24 and June 24, Russia had lost about 34,530 personnel, 1,507 tanks, 3,637 armored combat vehicles, 759 artillery units, 241 multiple launch rocket systems, 99 air defense systems, 216 warplanes, 183 helicopters, 622 drones, 137 cruise missiles, 14 warships, 2,553 motor vehicles and fuel tankers, and 60 units of special equipment.
The European Union on Thursday approved Ukraine's application to become a candidate for admission to the bloc, which is currently made up of 27 countries. The decision has been hailed in Brussels and Kyiv as a "historic moment," with Ukraine President Volodymyr Zelensky saying that "Ukraine's future is in the EU."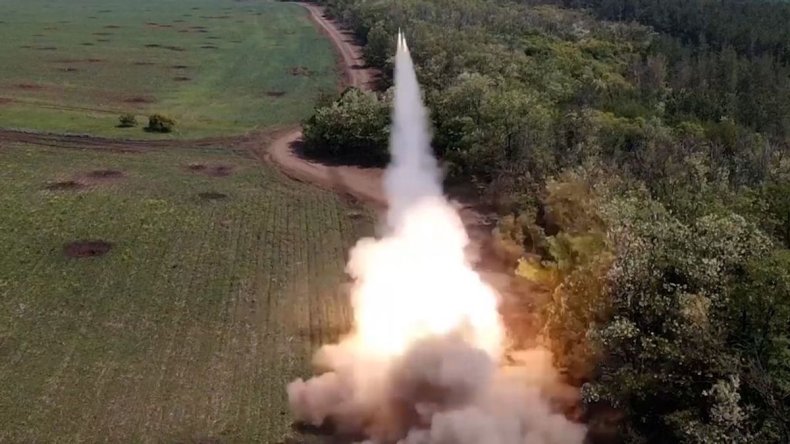 The head of the International Energy Agency, Fatih Birol, warned Russia might stop supplying gas to Europe this winter. Several European countries have already received less Russian gas than expected in the last few weeks, with European imports of natural gas from Russia dropping from approximately 40 percent to 20 percent.
Germany has taken a step closer to gas rationing after a drop in supplies from Russia.
British intelligence has estimated that the pro-Russian, so-called Donetsk People's Republic (DPR) has lost 55 percent of its original forces.
U.S. intelligence has revealed that Russia is mining the Black Sea ports of Odesa and Ochakiv to throttle Ukraine's ability to export grain.
Russia is now thought to control all of the eastern Ukrainian city of Severodonetsk, apart from the Azot chemical plant.
Ukrainian officials have said there are currently no safe towns for civilians in the Donetsk region of eastern Ukraine as fighting intensifies.
This story was provided to Newsweek by Zenger News.