Russia Launches War Games with Two Top Allies as U.S. and NATO Begin Navy Drills
Russia and two of its top regional allies have teamed up for the active phase of an annual joint military exercise, coinciding with a major naval drill being held by the U.S. and its partners in the NATO Western defense coalition in northern Europe.
The Slavic Brotherhood-2018 tactical drills officially began Tuesday with the ceremonial raising of the Russian, Belarussian and Serbian flags at the Rayevsky range in Russia's southern Krasnodar region, according to the Russian Defense Ministry. The exercise, which will last through Thursday, was set to see paratroopers from the three nations work together to thwart a simulated insurgent takeover in a fictitious Eastern European state.
More than 700 Russian airborne troops will be involved, along with about 250 special forces from Belarus and 50 more from Serbia. In addition to this being Belarus's first appearance at the annual exercise, Russia also plans to debut some updates to some of its vehicles, including the BMD-4M amphibious infantry fighting vehicle, the BTR-MDM Rakushka amphibious armored personnel carrier, the Lynx armored car, the T-72B main battle tank, the Infauna electronic warfare vehicle and the Aistenok radar complex.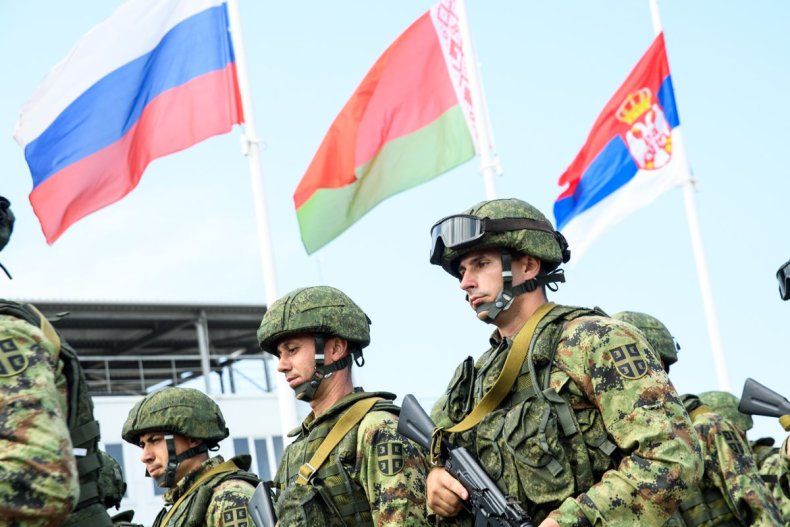 The regional maneuvers came amid heated tensions with the rival, U.S.-led NATO coalition, which has increasingly pushed back against Russian military activity since Moscow's 2014 annexation of the Crimean Peninsula. Crimea has recently been linked to Krasnodar by a bridge commissioned by Russian President Vladimir Putin himself.
NATO has its own tightly-packed schedule of multilateral war games aimed at asserting the coalition's military posture across the European continent. The U.S. 6th Fleet joined Denmark, Germany, the Netherlands, Norway, Poland, Spain and Turkey on Tuesday for the Dynamic Mongoose 2018 anti-submarine drills in the North Atlantic Ocean.
Related: Nato Warships Start Submarine Hunt Drill As a 'Strong Signal' to Russia
U.S. Patrol Squadron 10 Commander Chad R. Donnelly called the exercise "a valuable training opportunity" to hone NATO's submarine warfare skills in a statement, while U.S. Navy Admiral John Richardson told Norwegian public broadcaster NRK that Norway's participation in the drill was "a strong signal that we are going to be solid partners."
Norway is one of many countries on the frontlines of NATO-Russia tensions, which have been especially concentrated in the Baltic states of Estonia, Latvia and Lithuania, as well as Poland. In 2016, NATO decided to bolster its defenses in these countries through the formation of four multinational battlegroups that have been tasked with thwarting any potential Russian incursion.
Infrastructural woes within NATO states along with Russia's militarization of its Baltic exclave of Kaliningrad, however, have cast doubts on the Western alliance's ability to block a Russian assault. Still, Moscow has argued that NATO's deployment of troops along the border and installation of advanced anti-missile systems represent a threat to Russian national security.
In the latest attempt to establish a dialogue between the two leading military powers, National Security Adviser John Bolton was scheduled to meet Russian Foreign Minister Sergey Lavrov on Wednesday in Moscow.