Russia Lays Out Peace Negotiation Terms That 'Cannot Be Ignored'
Dmitry Peskov, Russian President Vladimir Putin's press secretary, spoke with reporters on Tuesday about potential peace talks with Ukraine and specified a few conditions that are nonnegotiable for Russia.
"There are certain realities that have already become domestic in Russia—I mean the new Russian territories," Peskov said, according to the Russian state-controlled media outlet Tass. "There is the Constitution of the Russian Federation, which cannot be ignored by anyone, and which the Russian side will never be able to give up."
He continued, "These are very important realities. And there are also certain goals of the Russian Federation, which she performs during the SVO [spetsialnaya voennaya operatsiya, or special military operation]."
Since Putin launched the invasion of Ukraine on February 24, 2022, Russian officials have remained firm that Crimea, which Putin annexed in 2014, must remain part of its nation in any future peace talks. In addition, the Kremlin maintains that four additional territories it illegitimately annexed this past September must also be recognized as Russian.
Meanwhile, Ukraine has said that any peace deal must invalidate the four recent annexations and that Crimea must again be considered part of Ukraine.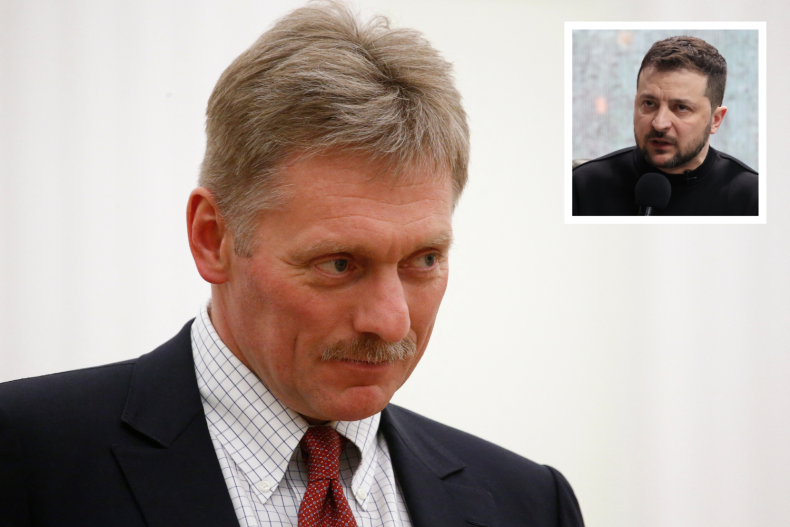 For the time being, any peace deal seems to be far off. After talks were held between delegations from both sides during the early weeks of the war, neither country appears to be ready to meet again.
Russia blames the lack of talks on Ukraine and its Western allies. In January, Russian Foreign Minister Sergey Lavrov said that Western nations had convinced Ukrainian President Volodymyr Zelensky to not work on peace negotiations with Russia.
"It is well known that we supported the proposal of the Ukrainian side to negotiate early in the special military operation and by the end of March, the two delegations agreed on the principle to settle this conflict," Lavrov told the media during a visit to South Africa, according to the Associated Press.
He added, "It is well known and was published openly that our American, British and some European colleagues told Ukraine that it is too early to deal, and the arrangement which was almost agreed was never revisited by the Kyiv regime."
Ukraine has said that Russia does not sincerely want negotiations, while U.S. officials have said Putin has the power to end the war at any time. On February 18, Secretary of State Antony Blinken said during a conference that "if Russia withdraws its troops today, the war is over. Of course, if Ukraine stops fighting today, Ukraine is over."
According to Peskov, Zelensky is the one who is not ready to meet for peace negotiations.
"So far, to be honest, probably no one can ascertain any signals from the Ukrainian side, as long as we proceed from the impossibility de jure for the Ukrainian side to negotiate on this matter. We proceed from this," he said, according to Tass.
Peskov hinted that Russia could be open to some Ukrainian requests, should theoretical negotiations occur during a "favorable state of affairs" and with "the appropriate attitude of the Ukrainian regime."
No matter what, though, "the main thing is to achieve our goals. This is our absolute priority," Peskov said.
Mark Katz, a professor at George Mason University's Schar School of Policy and Government, told Newsweek that while Peskov's words may reflect a "genuine statement of the Putin regime's aspirations," Putin's spokesman could have an ulterior motive with the comments.
"Peskov may also be saying this in the hope that the West would be willing for Ukraine to make this 'small' sacrifice to bring about an end to the war," Katz said. "Basically, then, holding out the prospect of 'land for peace' is an attempt to divide the West and weaken its support for Ukraine."
Newsweek reached out to the Ukrainian Ministry of Foreign Affairs for comment.