Russian LGBT Activist Found Stabbed and Strangled After Allegedly Receiving Death Threats
Yelena Grigoryeva, a well-known Russian activist for the rights of lesbian, gay, bisexual, and transsexual (LGTB) people, was found dead in the Russian city of St. Petersburg on July 20, reports out of Russia reveal. She had previously received death threats for her activism, according to her friends.
Dinar Idrisov, an opposition campaigner who worked with Grigoryeva, said that the victim was on a list of targets created by a homophobic group called "Pila." Police reports said that Grigoryeva had been strangled and stabbed. She was 41 years old.
"Her mutilated body was discovered yesterday," Idrisov posted on Facebook. "Recently, she was a victim of violence and had often been threatened with murder. Whether these attacks, threats and now murder are linked to her political views, which changed from nationalist to liberal and LGBT, or with her undoubtedly active character and style of behavior – really doesn't matter. Every person has the right to life. And the state of Russia must guarantee that right to life."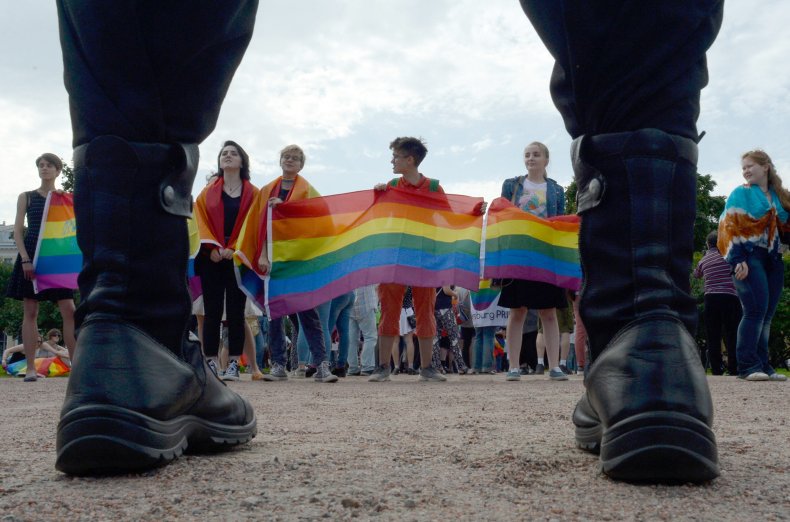 A suspect has reportedly been detained in connection with her murder. It is still unconfirmed whether the attack took place due to her activism.
Homophobia is widespread in Russia, which in 2013 passed a "gay propaganda law" that prohibited the "promotion of nontraditional sexual relations to minors." The law resulted in the shuttering of many websites and organizations that provide information to LGTB youth.
"As it was debated and passed in 2013, the law contributed to an intensification of stigma, harassment, and violence against LGBT people in Russia," according to a statement from the organization Human Rights Watch. "The law has been used to shut down online information and mental health referral services for children, and to discourage support groups and mental health professionals from addressing LGBT issues with children. It has further entrenched antipathy toward LGBT people."
Last week, the European Court of Human Rights ruled that the Russian government has to pay around $47,000 in damages to three LGTB rights groups for refusing to allow them to register.
The law was mentioned in a recent interview the Oscar-winning director Oliver Stone conducted with Russian President Vladimir Putin.
"We have a law banning propaganda among minors," Putin told Stone.
"It seems like maybe that's a sensible law," Stone replied, according to a transcript of the conversation released by the Kremlin.
Authorities in Moscow have also done little to follow up on reports of the widespread detention and murder of gay men in Chechnya, human rights advocates say.
"Chechen authorities deny that gay people exist but also incite homophobic violence by telling people to murder their own family members because of their sexual orientation. This means anyone who is suspected of being LGBTI in Chechnya is at extreme risk," the rights group Amnesty International said in a statement. "Together we can demand that Putin step up and investigate these blatant attacks against LGBTI people. His inaction is a green light for continued attacks."