Researchers at a U.S. think tank expect the Russian military to reach the eastern Ukrainian city of Lysychansk within days, putting Moscow closer to establishing dominance over the strategically critical region.
The Institute for the Study of War (ISW) on Wednesday published research showing Russian forces closing in on Lysychansk. The city is located near Severodonetsk, which has seen heavy fighting as Russia attempts to assert control over eastern Ukraine. While the development could mean a setback for Ukraine, the report doesn't point to an easy victory for Russia.
"Russian forces continued to make gains to the south of Lysychansk and will likely reach the city in the coming days, although they are unlikely to quickly capture the Severodonetsk-Lysychansk area," reads the report from the Washington, D.C.-based think tank.
Ukrainian forces are currently engaged in a fierce battle for Severodonetsk. The city has become strategically vital as Russia has turned its war effort to the Donbas region of eastern Ukraine. Russia's capture of Severodonetsk and its twin city Lysychansk would put all of the Luhansk administrative district under the Kremlin, handing Moscow a significant victory after initial setbacks.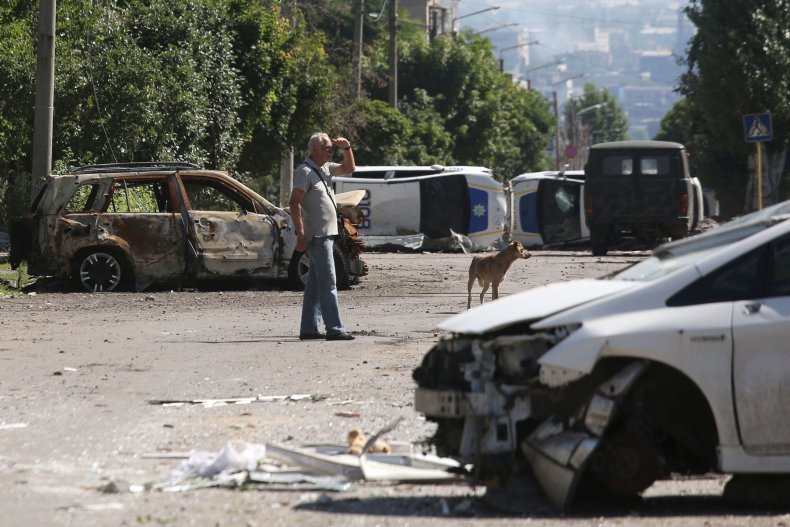 During their offensive, Russian forces increased efforts to interdict Ukrainian communication along the T1302 Bakhmut-Lysychansk highway in order to clear the way for its advance toward Lysychansk, according to the ISW.
ISW research points to a post from Russian Telegram channel Rybar stating that forces had taken control of areas about 6 miles south of Lysychansk.
"Lysychansk continues to suffer from enemy shelling. In just a few days, the orcs wreaked havoc on the city," Luhansk Governor Serhiy Haidai said in a Telegram post Wednesday, using a common derogative for Russian soldiers.
A day earlier, Haidai posted out that Russians were gaining a foothold in nearby towns to advance on Lysychansk.
The ISW said in its report that Telegram posts by Haidai suggest the twin cities are not entirely encircled and Ukrainian forces are still in control of the area southwest of Severodonetsk along the eastern bank of the Siverskyi Donets River.
The ISW report states that Russia's air-defense systems in eastern Ukraine are thwarting Ukrainian drones and undermining the country's military capabilities. It also states that the Russian military community has reported that authorities are having trouble filling the ranks of its armed forces, and are deploying undertrained recruits while relying on "forcibly mobilized personnel."
According to the report, personnel challenges "are having tangible impacts on the morale and discipline of Russians fighting in Ukraine."
Newsweek reached out to the Russian government for comment.