Russia Looking Into Investigating U.S. Interference in Its Election
Ex-Russian President Dmitry Medvedev has said an investigation into U.S. interference in his country's elections was "possible" as he reiterated Moscow's claims that tech giants like Twitter meddle in domestic Russian politics.
The comments by Medvedev, currently deputy chairman of Russia's Security Council, follow months of pressure by Russian authorities on social media platforms, and come within the context of a crackdown on the country's opposition, as well as independent media outlets.
Medvedev was asked in an interview with RT, which aired on Tuesday, about the summoning of the U.S. ambassador to Moscow, John Sullivan over claims of "interference of American IT giants in our elections."
Given that the U.S. investigated claims that Russia interfered in the last two U.S. elections in 2016 and 2020, Medvedev was asked by the Kremlin-funded channel if Moscow would conduct a similar probe.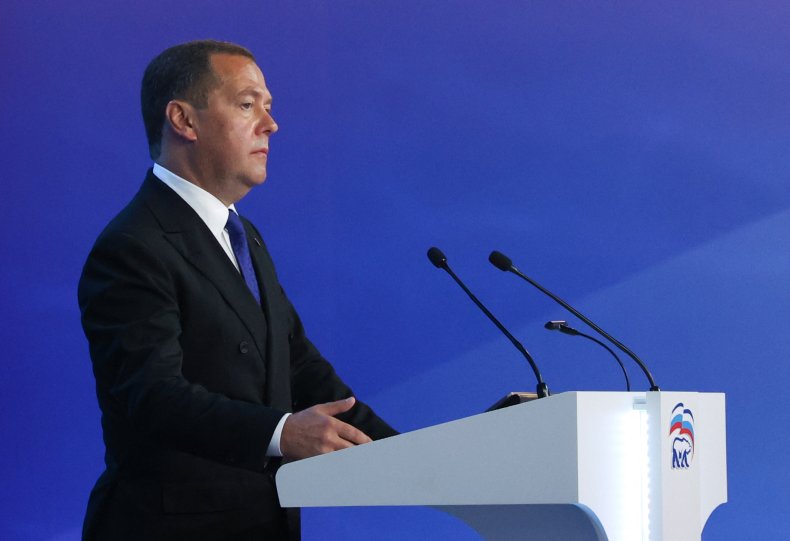 "I don't know. But I proceed from the well-known Latin saying, quid pro quo," he said. "I believe that it is quite possible to consider conducting such an investigation."
Medvedev said that over the election, which took place between September 17 to September 19, "a huge number of attacks were made on the Central Election Commission's (CEC) servers," half of which Russia had previously said came from the United States.
He said a decision should be taken by the Commision and that "ultimately, the Ministry of Foreign Affairs should also take part in this. But, in principle, if there is sufficient evidence that they interfered, why not?"
He cited as an example how his Twitter account had recommended him to follow jailed opposition politician Alexei Navalny, "who is serving a criminal sentence. Well, isn't this interference in the affairs of another country?"
Navalny's Anti-Corruption Foundation (FBK), which has been ruled by a court as an "extremist" organization, cried foul after Apple and Google removed an app that encouraged tactical voting to target the ruling United Russia party.
Meanwhile the federal communications watchdog Roskomnadzor has accused the tech giants of meddling in internal Russian affairs amid a clampdown on global platforms such as Twitter, TikTok, and Facebook, which are considered to be the enablers of opposition protests.
Medvedev said that digital giants can operate in Russia, "if they comply with all the rules," and referred to rules that take effect from January 1, in which mandatory registration would be required for foreign digital platforms with more than 500,000 Russian users.
"I think that this rule allows us to affect the policy of these companies in our country," said Medvedev, who is also chairman of the ruling United Russia Party. "They should obey these decisions."
During the wide-ranging interview, Medvedev also dismissed international criticism over the parliamentary election which saw the United Russia party consolidate its power in the 450-seat Duma.
"We couldn't care less about these allegations," he said referring to concerns raised by the EU and the U.S. about the ballot. "We have our own laws and they can say whatever they want, and it doesn't matter to us."