Russia Is Losing the Crypto War vs Ukraine
As the Russian invasion of Ukraine enters a second year, so far there is one clear winner of the battle for crypto-based finance, and it's not Russia.
Money flows to pro-Russian wallets on the blockchain—the decentralized ledger of cryptocurrency transactions—have totaled just under $5 million in the last year, compared to over $212 million to pro-Ukraine accounts, according to new research.
That means pro-Ukrainian accounts, from official government bodies to humanitarian support groups, have raised 44 times the amount going to pro-Russian entities, which include groups fundraising for the Russian military and militias.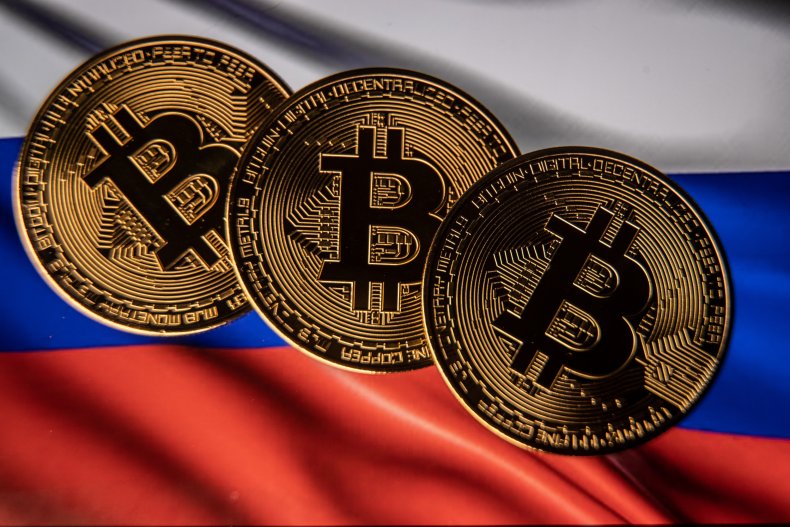 The report, published by blockchain analysis company Elliptic, shows that while over a tenth of cryptoassets received by pro-Russian wallets originate from illicit activity—such as dark web markets or sanctioned exchanges—less than 2 percent of Ukraine's donations originate from illicit sources.
Cryptocurrency was initially suggested as one way that Russia might evade some of the sanctions placed on it by Western countries. According to compliance firm Castellum.AI, Russia is now the most sanctioned country in the world, with 2,695 in place before the invasion, and a further 11,458 more sanctions placed on Russia or Russian entities since the invasion up to late February.
An analyst at Elliptic pointed out that on top of the 10 percent from illicit sources, another third of pro-Russian crypto donations were sourced from what is known as a 'crypto mixer'—a service that mixes different streams of potentially identifiable cryptocurrency, making the origin of the funds far harder to trace. (The analyst spoke to Newsweek anonymously given the sensitive nature of the research.)
Other research by data provider Chainalysis shows that flows of cryptocurrency to Russia peaked in June, after a slow start—which tallies with the Elliptic analysis. Russia has been more skeptical in the adoption of crypto, but is now catching up, to an extent. Crypto still makes up a very small proportion of the amount donated to pro-Russian causes, with the bulk of them being sustained primarily through fiat currency donations.
Andrew Fierman, head of sanctions strategy at Chainalysis, told Newsweek that the crypto funds are not flowing directly to the Russian state, but being used to effectively crowd-fund troops. "This isn't going to buy tanks—it's things like bulletproof vests, and gloves for winter for those on the front line".
The Elliptic analyst described how a typical Russian militia Telegram account will ask for crypto donations, with a "shopping list" of items such as drones, clothing, radar kit, firearms, but also more mundane items like clothing and food.
While the crypto donations to pro-Russian accounts peaked in mid-2022, Chainalysis figures showed that much of the pro-Ukraine funding was at the start of the invasion. "There was an outpouring of support early on," Fierman said, with nearly $60 million in cryptocurrency donated in the first weeks.
That also matches up with Elliptic's analysis, which was that around $30 million was raised for pro-Ukrainian recipients in just the first four days after the invasion began.
In February 2022, official Ukrainian accounts were very quick to get up and running, immediately asking for crypto donations. According to the analyst at Elliptic, the initial surge of support was part of a "demonstration that crypto could be a power for good".
"There was a sense that crypto could be a force for good in the world, and importantly, was here to stay."