Russia May Be Behind Sonic Attacks on American Embassy Staff, U.S. Officials Suspect
U.S. intelligence agencies suspect that Russia could be behind a series of mysterious sonic attacks on American embassies abroad, it has been reported.
Starting in 2016, staff from the U.S. Embassy in Cuba complained of hearing strange sounds and suffered brain injuries after unexplained sonic attacks at their homes and hotels in Havana. One U.S. Consulate worker in China was also diagnosed with similar symptoms after hearing strange sounds at the in Guangzhou.
Three U.S. officials have told NBC News that evidence from communication intercepts by American agencies suggest Moscow could be behind the attacks that led to Washington removing its diplomatic staff from the island.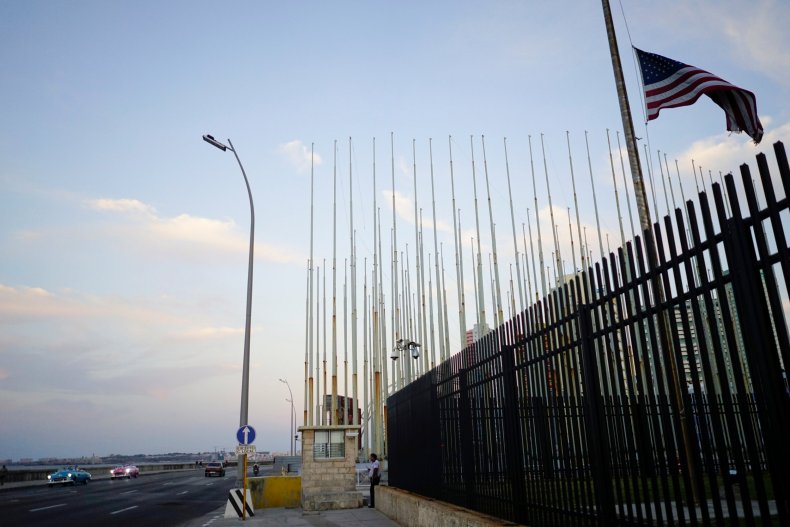 A U.S. official told the channel Washington has "no reason to believe this was anything but an intentional act."
The U.S. is investigating the possibility that sophisticated microwaves or another type of electromagnetic weapon were used on the employees. Washington has not leveled any formal accusations at Moscow, which NBC said has not commented on the claims.
A motive is not clear but some speculate that the attacks could have been used to drive a wedge between Washington and Cuba.
Havana has denied any involvement and even questioned whether the attacks took place in the first place.
Beatrice Golomb, a professor of medicine at the University of California, San Diego, gathered evidence that microwave were the cause of diplomats' health. Her report, set to be released later this month, says the injuries sustained were likely to have been caused by pulsed radio frequency and microwave radiation.
"Everything fits. The specifics of the varied sounds that the diplomats reported hearing during the apparent inciting episodes, such as chirping, ringing and buzzing, cohere in detail with known properties of so-called 'microwave hearing,' also known as the Frey effect," Golomb said in a press release by the university.
Douglas Smith, director of the University of Pennsylvania's Center for Brain Injury and Repair, also told CNN that it was likely that microwaves were used. But experts were also looking at whether ultrasound and infrasound waves were activated.
In testimony before Congress last week, U.S. State Department officials agreed the incidents should be considered "attacks."
In a statement, the U.S. State Department said, "The investigation into the origin of these symptoms continues. The inter-agency community is working diligently to determine the cause of the symptoms, as well as to develop mitigation strategies."
Correction: An earlier version of this article incorrectly attributed a quote by professor Golomb, and incorrectly identified Dr. Douglas Smith as the co-author of the report suggesting the use of microwaves. Professor Golomb is the sole author of the article and of the quote. We regret the error.